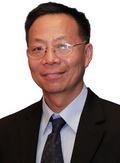 J. George Wang, PhD

Visiting Professor
PhD, Economics, State University of New York at Albany
Fields:Forecasting, business cycle research, corporate finance, international finance, corporate social responsibilities
Office Phone Number:+86-755-2603-2507
Office Room:RM 220, Building C
Email:jgwang@phbs.pku.edu.cn
Dr. J. George Wang is a Professor of Finance and Chair of the Department of Accounting and Finance in the School of Business at the College of Staten Island of the City University of New York, and a visiting professor at HSBC Business School of Peking University. Dr. Wang is the editor of the book series SMEs in China, by Springer Publisher; a guest speaker of Biz Today, a flagship program of China Radio International (CRI); and an invited column commentator on the G7/G20 Think Tank website based at the University of Toronto. Dr. Wang has published many articles in major business and economics journals in the US, Europe and China, and is the author (or co-author) and editor (or co-editor) of several books on China's SMEs and internet finance. Dr. Wang is also an invited keynote speaker at many national and international business conferences, a moderator of dialogues with some well-known world business and political leaders, and an interviewee on many leading media outlets worldwide including ABC News (USA), Financial Times (UK), Le Monde (France), and International Business Daily (China).



Publications:

Lahiri, Kajal and Wang, J. George, 2007, "The Value of Probability Forecasts as Predictors of Cyclical Downturns", Applied Economics Letters, 14 (1), 11-14 Wang, J. George, 2006, "The Predictive Power of the SPF Probability Forecasts", Pennsylvania Journal of Business and Economics, 12 (1), Fall, 57-65.

Lahiri, Kajal and Wang, J. George, 2006, "Subjective Probability Forecasts for Recession: Evaluation and Guideline for Use", Business Economics, April, 45-56 (Also on the final-five list for the Best Paper Award of the 47th Annual Conference of National Association of Business Economics).

Lahiri, Kajal and Wang, J. George, 2006, "A Prequential Test for the Validity of Subjective Probability Forecasts of GDP Declines", Forecasting Letters, 1 (1), September, 1-4.

Lahiri, Kajal and Wang, J. George, 1994, "Predicting Cyclical Turning Points with Leading Index in a Markov Switching Model", Journal of Forecasting, 13 (3), 245-263. (Cited 79 times in the literature up to 5/2010)

Wang, J. George, "Corporate Social Responsibility in the Transitional Economies", in Mackenzie, M. and Rosenberg, S. eds., Emerging Business Theories for Educators and Practitioners, Cambridge Scholars Press, December 2007, 116-122.

Lahiri, Kajal and Wang, J. George, "Interest Rate Spreads as Predictors of Business Cycles", in G.S. Maddala and C.R. Rao eds., Handbook of Statistics, Vol. 14, Statistical Methods in Finance, 1996, North Holland, 297-315. (Cited 31 times in the literature up to 5/2010)

Wang, J. George, "The Micro and Macro Economics of Corporate Social Responsibility in Transitional Economies", under review by Journal of Business and Economic Studies, 2010.

Lahiri, Kajal and Wang, J. George, "Evaluating Probability Forecasts for GDP Declines", under revision as requested by Journal of Applied Econometrics, 2010.