After many years of rapid development, China is confronting air and water pollution, among other environmental contamination, as well as food safety problems due to the absence of corporate social responsibility (CSR). These serious problems have drawn increasing public attention, and scholars have begun to create a body of work to address the need for active CSR in China – and how enterprises can approach it.
Sustainable Development and CSR in China—A Multi-Perspective Approach is a good indicator of such efforts and highlights Chinese and international scholars' achievements in this field. With contributions by authors from several countries, cultures and political systems, the book offers an in-depth analysis of Chinese CSR.

At the banquet of the 2014 PHBS Global Dean's Forum, Huang Haifeng, left, talks with Gerhard Stahl, a visiting professor at PHBS and China expert at the College of Europe in Bruges.
Huang Haifeng, assistant dean and professor at Peking University HSBC Business School (PHBS), and co-editors Rene Schmidpeter, Hualiang Lu, and Christopher Stehr brought together the work of a number of scholars who have analyzed CSR in terms of its close ties to ecology, corporate sustainability, and the future of certain industries. By pursuing an international approach, the book, recently published by Springer, provides readers with a better understanding of CSR and its implementation in China.
"This book is a positive response to the western world's condemnation that China neglects its environmental deterioration and has no sense of corporate social responsibility," said Huang. "It proves that China has cooled down in the middle of over-heated development and has begun to think about CSR issues and take action through education and research." In 2015, Huang, who serves as the chief expert and adviser for the green supply chain pilot project in Shenzhen, was conferred a Lifetime Achievement Award in the second international forum themed Corporate Social Responsibility, Sustainable Development, Business ethics and Corporate Governance for his contributions to CSR research and sustainable development. Organized by Nanjing University of Finance and Economics, Loyola University in New Orleans, USA, and Cologne Business School in Germany, the forum was held in Nan Jiang at the end of July, 2015.
According to Huang, one of the book's highlights is that it examines China's CSR issue in the context of the global industrial development path. The western world is transferring its industrial sectors of high energy consumption and pollution to China and other developing countries which lack environment management thresholds and awareness. "In that sense, western enterprises put emphasis on CSR back in their own countries, but have little sense of CSR in developing countries," remarked Huang. He maintains that to avoid such a double-standard there needs to be collaboration and cooperation between China and the international community and increased international exchanges. This book, then, is one of the results of such effort. It includes the research findings of PHBS professors Sai Lan and Wang Chunyang, along with the findings of scholars from Germany, Poland, Australia, and elsewhere.
As an example of one focus within the book, Huang's comparative research in the chapter Opportunities and Challenges of Sino-German CSR Cooperation shows that if short-term profit-driven enterprises can change their strategies, scaling up their input in environmental protection and community service, then they can gain noticeable returns, such as brand reputation enhancement and corporate culture improvement. For example, said Huang, "China can learn from German companies in terms of CSR implementation." He noted, as well, that green technologies and new energy will also play an important role in the structure transition of Chinese enterprises in the near future.
Huang currently teaches a course at PHBS called Business Norms and Leadership, and he hopes that the integration of research and education can help to promote understanding about the implications of CSR. Said Huang, "In contrast to transitional leadership, green leadership focuses on striking the balance between social benefits, economic returns and ecological harmony." In addition to teaching and research, Huang also consults with enterprises and presents at conferences and other speaking engagements on how to pursue a green development path and change attitudes towards CSR.
As one of China's most internationalized business schools, PHBS attaches great importance to CSR issues and research. In the autumn of 2014, it held the Global Dean's Forum, which invited deans from over 40 business schools worldwide to discuss the current and future state of business education, and among the many topics was how to put sustainable development, entrepreneurship and CSR into the curriculum. PHBS also releases an annual CSR report on China's direct selling enterprises every year. For many years, Huang has taken part in international forums on CSR and education, representing PHBS's presence and concerns in the field.
The head of the PHBS Center for Green Economy, Huang will cooperate with domestic and international scholars to work on his fourth book— enterprises' green innovation. In April, as part of his China Studies course developed for PHBS's international students, he will take the class to visit Huawei. The high-tech company is based in Shenzhen and is doing global business. Huang said that the purpose of the company visit is to learn more about Huawei's CSR and its green supply chain project. "When we integrate research, education and social service together, only then will the CSR discussion be meaningful and effective."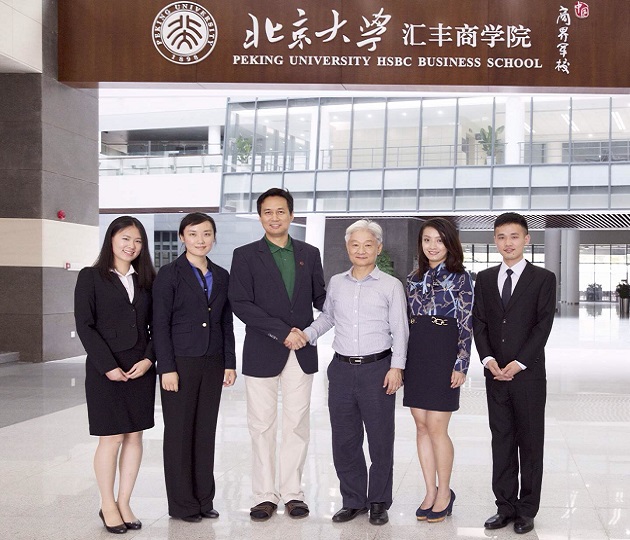 Huang Haifeng, third from the left, and members of the PHBS Center for Green Economy.
By Annie Jin
Edited by Priscilla Young