Peking University, China's oldest institution of higher learning, will mark its 120th anniversary this year with a series of celebrations highlighting its rich history and its dedication to teaching, learning, innovation, and research. "The century-long sufferings and pursuits of Chinese society from the late 1920s to today all have been embodied and reflected in this university," remarked Mian Xie, a renowned professor of Chinese at Peking University. The anniversary officially started with the overseas celebration and the inauguration of its UK Campus from March 23-25 and will extend through the year with a number of special events and celebrations in China.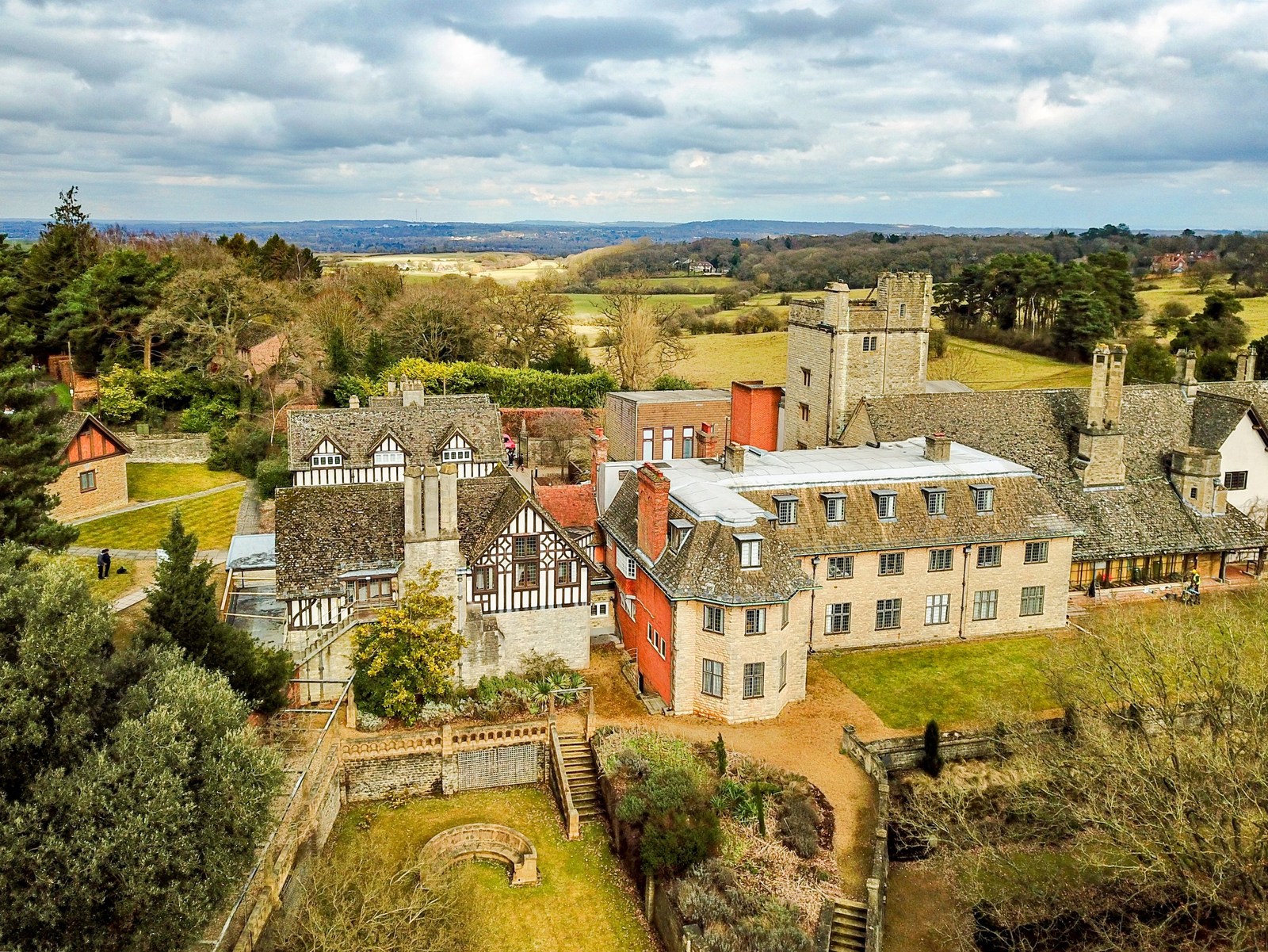 UK Campus, Oxfordshire, England

Founded in 1898, Peking University was originally known as the Imperial University of Peking before it adopted its present name in 1912. It was the first national university covering comprehensive disciplines in China and has been the nation's leading institution of higher education in China since its establishment. According to Times Higher Education, PKU ranked 27th in the publication's 2018 World University Rankings, rising each consecutive year from its previous position.


the academic event

"Only academic achievements can earn Peking University the 'long-lived' triumph," remarked Dazhao Li, the well-known Chinese intellectual who previously served as the head of the Peking University library and whose remark reflects the commitment to intellectual discovery and academic excellence that has been the cornerstone of Peking University's success for 120 years.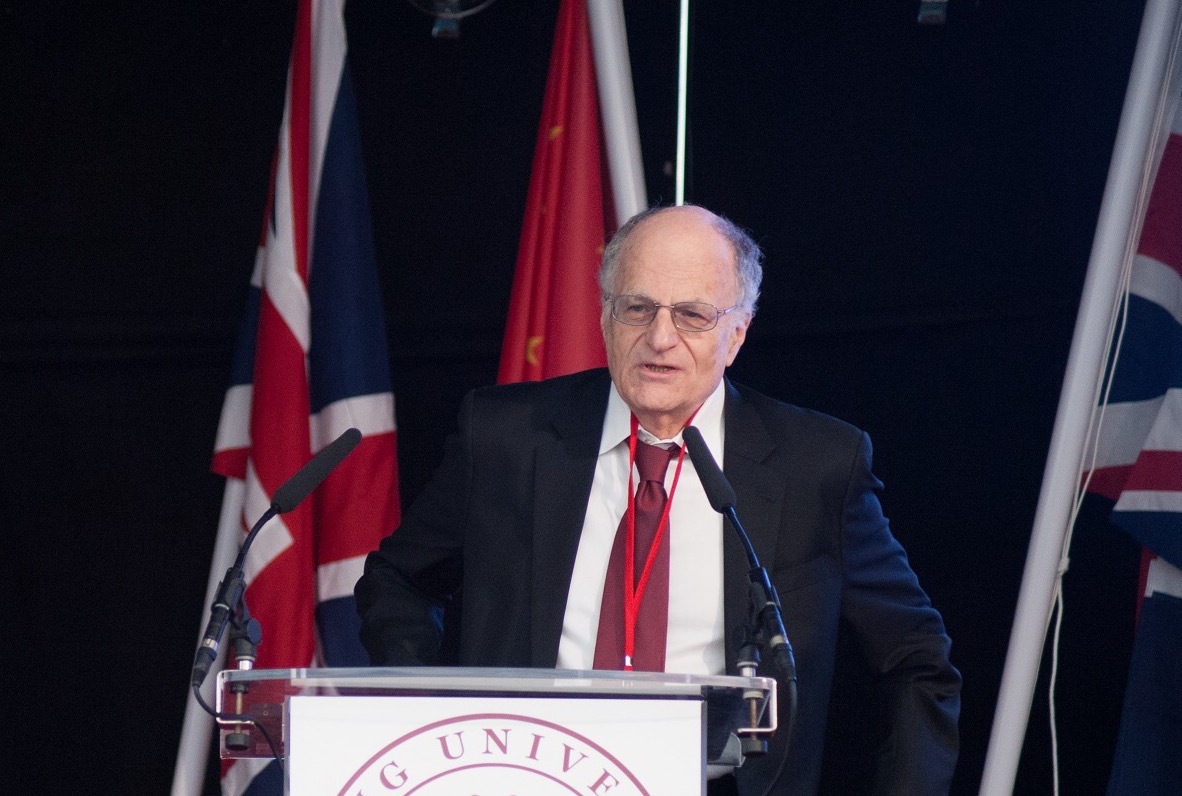 Professor Thomas Sargent, 2011 Nobel Laureate in Economics, and director of Sargent Institute of Quantitative Economics and Finance, PHBS

Sir John Gurdon, 2012 Nobel Laureate in Physiology or Medicine, and professor of Cambridge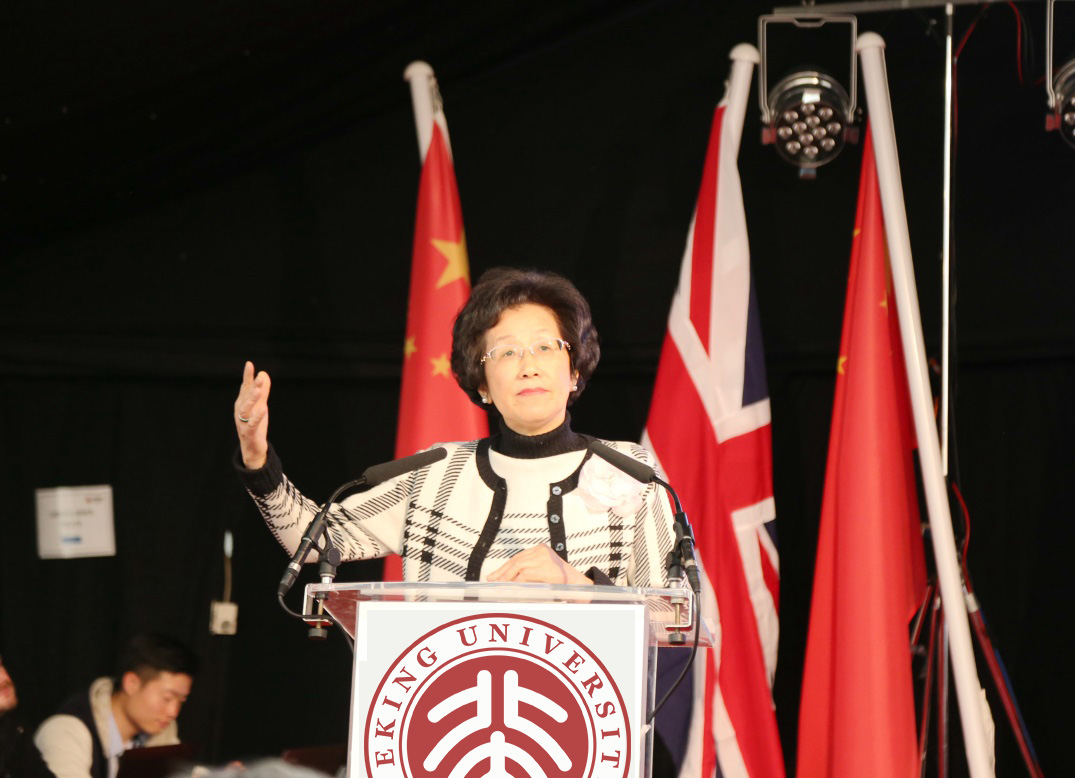 Academic Forum I: International Relations in the New Era
Professor Ming Yuan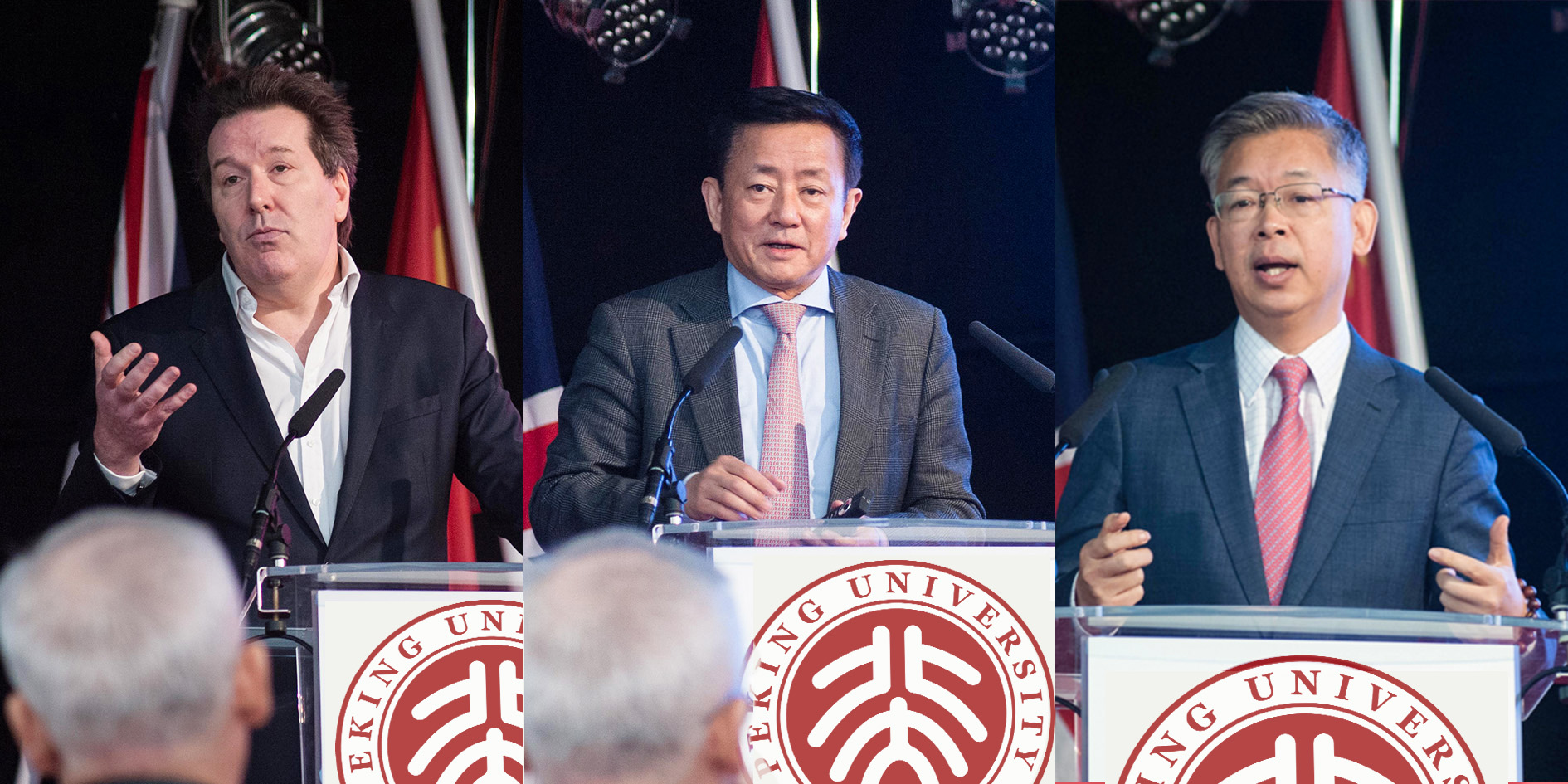 Academic Forum II: Economic Growth in the Future
From left to right: Mr. Stephen King, Professor Gang Fan, Professor Yiping Huang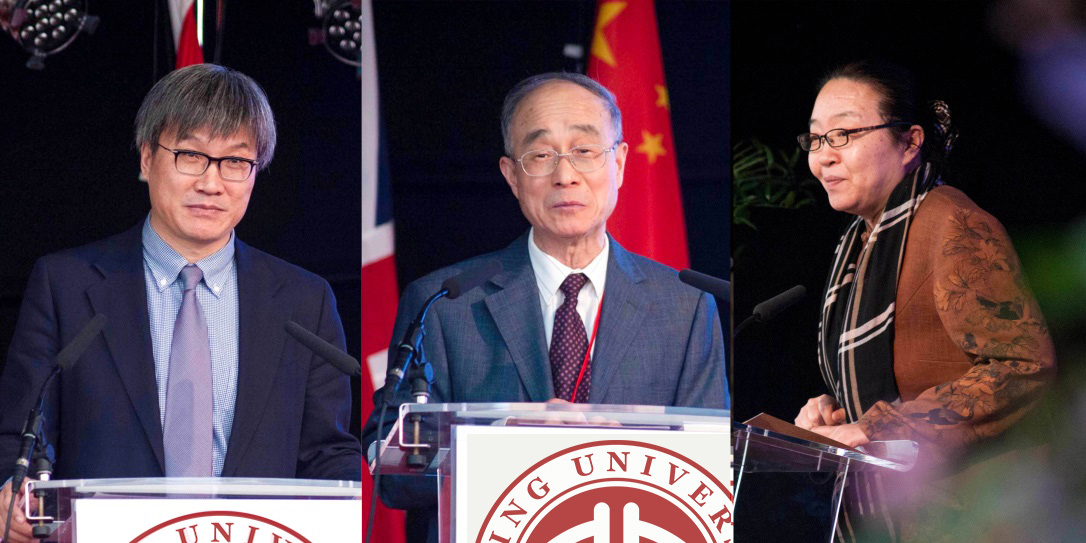 Academic Forum III: Humanity and Historical Heritage
From left to right: Professor Bo Wang, Professor Chengdan Qian, Professor Jinhua Dai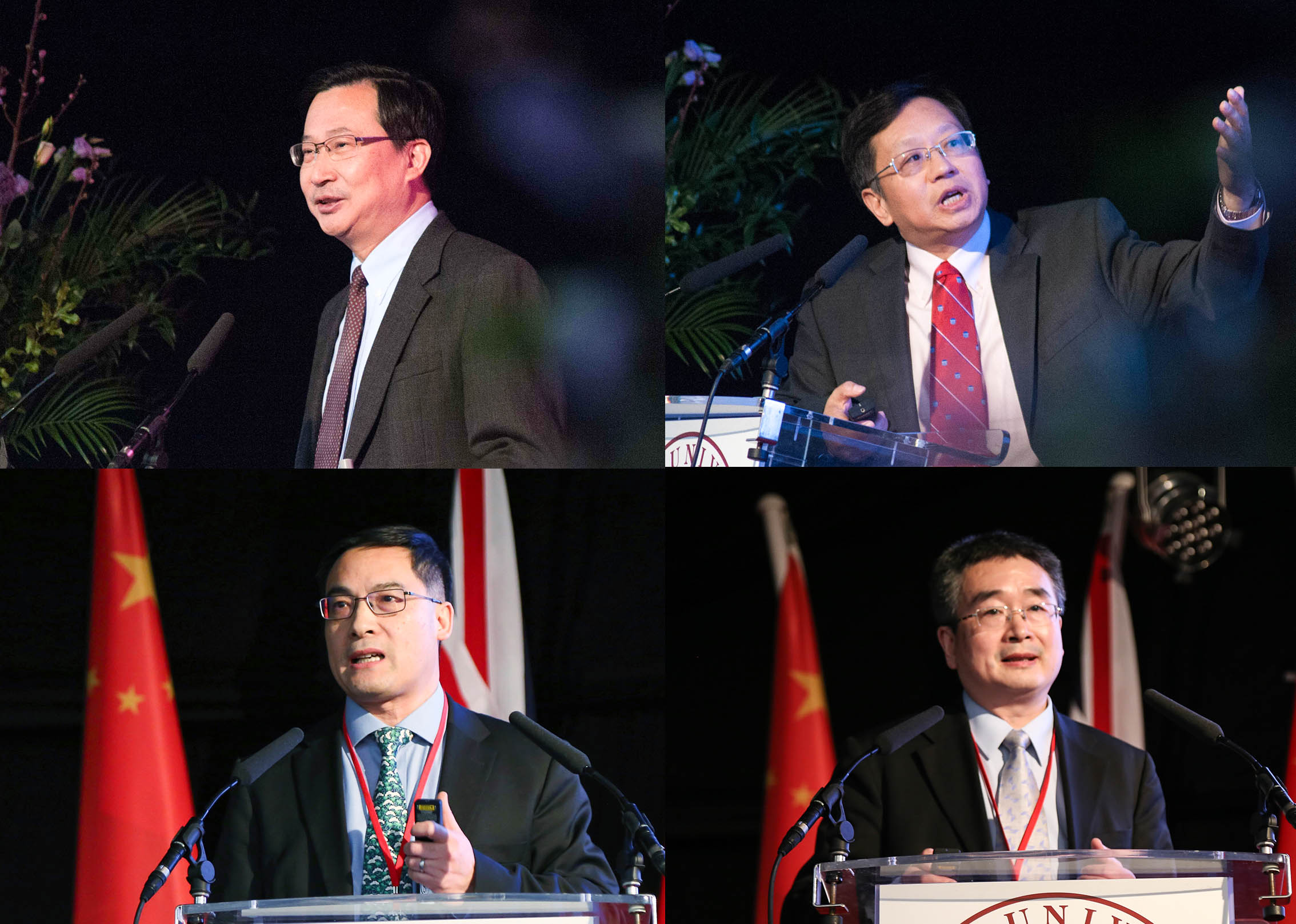 Academic Forum IV: Science and Technology Research
From left to right: Professor Yi Rao, Professor Dongxiao Zhang, Professor Daqing Ma, Minister Counsellor Sunan Jiang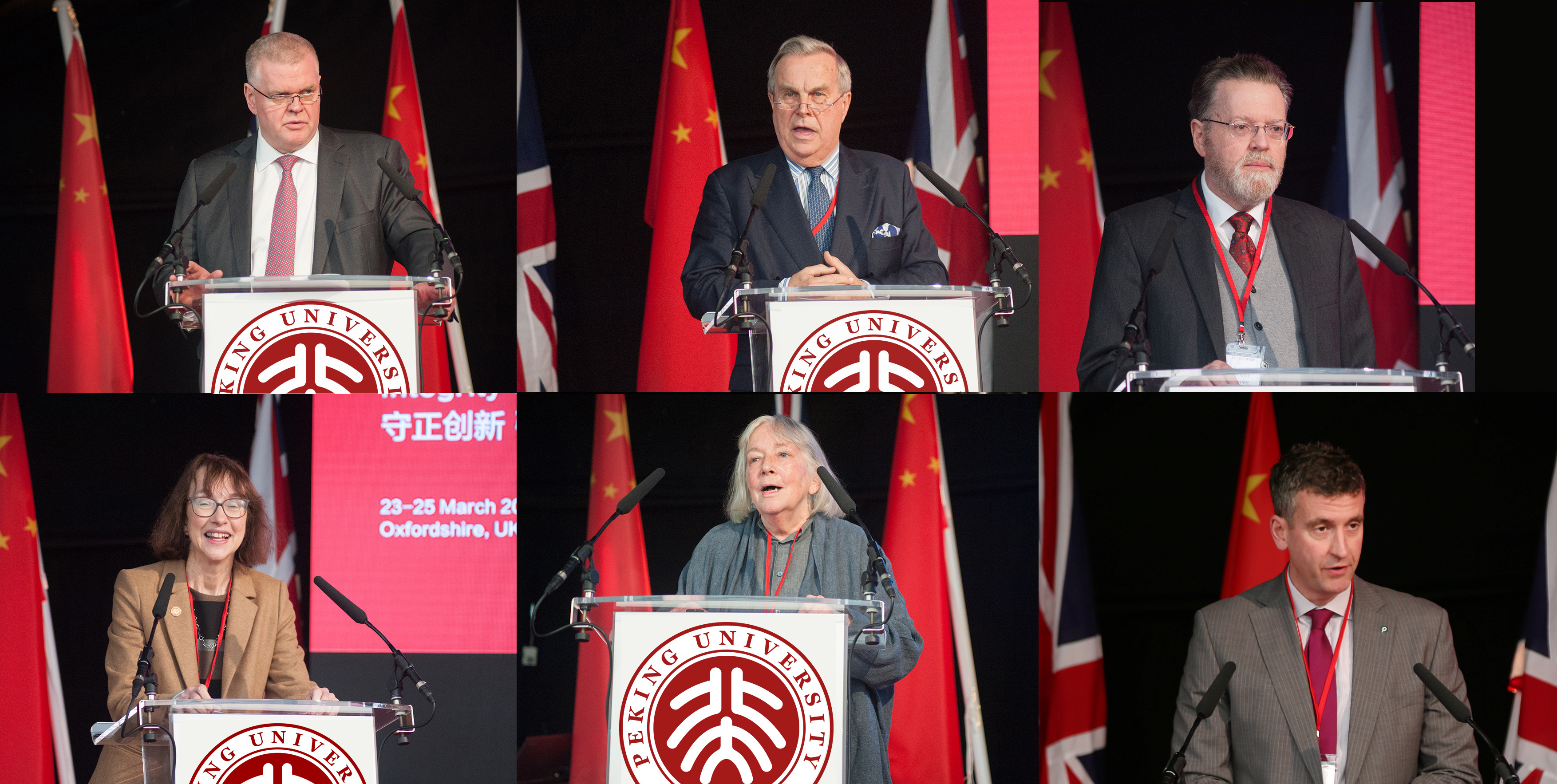 Speeches by representatives from various institutions including universities, business and alumni
From left to right: HSBC Group Managing Director Noel Quinn, Sir David Brewer, Sir Keith Burnett, Professor Katharine Carruthers, Ms. Frances Wood and Mr. Will Naylor

Therefore, themed "Integrity, Creativity, Futurity," the overseas celebration that wrapped up on March 25, was designed to both glance back and look forward. It featured an academic symposium and PKU history exhibition, as well as the inauguration of its UK Campus and the Peking University Alumni Finance Association London. Over 400 participants, including alumni, academics and students, joined the festivities and events where discussions on international relations, economics and finance, humanities and history, science and technology defined the university's present and its future along with trends of the ever-changing world.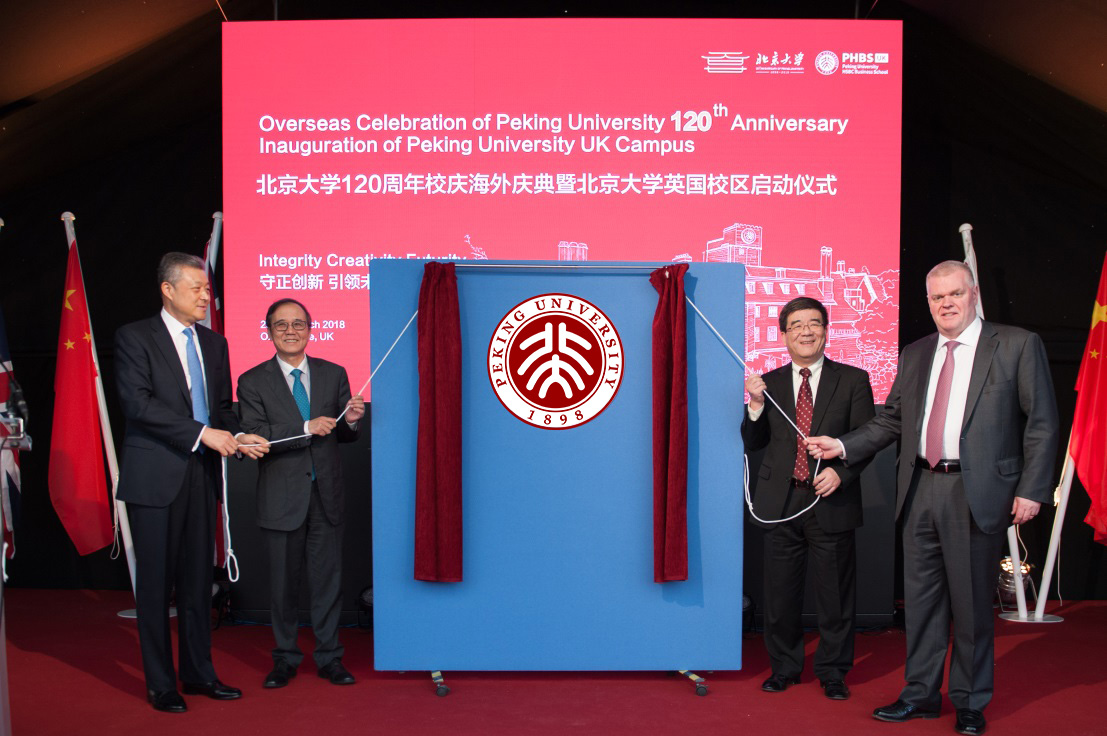 The inauguration unveiling ceremony

The inauguration of Peking University's UK Campus on March 25 brought a grand close to the overseas festivities. Professor Wen Hai, the founding dean of the Peking University HSBC Business School (PHBS) and vice chairman of the Peking University Council, presided over the ceremony. President of Peking University Jianhua Lin delivered the keynote address, and supporting dignitaries included China Ambassador to the UK Xiaoming Liu and representatives from various institutions including universities, business and alumni.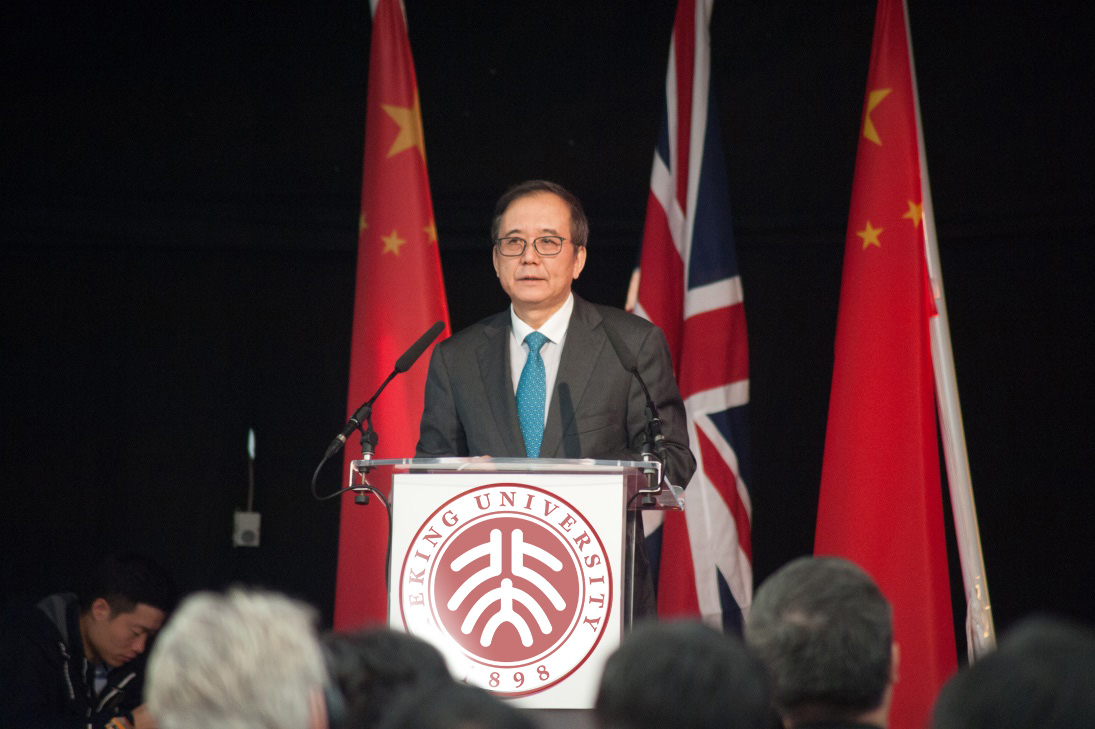 Peking University President Jianhua Lin

President Lin reviewed Peking University's past achievements and present endeavors. He held that it is crucial to reflect and engage in introspection when rising to changes and set up clear goals and blueprints for the future. He remarked that the UK campus could serve as a new channel for PKU students to study overseas, enriching and diversifying their knowledge and experience. "We hope it can further strengthen PKU's internationalization and PKU should take the lead in advancing the higher education of this era."


China Ambassador to the UK Xiaoming Liu delivered the speech

Ambassador Liu remarked that the founding of the PKU first offshore campus is a far-sighted move of a world-renowned university, as well as a timely and significant initiative, adding that the campus will provide fresh opportunities for educational cooperation and talent exchanges from both sides.
The UK campus began operations this spring and mainly serves students from the UK and Europe. Students spend their first year on the UK Campus and their second year on the PKU Shenzhen campus. Additionally, all students enrolled in the Shenzhen program can apply to spend one semester studying at the UK campus.
As the initiator of this overseas campus, the Peking University HSBC Business School (PHBS) in Shenzhen, China, is responsible for the main administrative duties of the UK Campus. PHBS was founded in 2004 to advance PKU's involvement in economics, finance, and management research. Promoting its international purview, classes in the school's full-time master's degree and full-time MBA programs are conducted in English. Located in Shenzhen (just north of Hong Kong), PHBS brings Peking University's historical presence and first-tier business education programs to the country's south and benefits from the dynamic and entrepreneurial spirit of the thriving city.
PHBS Dean Wen Hai regards the opening of the UK campus as a boost to both Peking University and PHBS's further internationalization and academic exchange among China, the UK and Europe. As many international students and businesspersons are interested in seeking out global market opportunities and entrepreneurship in China, the UK Campus will also offer short-term courses to share knowledge about China's economic development and policies. It is believed that the inauguration of the UK Campus is not only a major milestone in the development of internationalized offerings for one of China's oldest and most prestigious institutions, but also a beacon of current global developments, with China playing an increasingly influential role in the global economy.

The stone tablet honoring the founding directors of the UK campus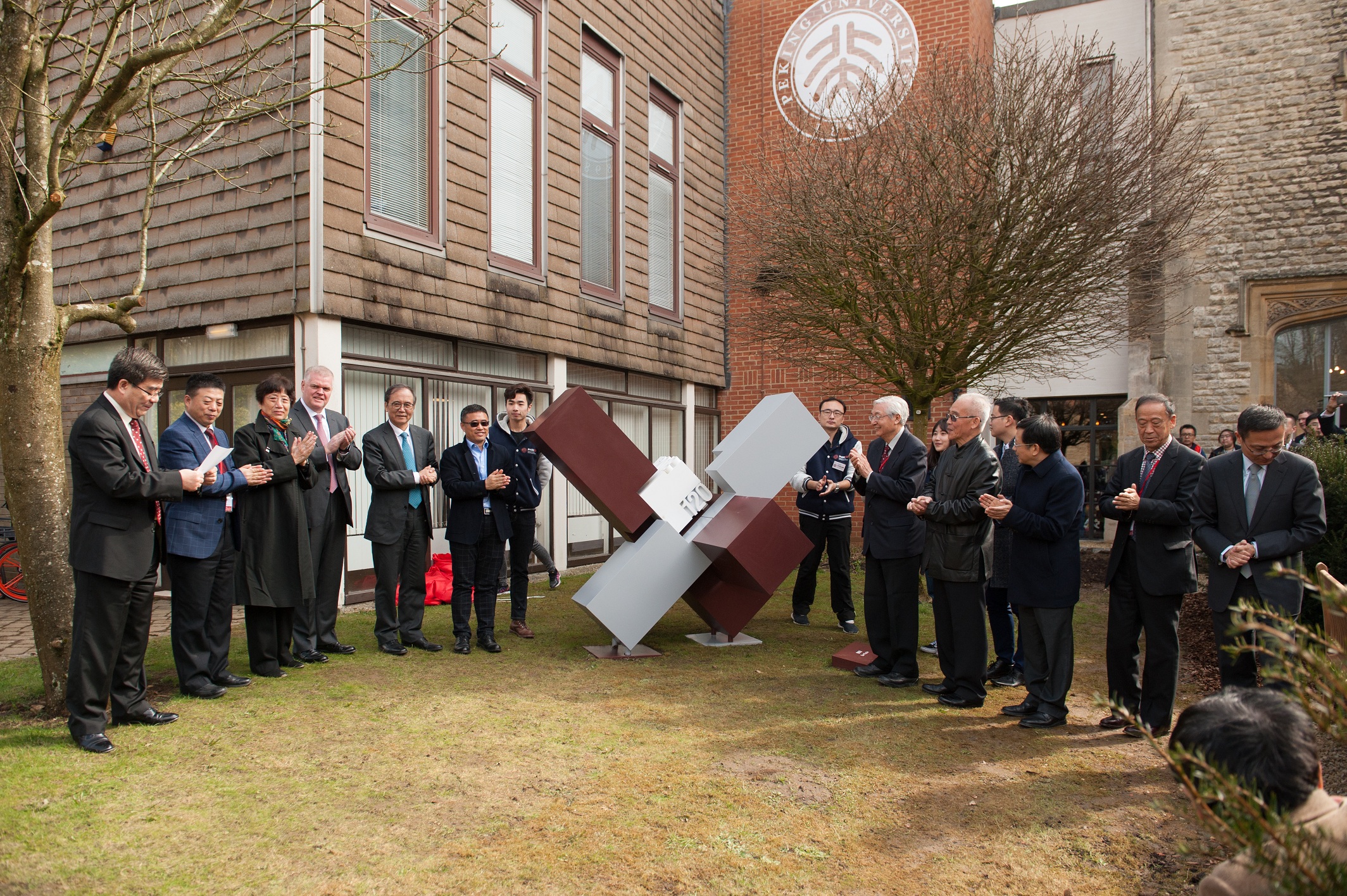 the artwork "Burr Puzzle" symbolizes wisdom, ingenuity, creativity, interaction, diversity and cooperation
To memorialize this important moment in PKU history, the unveiling ceremony of the 120th Anniversary Sculpture "Burr Puzzle" and the stone tablet honoring the founding directors of the UK campus was held. Depicting an interlocking puzzle used for construction, the sculpture represents notched sticks that are made of steel and joined together to support a three-dimensional and usually symmetrical unit. Standing 1.8 meters high, the piece was engraved with "2018" and "120," which marks the opening of the UK Campus in 2018 and the year marking the 120th anniversary of Peking University.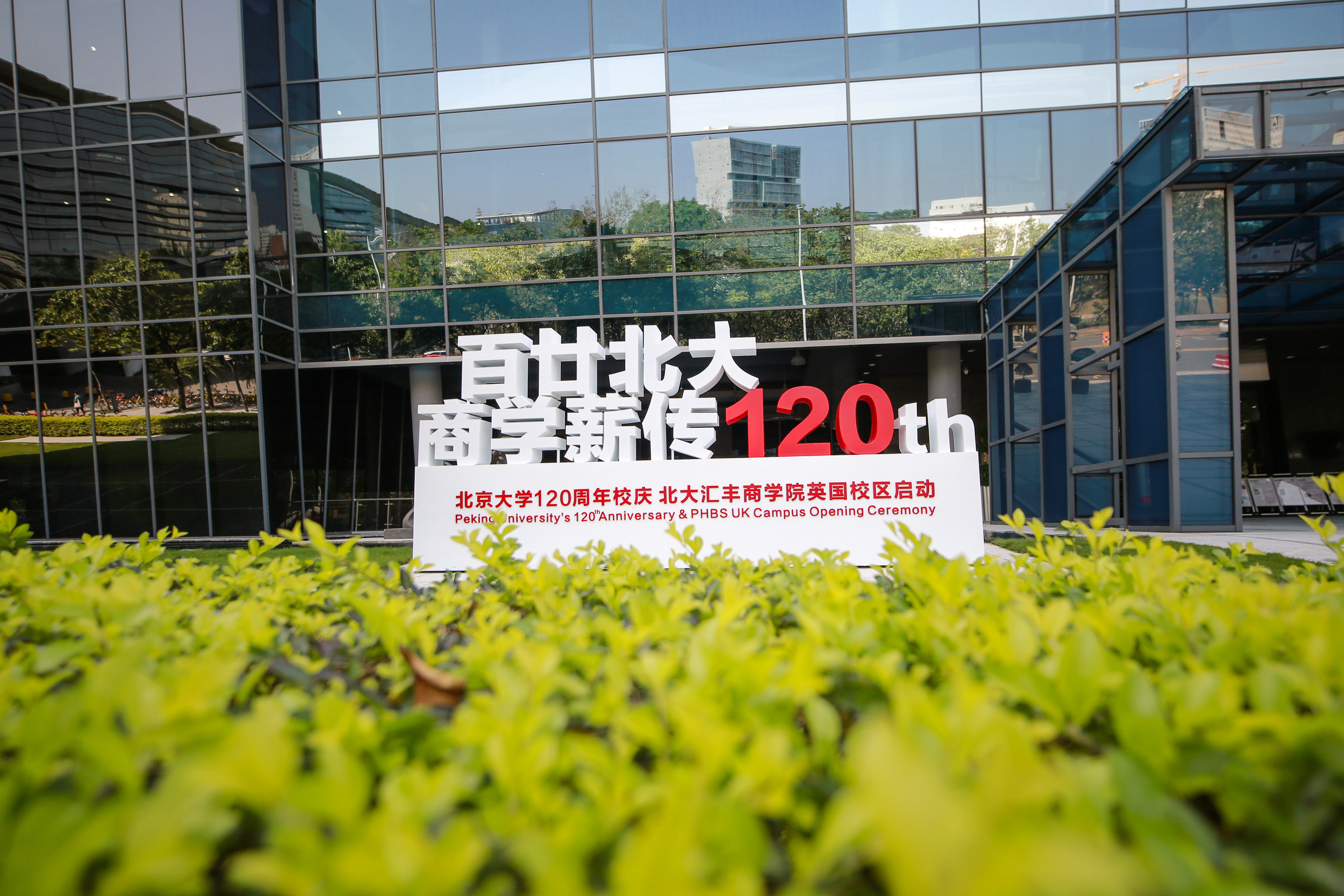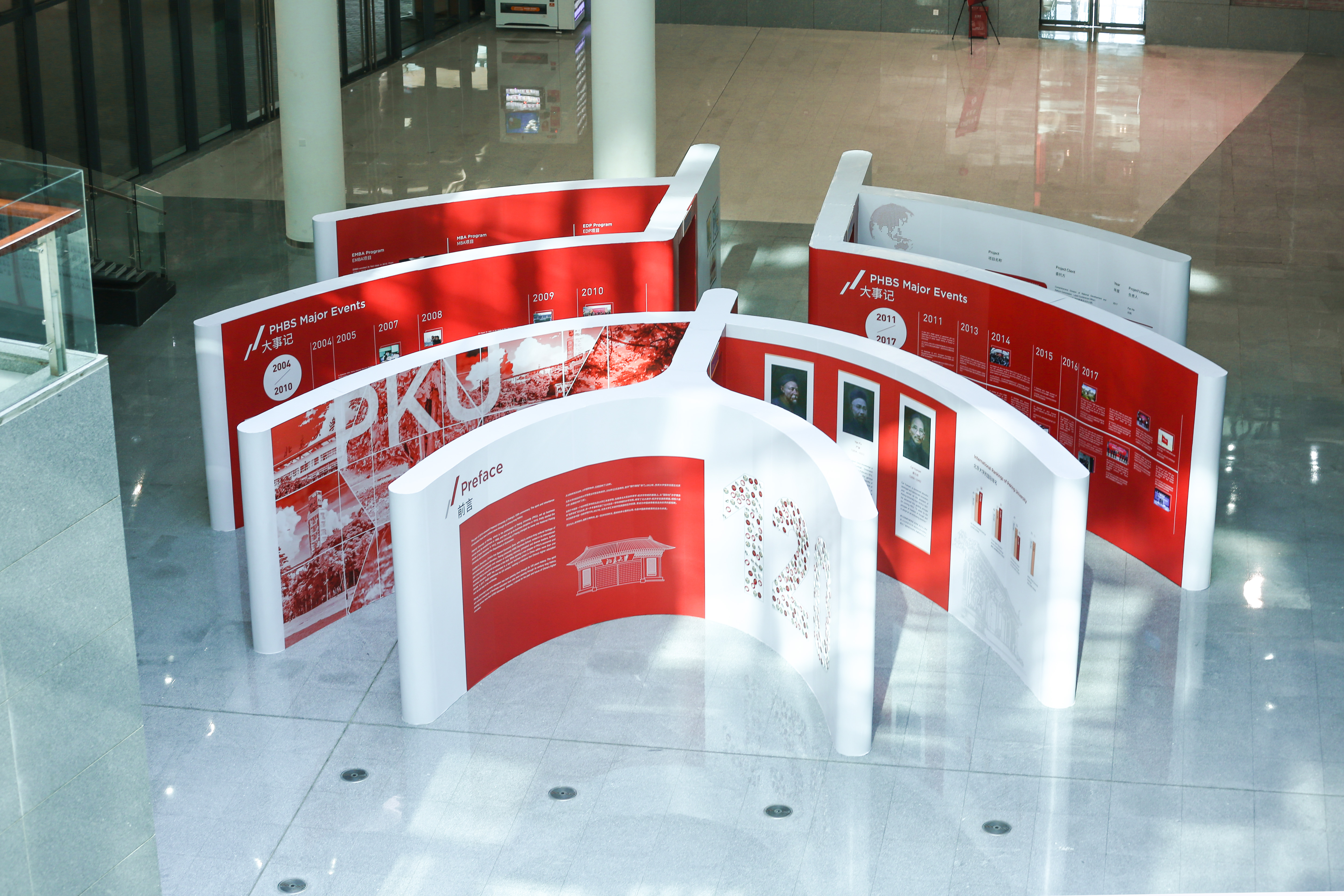 Photo of Shenzhen Exhibition

In addition, the Peking University Alumni Finance Association London was established on March 24, and the PKU history exhibition was held both on the Shenzhen campus and the UK campus. It recalls and showcases Peking University's spirit and cultural inheritance passed down during its century-long history.
A grand 120th anniversary celebration is scheduled for PKU's main campus in Beijing on May 4. It will feature the World University Presidents Forum & Beijing Forum 2018 and the Peking University 120th Anniversary Evening Concert. It is believed that with its profound history, rich achievements and pioneering spirit, Peking University continues to lead a path to the future with an unwavering commitment to excellence in education, scholarship, innovation and creativity.


By Annie JIN
Edited by Priscilla YOUNG and Sophie WU