May is a nerve-wrecking month for many second and third year students at PHBS. It is a month packed with anxiety, happiness, relief, and many other feelings as students make final edits on their thesis presentation. The thesis defense at PHBS is very challenging. The jury panel is made up of four PHBS professors, all of whom hold PhD degrees and have extensive experience in academia and the business world. This also means that the jury is thoroughly familiar with the latest research and data in their field. The student needs approval from all four professors to receive an unconditional thesis approval. With three approvals, the thesis will be submitted to a committee at PKU Beijing for further evaluation. Two approvals or less will require the student to make further adjustments before being allowed to present again.
With such a rigorous evaluation, it is common to see students conducting mock thesis presentations among themselves or before their advisors. Professor Kevin Chastagner is known for holding a half-day session of mock thesis presentations with his current and future advisees. I was a participant, and as we listened we saw students twitching their faces at the toughest questions the professor asked. The session is not only an excellent way to get feedback about content and presentation skills, but also for exposure to the kind of grueling questions that the jury might ask.
Eduardo Meythaler of Ecuador

We asked one of the defending students in management, Eduardo Meythaler of Ecuador, how he keeps his anxiety under control being less than a week away from the presentation. "I go through my presentation again and again," he said. "And I normally hit the gym to clear my head. It really helps me relax." But the pressure doesn't end after the presentation. "On one hand you feel happy that it is almost over, but on the other hand you need to start thinking about your career, your future, job, where will I move since I won't have a Chinese visa anymore. But I feel very happy because it is another milestone I've accomplished."
Bella LI (李凤清) of Shandong Province, also a management program student, talked about being notified who will be on her panel. "We have less than one week until the big presentation; we are all very nervous. My panel is Professor Fanmin Kong, Professor Susan Zhu, Professor Yue Cheng, and Professor Terrill Frantz. We talked a lot about the style of each of the professors. We look at their historical defense record of approvals, who is more academic or practical, what points they focus on, for example, the conceptual model, the statistical part, or the storytelling."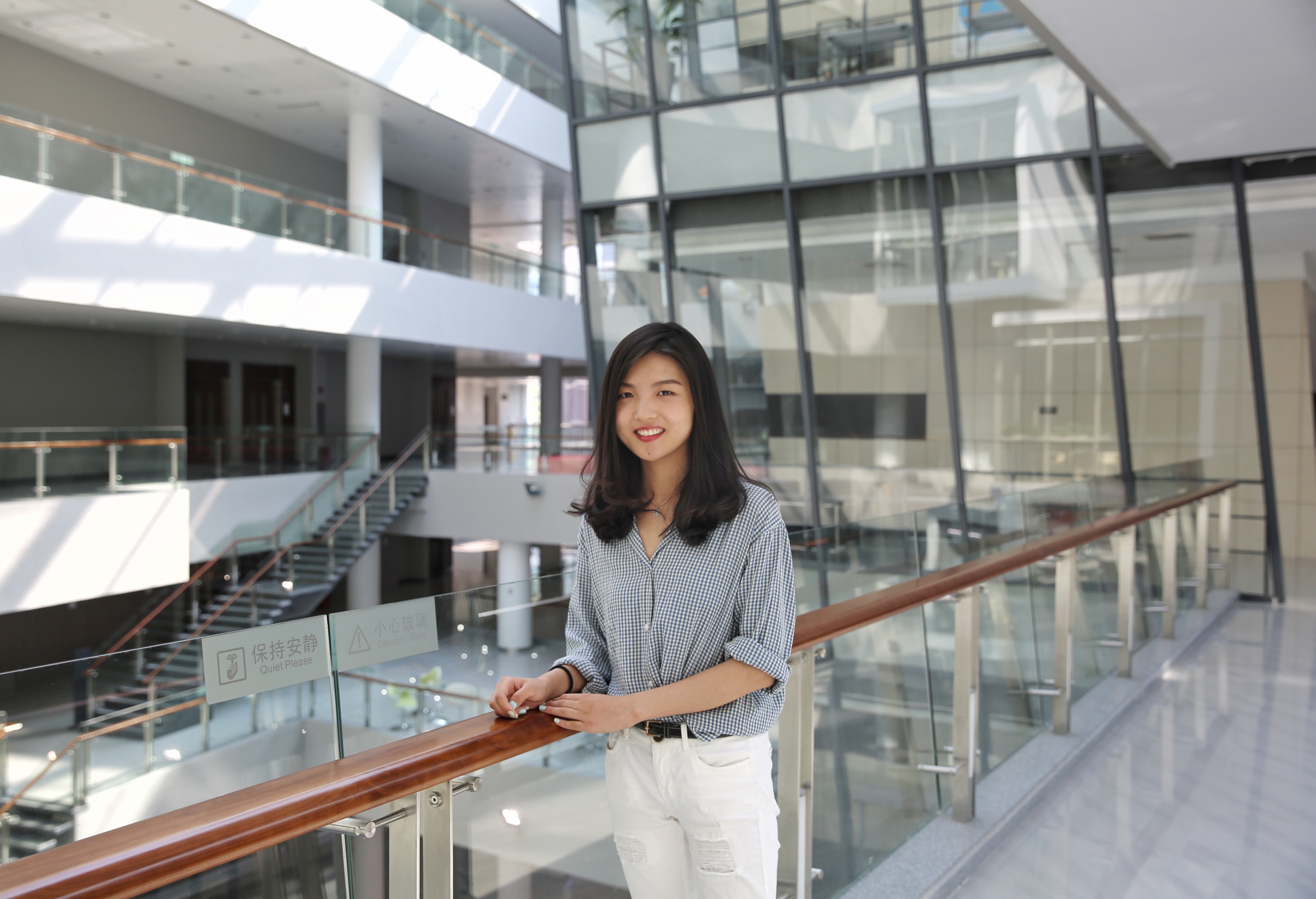 Bella LI of Shandong Province, China
Bella, who did an internship in the M&A department of one of China's leading technology companies, Tencent, wrote her thesis on M&A and innovation performance of companies, driven by her interest on how companies acquire new knowledge and integrate it to their existing technologies to create new advantages. "Also, this is one of Professor Chastagner's focus fields, so he was able to provide me very valuable suggestions. He really did help me a lot. I owe him!" she said happily.
But Bella is not the only one nervous about the panel. Eduardo also admits he is nervous as he faces one of the most demanding panels. He points out that this means that the first impression he makes on the other three professors will carry throughout the entire presentation, so he must make sure to start off on the right foot. "I'm a little nervous about the panel and the questions they will ask. I believe if you did a good a job, or as best as you could, you shouldn't worry too much."
❈
Lynn Lynn Aung from Myanmar is one of the international MBA students who last week defended her thesis on the topic of willingness of employees to do overtime work and has successfully graduated. When I asked Lynn what was that one thing she learned the hard way when writing her thesis, she said "running the regression!" and heavily sighed in relief. Lynn's advisor is Professor Fanmin Kong. Under his tutelage, Lynn was the only MBA student to run a regression analysis for her thesis.
Lynn Lynn Aung from Myanmar

"This thesis was very challenging for me. Not only did I not have a background in statistics, collecting the data was very hard since the response rate to my survey was low." And this thought was shared by Eduardo. "I think the most challenging part about the thesis was the econometrics, since I didn't have a lot of background in it. When you start doing your thesis you need to use STATA and other software, so we had to Google a lot to learn how to use it in order to have a good model and results that were not biased."
Eduardo's thesis focused on competitiveness and entrepreneurship and the role that social perception plays in them. "I chose this topic as I come from a small country in Latin America and moved to the most rapidly developing country in the world, China. The level of development is totally different, and with it the infrastructure, financial markets, etc.," Eduardo said. "The rate of entrepreneurship in Latin America and emerging countries is above highly developed countries. Entrepreneurship-wise, Ecuador is highly developed, among the world's highest."
When I asked what advice you can give to students who are starting their theses, Eduardo said emphatically, "My advice is to start as soon as possible. If you try to do everything during the last few months, you won't make it." Eduardo stresses how your initial idea can, and will most likely, change as you conduct your thesis research. "When you start doing your research it is very likely that you will encounter many problems and will need to add more variables, do more benchmarking, and maybe even change your topic somehow, too. So everything needs to be done with enough time, because it is not about just doing something, but doing something meaningful."
Bella shares the same advice, but she also provided a few other tips. "Work on something your advisor studies. Professor Chastagner does innovation and M&A so he can help me. If you do something that your professor does not know, then your advisor cannot provide valuable inputs for you. Third suggestion is to study statistics. You will need that! When you write your thesis you will see that you will use a lot of statistical techniques that you will need to learn by yourself, so study as early as possible. And fourth suggestion is to study hard, but play harder! Don't stress too much; it is an interesting process. During the second year or beginning of the third one, many of us undertook internships in other places, so coming back to write the thesis is a good way to have fun together."
As their time at PHBS comes to an end, the students looked back on their experiences here.
About her favorite course, Bella says, "Kevin's Business Case Analysis. It is the most challenging but exciting one! I think we analyzed five or six cases, and for every case we had different team members. It was a small class, around 16 students, and the team members were from different international backgrounds, so I got exposed to different styles." With a shy smile she added: "Some were efficient and came to the meetings prepared and others not so much, but it was interesting!"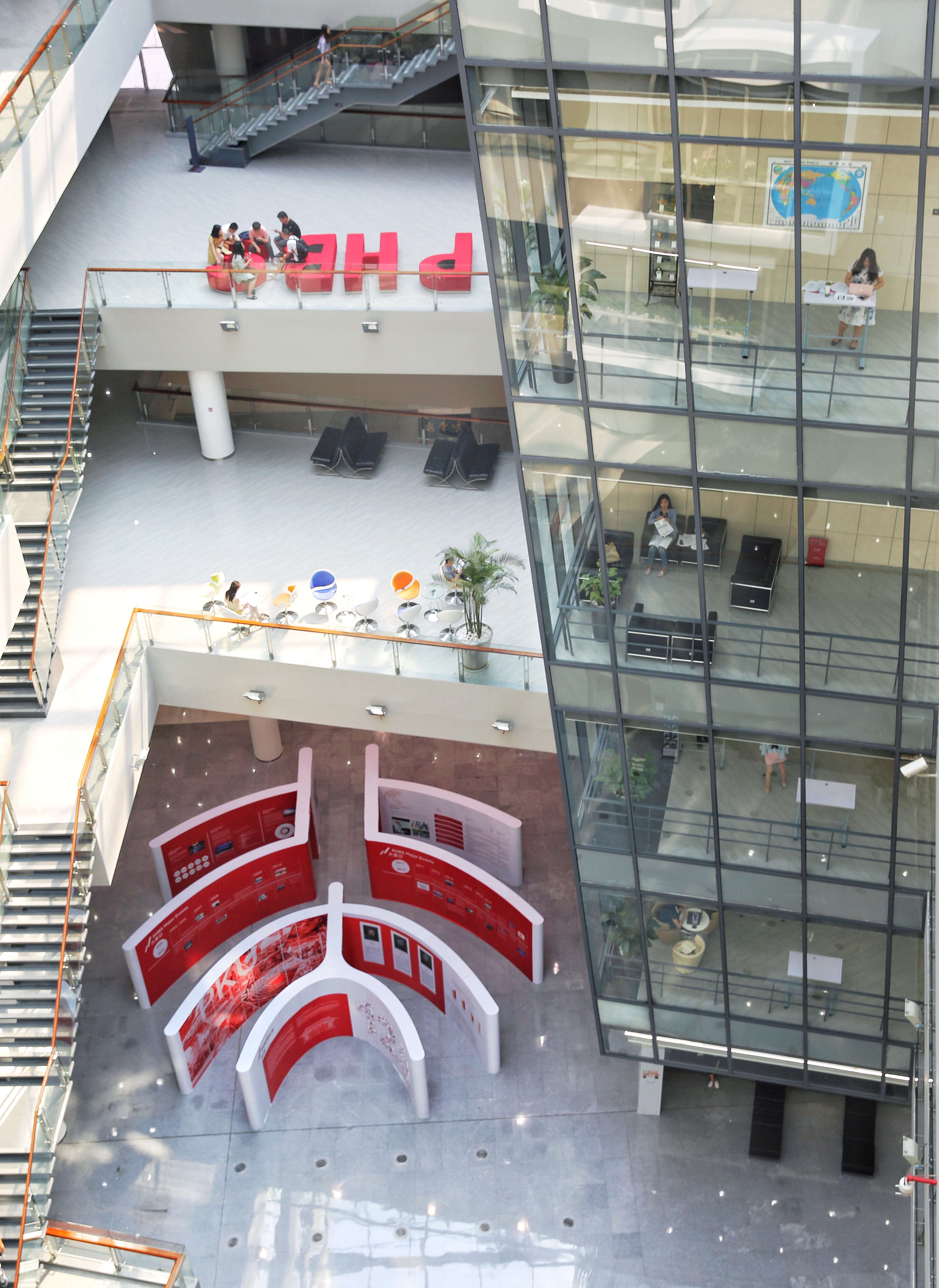 The overlook of PHBS building before the commencement on June 2
Eduardo, who also mentioned Business Case Analysis as his favorite course, added that "the level of the class was very hard and we had presentations every class for an entire semester. I believe that the people who apply to get into this course are people who are willing to work extremely hard. We did many different industries; one for example was cyber-security. So we needed to learn the industry and how it behaves and carry out a lot of research, so in the end you learn a lot and not just about the case itself. I really like business cases and want to get into consultancy. I like to solve real-life problems of the business world."
As for the hardest course, Lynn was quick to answer. "Business statistics, and can I say more? Mergers and acquisitions, and corporate finance. I just didn't have the background. Although, I have a background in financial accounting, these are different."
"James Yen!" "James Yen!"
Upholding econometrics and trying to avoid biased answers, I asked who their favorite professor besides their advisor was. While Lynn answered Priscilla Young (MBA Business English course) for her charisma, openness, patience, communication skills, and willingness to listen to students, Eduardo and Bella agreed on Professor James Yen.
"His teaching style is different from other professors. His classes are discussion-driven and student oriented. He gives his time to the students and not to his power point slides," said Bella.
Besides Professor Yen, Eduardo talked about Professor Susan Zhu. "I talked to two professors [James Yen and Susan Zhu] to get feedback on my thesis. Despite them having their own advisees and being extremely busy with other things, they were very open and set time apart for me to give very good feedback."
"I think communication," answered Lynn when I asked about the important things learned in PHBS. "Everybody comes from different places; hence the different cultural background makes it hard to communicate in the way you normally would."
"I think it's the ability to handle pressure," said Bella. "The courses in PHBS are very intense. We have two modules in one semester, and at the same time Chinese students take internships. The job market in China is very competitive, so we take internships to ensure we can find a job after we graduate. It is quite hard to balance work and study."
Eduardo thought more about it at a macro level. "First, the China experience overall. It was my first time in China, in Asia. Through company visits arranged by PHBS we learned how businesses work in China, and we were able to understand why foreign companies seek to move their operations here."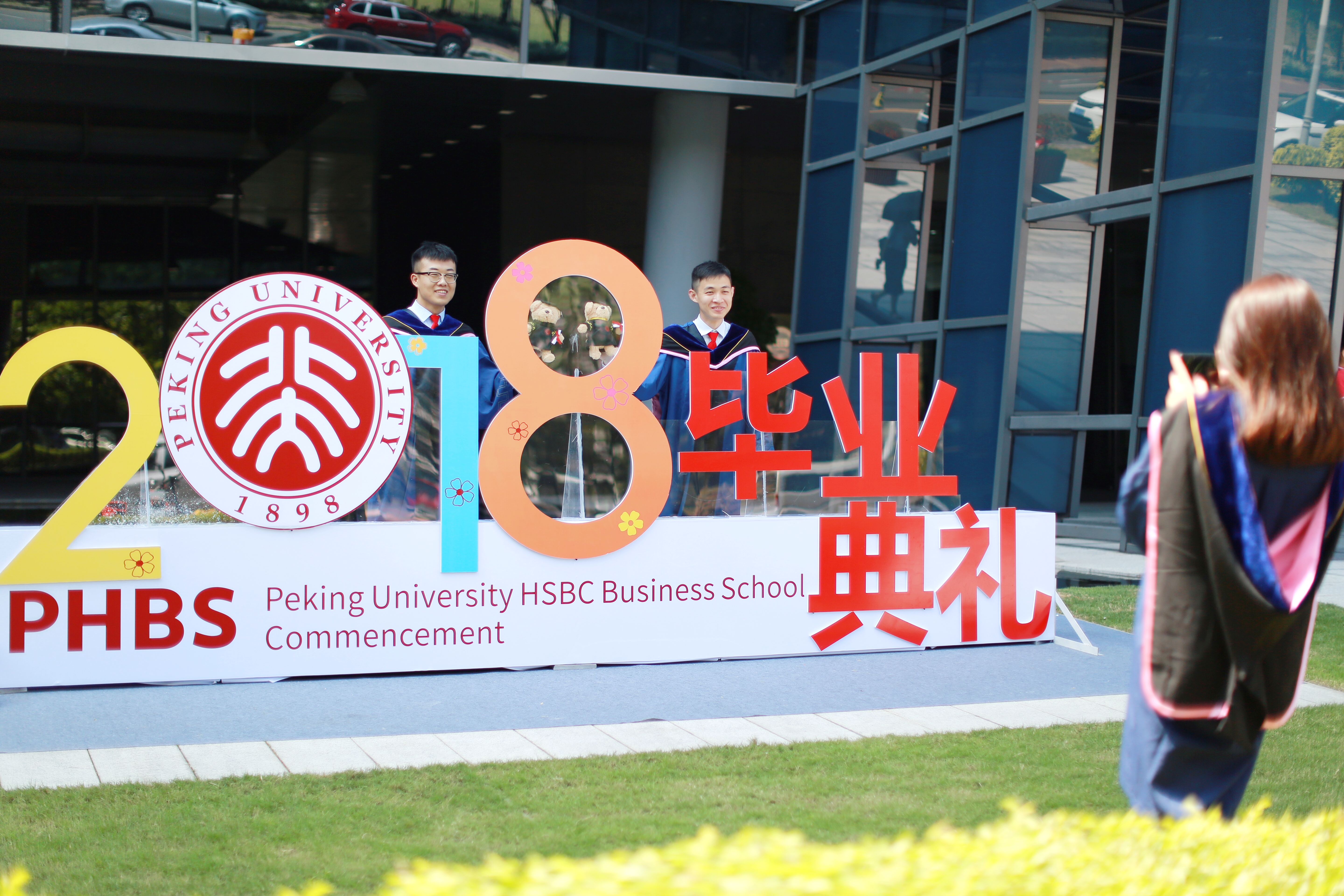 The students said that Peking University HSBC Business School was a good choice for them. As a new phase in their lives starts, Bella is excited to go into Bank of Communications in a 2-3 years job rotation, where she will be based in Shenzhen and/or Hong Kong. Lynn and Eduardo are hoping to find a job in China or return home to Myanmar and Ecuador, respectively.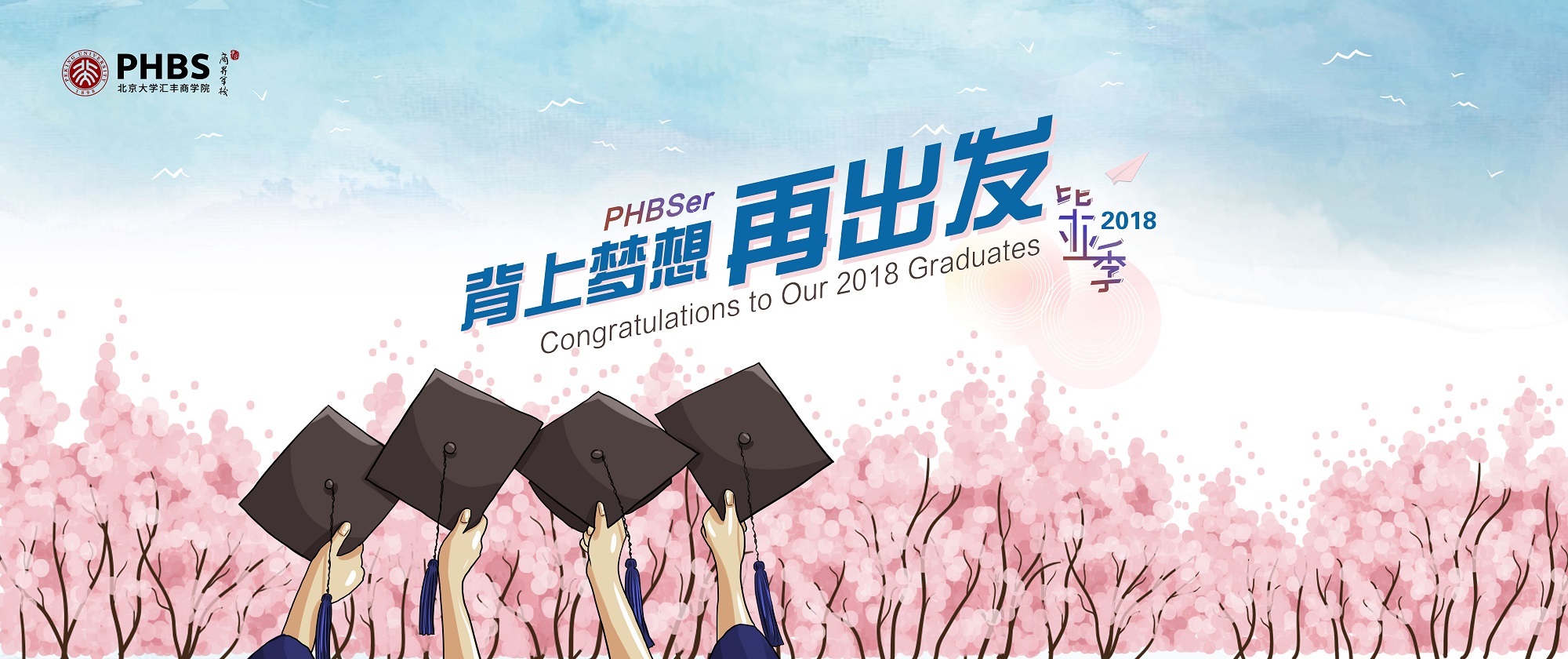 The three represent the common hope of their graduating classmates that their work at PHBS pays off with a bright future.
Congratulations Class of 2018!
By Seimar Solano Nelson
Edited by Annie Jin and Priscilla Young