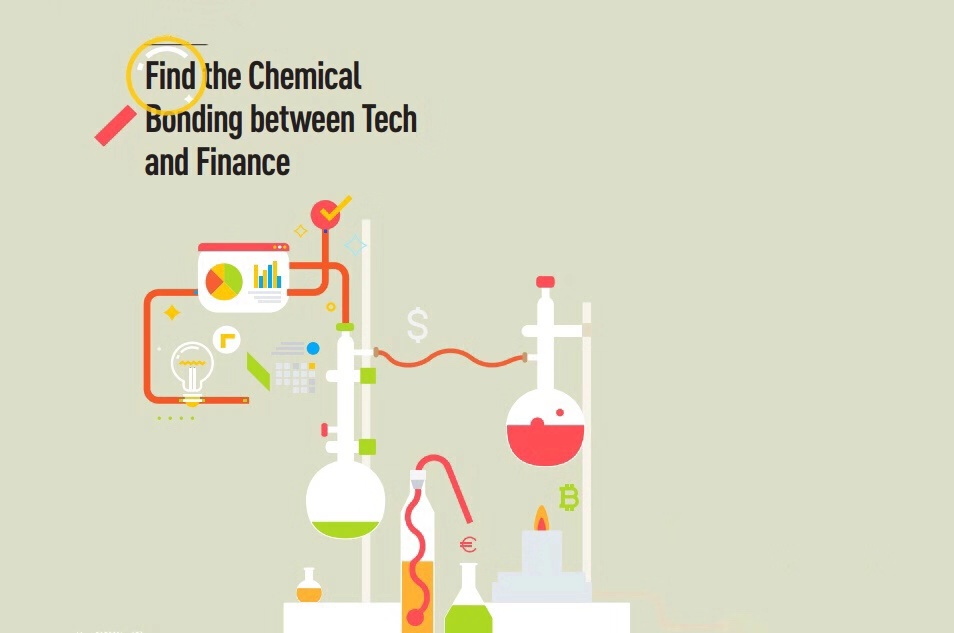 This article has been published in PHBS Magazine ( premier issue, fall 2019)
Click here to read the magazine
The financial industry has become flush with a vitality that has accompanied significant technological momentum. As fintech moves from an upstart movement into the mainstream, preparing students for the future of finance is vital. Universities worldwide have begun to incorporate fintech into their curricula, while PHBS is on the same track. "It's a natural step to set up a fintech program" said Jaehyuk Choi, explaining why PHBS has launched a program in this field.
He pointed out that PHBS is a leading business school located in Shenzhen, a hub for innovation and entrepreneurship, "so fintech is an important intersection between PHBS and Shenzhen." Choi made a career shift leaving his "quant" job at Goldman Sachs and joined PHBS in 2017 as an assistant professor. Now, he teaches blockchain and machine learning courses for the school's fintech program and is devoted to research on quantitative finance and machine learning. To prepare for the new and ever-changing field, he has "reviewed tons of related materials" and also finished a paper on Bitcoin.*
"Fintech is where finance meets technology," he explained. "For a fintech program to truly succeed, it needs 'chemical bonding' between the two areas." In this recent interview, Choi shared his insights on our fintech program and China's fintech story, as well as views on business schools' role in this trend.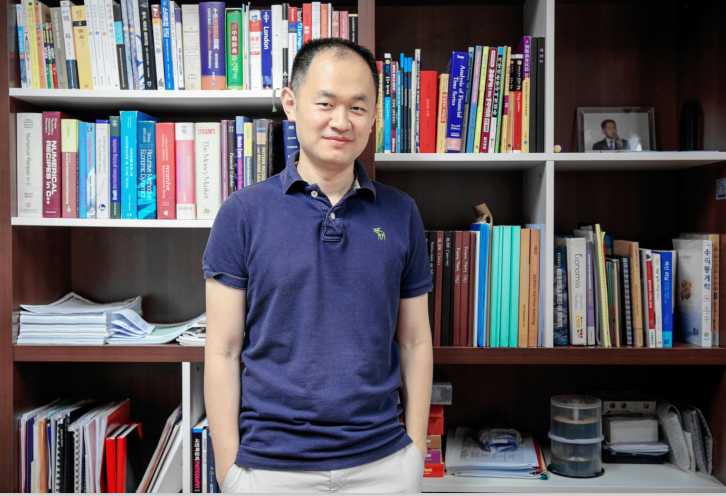 Choi stands in front of his bookshelf, saying he needs to read tons of related materials to get well prepared for the new and ever-changing field
Q: Financial technology, more commonly referred to as fintech, is expected to reshape the financial sector in the coming years. What are the reasons for its rapid growth?
Choi: Mainly it's about efficiency and affordability. So, fintech is where finance meets technology, and here's an example. Robo advisers are being used now. They are automated online platforms that can provide cost-effective financial advice. After clients fill out a personal profile, the robo advisor algorithm makes portfolio selections and manages them. This is a lot more affordable to a greater number of people than standard, human advising and portfolio management.
Q: China is emerging as the world's fintech market leader. Can China's fintech story be replicated elsewhere but tailored to the local context?
Choi: China is unique in many ways and already has successful fintech, especially in online payment. One reason for its success is that people in China don't use credit cards very much because many people didn't have access to banking in previous years. But now with the mobile phone, anyone can access the Internet, so China kind of skipped credit cards and went directly to online payment. Alibaba and Tencent are good examples. They have been central to encouraging other companies and when startups are successful, they will buy them. So, China has a good system for encouraging further fintech development in the example of online payment for it because of the chain of success. In other countries, such innovation may be slower because existing credit card technology, for example, continuously improves and competes with fintech. Still, the success of China fintech is important for other countries because it leaves footprints to follow.
Q: What are the challenges and downside of fintech?
Choi: There are many promising aspects in fintech, but it's not going to be the cure for all. For any fintech to succeed, it has to compete with existing technology, which is continuously and rapidly being innovated. I don't think fintech will win in all fields of finance. The downside is privacy and jobs. Personal information is very important for fintech companies because they create value from data. However, privacy should be protected and we have to ensure that personal data is used properly. Many jobs will be removed by AI [artificial intelligence], and we need to prepare for that trend. So students need to understand this long before graduation.
Q: Last year, PHBS launched a new master's program focusing on fintech. Can you give me a full picture of this program?
Choi: We are China's leading business school in Shenzhen, and with Shenzhen being a hub for entrepreneurship and startups, we want to create synergy between the two. So, it's a natural step to set up a fintech program. We offered the first courses for the new pro - gram this year [academic year 2018-2019], are improving the curriculum, and are looking to hire more faculty who specialize in this area.
It is important, however, to stress that as a business school, we want our students to have fundamental knowledge in management,finance and economics before they merge it with technology. That philosophy is reflected in our curriculum design. Our courses focusing on fintech include blockchain, AI, cyber security, and information security. Although we stress the fundamentals, our students are expected to do a lot of hands-on work in terms of programming. AI and machine learning involve a lot of coding, as students in the software engineering course learned.
However, fintech is an emerging field and approaches to teaching it are still developing. For example, looking at our curriculum and those at other schools, so far it's a mix of courses in technology and finance. Some business schools teach fintech as related to finance, whereas there are engineering schools teaching from the perspective of machine learning. That's so-called "physical bonding." For a fintech program to truly succeed, it needs "chemical bonding" between the two areas. When teaching fintech and finance, technological aspects should also be addressed. When tech people talk about machine learning, they should teach some applications in finance. That's the direction all fintech programs eventually should aim, but it's quite difficult.
I'll tell you an interesting story about one of my friends, an accountant at Google – not a software engineer. One day, he told his boss that he needed to purchase new accounting software. His boss asked, "Why do you need to buy software? Google is the best software company, and we have lots of good engineers. Ask one of our programmers to make our own accounting software." The problem is that Google programmers are not good at accounting. Eventually my friend left Google.
I worked for Goldman Sachs, and though the company often talked a lot about fintech, I found financial companies could be conservative in trying new things, a little bit too slow to adopt the technology. Fintech offers a lot of opportunities but it's hard for finance and technology to mix up and bond chemically. That's the main challenge. So, going back to our fintech program at PHBS, we need to achieve that kind of curriculum goal.
A quick, final story on the challenges of developing fintech coursework. I taught blockchain and digital currency. I thought I knew how currency works, how bitcoin works, but I had to learn more and studied a lot to prepare for the course. For example, it is common to search for ideas from other schools' courses, yet I couldn't find anything on blockchain. Developing the course was a painful but great learning experience for me. The students and I learned together, and the students gave me helpful feedback to improve the course.
Q: Do students solve practical cases or do empirical work in fintech?
Choi: We don't really do textbook-oriented things. Fintech is new, and there are no textbooks. So, basically, they work on practical applications. For example, in the AI and machine learning course they used real data, applied the machine learning algorithm, and searched for any patterns in the data. In the software engineering course they created a program to suggest portfolio management. It's a practical real-world example. My course didn't involve much programming. The subject for their final project was surveying real industry, how block chain is used. Looking at what's taught in school and what's done in real life, there is not much difference.
Q: Are there any other universities offering fintech master's programs and are they similar to ours?
Choi: Hong Kong is a financial hub but is being challenged by Shenzhen and Shanghai, so I think its government is concerned about maintaining Hong Kong's status. Thus, schools and government in Hong Kong are working together to set up fintech programs. For example, CUHK [Chinese University of Hong Kong] created a fintech undergraduate course, and HKUST [Hong Kong University of Science and Technology] created a one-year fintech master's program. In these cases, the driving force is the engineering schools, although they cooperate with business schools. Therefore, perhaps they emphasize technology.
I think that one of the things that sets PHBS apart from other schools is fostering students' leadership skills. We see our graduates as future business leaders, and that includes in fintech, whether they work for a fintech company or start their own. So, as they take on leadership positions, we'd like them to have a strong perspective not only on technology but also on company management and determining the firm's technology needs.
Q: There are a number of online fintech courses, including courses offered by MIT and Oxford. What do you think about those online courses?
Choi: My guess is that these online courses are targeted to people already in the industry, either in technology or in finance. When designing our courses, I searched for some information on the web. But these are paid programs, so I couldn't look into much detail. However, the online programs only provide a certificate. These are not degree programs. So, comparing our program to online programs is not an equal comparison. Yet, these online programs' existence tells you the popularity of fintech because people want to use it in their careers. It also reflects an emerging trend in academia too.
Q: While tech giants like Baidu, Alibaba and Tencent have largely fueled the growth of fintech in China, smaller players have emerged in recent years, especially in Shenzhen. Do you think Shenzhen is on track to become a front-runner in this regard? What role can universities and business schools like PHBS play in this trend?
Choi: Yes, Shenzhen is on track. Tencent is definitely the leading company in this field, while Alibaba is headquartered in Hangzhou. Tencent and Alibaba are sharing the market in mobile payment. Shenzhen has a more favorable environment for small startups, too. I'm always surprised at how China quickly adapts to new things. I think the role model for PHBS and Shenzhen should be the relationship between Stanford University and Silicon Valley: Stanford provides talented students, and industry gives them feedback, so they can grow together. So I think we can follow that model.
The only problem is that we are a business school, not an engineering school. Because of that, fintech is important for PHBS. While we can't help with hardware or electronic startups, we can help with fintech startups. Fintech is an important intersection between PHBS and startups in Shenzhen. I hope PHBS will have more interaction with startups in Shenzhen to get feedback on better educating and training students in ways to benefit startups.
One example is that Britain's Duke of York has visited our school twice to promote his venture Pitch@Palace.* We should develop similar initiatives. PHBS has set up the Center for Innovation and Entrepreneurship, which aims to promote innovation and entrepreneurship in the Greater Bay Area, and cultivate innovative and entrepreneurial talent with global vision. Yet, it would be good for PHBS to get involved in the startup ecosystem. We could first start by incubating our alumni's startups and then connect to angel investors who are also our alumni. We can start to take small steps to connect investors together. I hope that these things happen in the future.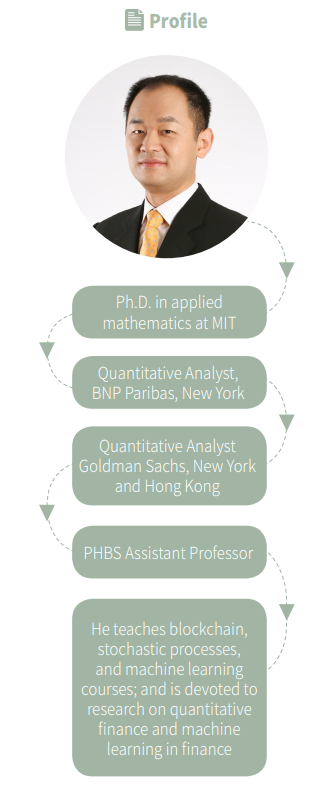 [*Editor's note: Just before this magazine went to press, Choi's paper

"BitMEX Bitcoin Derivatives: Price Discovery, Informational Efficiency and Hedging Effectiveness" ( click to read )

was accepted for publication by The Journal of Futures Markets.

Pitch@Palace, founded by HRH The Duke of York, is a platform that supports entrepreneurs to accelerate and amplify their ideas. During his visits, HRH acknowledged PHBS's engagement in Sino-UK educational communication and collaboration, as well as entrepreneurship.]