By Robert Bulava
First published in the PHBS Magazine
In September 2018, Oxfordshire became the campus home to the first group of students enrolled in Peking University HSBC Business School's UK-China cross-border program. I was among the group of seven, all master's students who study during their first year at the Boars Hill, Oxfordshire campus then move to the school's main campus in Shenzhen, China for the final year of the two-year program. Currently in Shenzhen, I am reflecting on the UK experience while in the midst of what will become China memories. So, for the benefit of others who might like to try such a cross-cultural opportunity, here I share some of our experiences.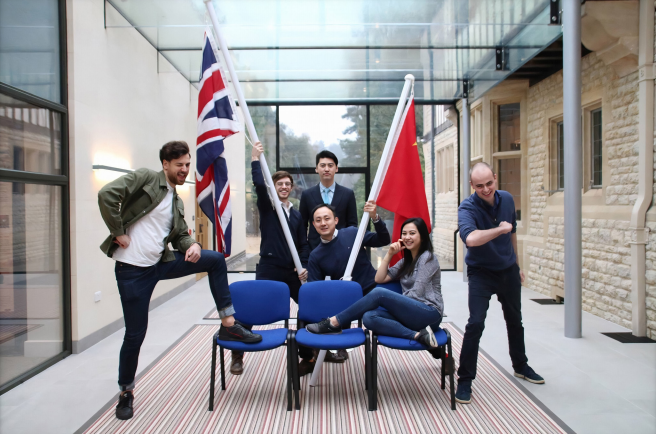 The first group of cross-border students bid farewell to the UK Campus. From left to right, Giovanni Tuccari, Nick Ruck, Roman Xia, Cheok Kim (above), Sydney Chu, Robert Bulava
UK Campus
When we first arrived in Boars Hill we were astounded by its aesthetic appeal. Located in the suburb of Oxford, about 5 km from the city center, the campus sits on the verge of a leafy woodland with a view of hilly meadows that provide fresh pastures for sheep and cattle. From the northeastern part of the campus, careful observers can spot the sharp spires of Oxford monuments in the distance. A footpath in the southwestern part of the campus leads to a lake offering a peaceful place to relax after classes.
Even with recent renovations, the campus buildings have mostly preserved their original spirit of a Victorian upper-class mansion.During the winter, sunlight cuts into the main hall at sharp angles, illuminating rich, wood wall paneling. Fine dust glitters as the warm light filters through the antique windows. With freshly cut flowers always present in the main hall and scent of the beeswax used to polish the furniture, it's easy to believe that we travelled back in time.
An overview of the PHBS UK Campus, which has 15 acres (about 60 thousand square meters) of land and 3.6 thousand square meters of floor areas
Visiting Students and Teaching
Every nine weeks, we were joined by a new group of 20 to 30 students who study at PHBS in Shenzhen. Taking the same subjects and going on trips together allowed us to make many friends. Then after our arrival in Shenzhen, our Chinese friends in turn helped us to feel welcomed in China.
The quality of teaching is as high as at the PHBS Shenzhen Campus. At Boars Hill, we were lucky to be taught by experts in their fields. Most of the professors either graduated from or lectured at the University of Oxford, like Guy Liu, head of the UK campus. Some, like John Hoffmire, are also accomplished business professionals with years of experience in the private sector. In addition, two PHBS professors were in residence, Domenico Tarzia and Hursit Selcuk Celil. One of the benefits of our small class size was ample opportunity for in-class discussions.
Debate
In early November, six of our PKU-UK students formed a group to face an ultimate academic challenge—debating Oxford University students. Comprised of Liu Ziwei (finance), Roman Xia (management), Giovanni Tuccari (finance), Lei Jiayuan (quantitative finance), Li Haixin (finance), and Robert Bulava (finance), the team worked over three weeks to prepare the best arguments, supported by visiting professors and language specialists. The topic was, "This House Believes China Is the Best Model for Developing Countries." Our speakers, arguing in favor of the proposition, based their reasoning on the successes of China's economic reforms, special economic zones, and poverty reduction programs. The opposition counter-argued that the China model is heavily dependent on the government, as well as history and geography of the country, and thus cannot be replicated in developing countries. Afterward, everyone gathered in the Union's bar for a pint of beer and conversation.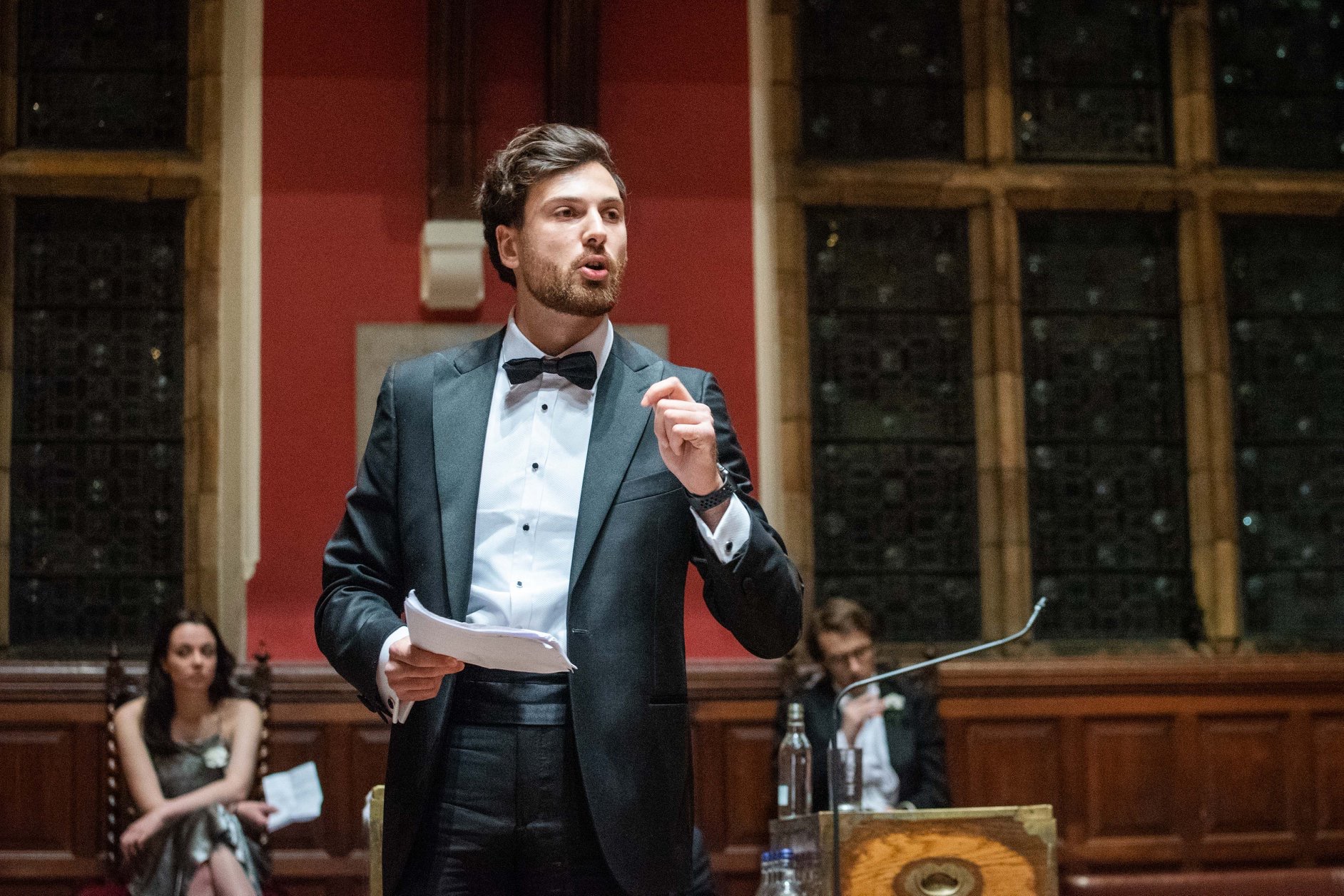 In the world famous Debating Chamber of the Oxford Union, Giovanni Tuccari stands up to our Oxford University peers arguing in favor of the proposition Oxford University student Harry Webster counter-argues that the China model cannot be replicated in any country
Life in Boars Hill, Oxfordshire
Most of the cross-border program students stayed in the center of Oxford. However, some of my friends lived at Ripon Lodge, a beautiful villa located only a few steps away from the Boars Hill Campus. In our free time, we visited the numerous colleges of Oxford University and enjoyed the beauty of their historical buildings, gardens, and general atmosphere. Oxford has so much to offer, from lectures, evensong performances by student choirs, museums, and several parks and footpaths. Oxford is also renowned for the best teams in the world of probably the most "British" water sport of all—rowing. The bank of the River Thames is lined with rowing clubs of Oxford University colleges. On my walks to the city center, I often saw teams preparing for competitions. I realized that a few decades ago, a young Steven Hawking would have been seen training here during his undergraduate studies.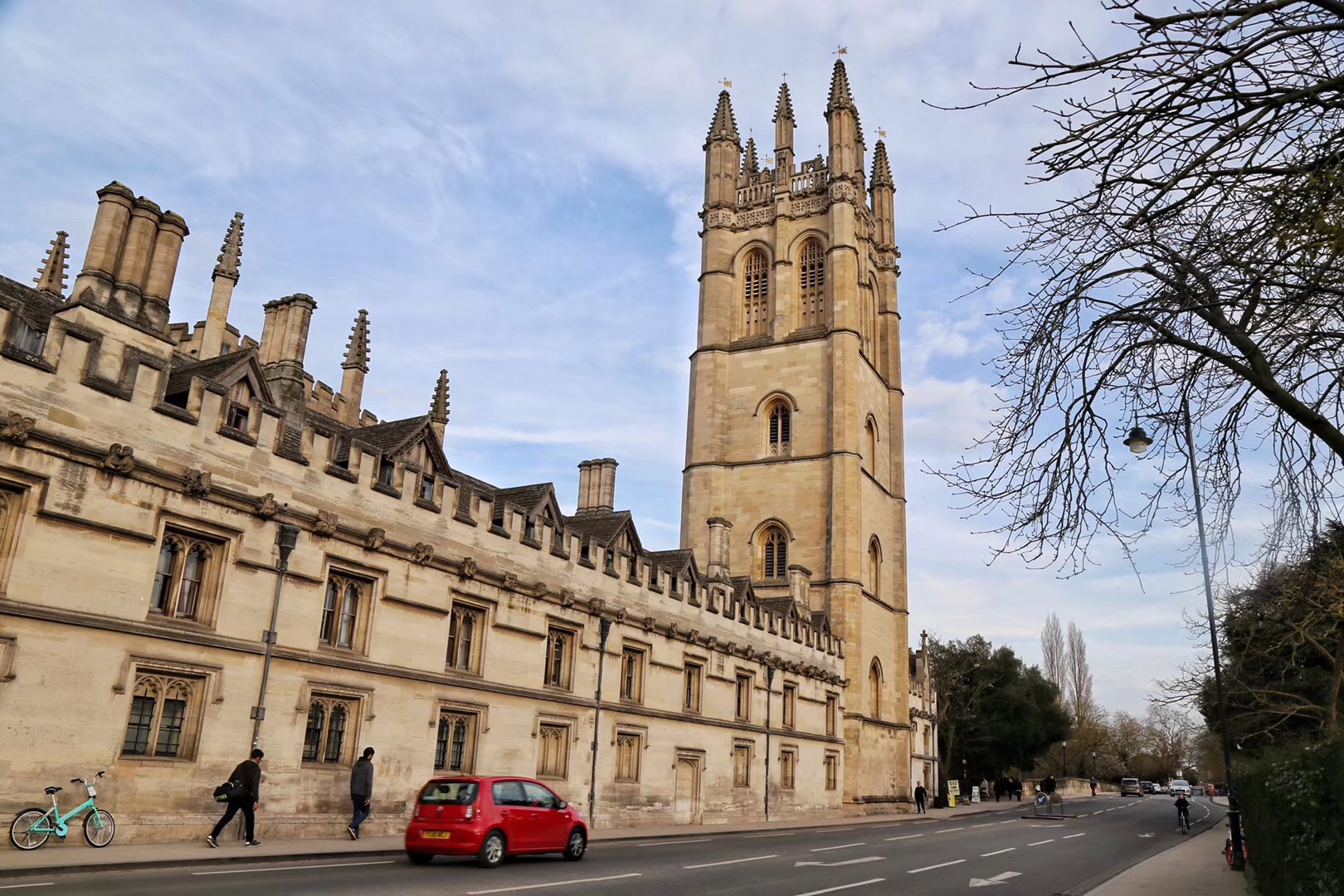 Magdalen Tower, an important element of the Oxford skyline
Outings
We had the chance to take some great outings during each trimester. The first trip was to Stonehenge and the city of Winchester, a former royal capital. During the second trip, we visited Stratford-upon-Avon, the birthplace of William Shakespeare, and nearby Warwick Castle. We toured Brighton on the south coast of England during our third outing, where we enjoyed its distinctive architecture, especially Brighton Pier, and the astounding beaches. Visiting students usually spent their free time travelling to other UK destinations, and London was on the "must see" list for most everyone.
Another popular site was Scotland's capital, Edinburgh. Most of our Chinese peers also travelled to continental Europe, visiting France, Switzerland, Germany, or Austria. A few of students plucked up the courage to go to Iceland. My Chinese friends described their stay as an amazing opportunity to experience genuine British culture and high-quality education, as well as an opportunity to travel and unwind for a few weeks. For me, studying at the UK Campus was one of the best experiences in my life. It was a great opportunity to begin our cross-border program journey to China by starting in the UK.