By Annie Jin
Edited by Priscilla Young
We met at 3:00 on a busy Wednesday afternoon as Professor Young Joon Park took a short break from his daily schedule packed with meetings, courses and office hours. Working at PHBS for 10 years, he said he has become used to the workplace dynamics. "Dynamic, is probably the word I'd like to use to describe the school."
Park joined PHBS right after earning his Ph.D. in economics from University of California, San Diego, and has played multiple roles in both academics and administration. "We have several new undertakings each year," Park said. "That makes my life busier, but when things go well with good results, it's very rewarding."
Recalling some memorable moments at PHBS, Park said there were quite a few, for instance, the new building move-in day and the 2014 Global Dean's Forum, where deans from eminent business schools and business leaders worldwide engaged in open and constructive dialogues on global trends and issues that will shape the future landscape of business education. "But if I had to choose one, it would be the day we got AACSB accreditation last August."
As the hallmark of excellence in business education, less than 5% of over 16,000 business schools and colleges worldwide hold the AACSB accreditation. Earning AACSB confirms the school's continuous improvement through an arduous peer review process.
"I was very excited to be part of the school's development," said Park, admitting PHBS's rapid development far exceeded his expectations. The school now has 80 full-time faculty members, around 2,000 students, a global alumni network, and the UK campus that opened in 2018.
The First Encounter
Located in Shenzhen, PHBS was founded 15 years ago to bring Peking University's first-tier business education programs to the country's south. So, when Park first entered the job market in 2009, PHBS was new to most job applicants. "Peking University is well known everywhere, but I was not familiar with PHBS," he said. What impressed him was the school's leadership. "Professor Hai (founding dean) was at the interview with some of our faculty members, and I really liked what they said about the school's vision for the future."
After he was offered the position at PHBS, Park and his wife visited the campus, meeting several faculty members and students. He said that the students were "really, really bright," and their interactions struck him: these would be the kind of students he would be teaching and advising.
Yet, his greatest concern was his limited knowledge of China, especially Chinese. "Teaching in English is not necessarily rare. PHBS is unique in a sense that its working language is also English." For comparison, he shared an anecdote about a Spanish school, which expected him to teach in Spanish after the first three years. Considering the language barriers, Park admitted, "It was not a good match for me and the school in Spain.
Park's visit gave him the confidence to follow his childhood dream of teaching. "I had some offers from industry too, but I was more interested in becoming a professor." Growing up in a family with parents devoted to education, Park had the talent and desire to teach. "My friends and classmates told me I'm good at explaining things," he said. "If that's the case, maybe teaching can be a good fit for me."
Multiple Roles
Park said that he rarely deviates from his daily routine. If he is scheduled to teach, he often arrives early in the morning to prepare, and after class he holds office hours for students with questions. Administrative duties also task him with meetings on such issues as relations with international partners, school strategies, recruitment, and among others.
For him, the most impressive change at PHBS since its inception has been the development of new programs. He mentioned the new course of study in financial media, doctoral program in quantitative economics headed by 2011 Nobel laureate in economics Thomas Sargent, a master's program focusing on fintech, and engaging more double-degree program partners worldwide. Involved in program development, Park said that PHBS faculty's support in curriculum design, recruitment, course arrangements, and new programs has been important.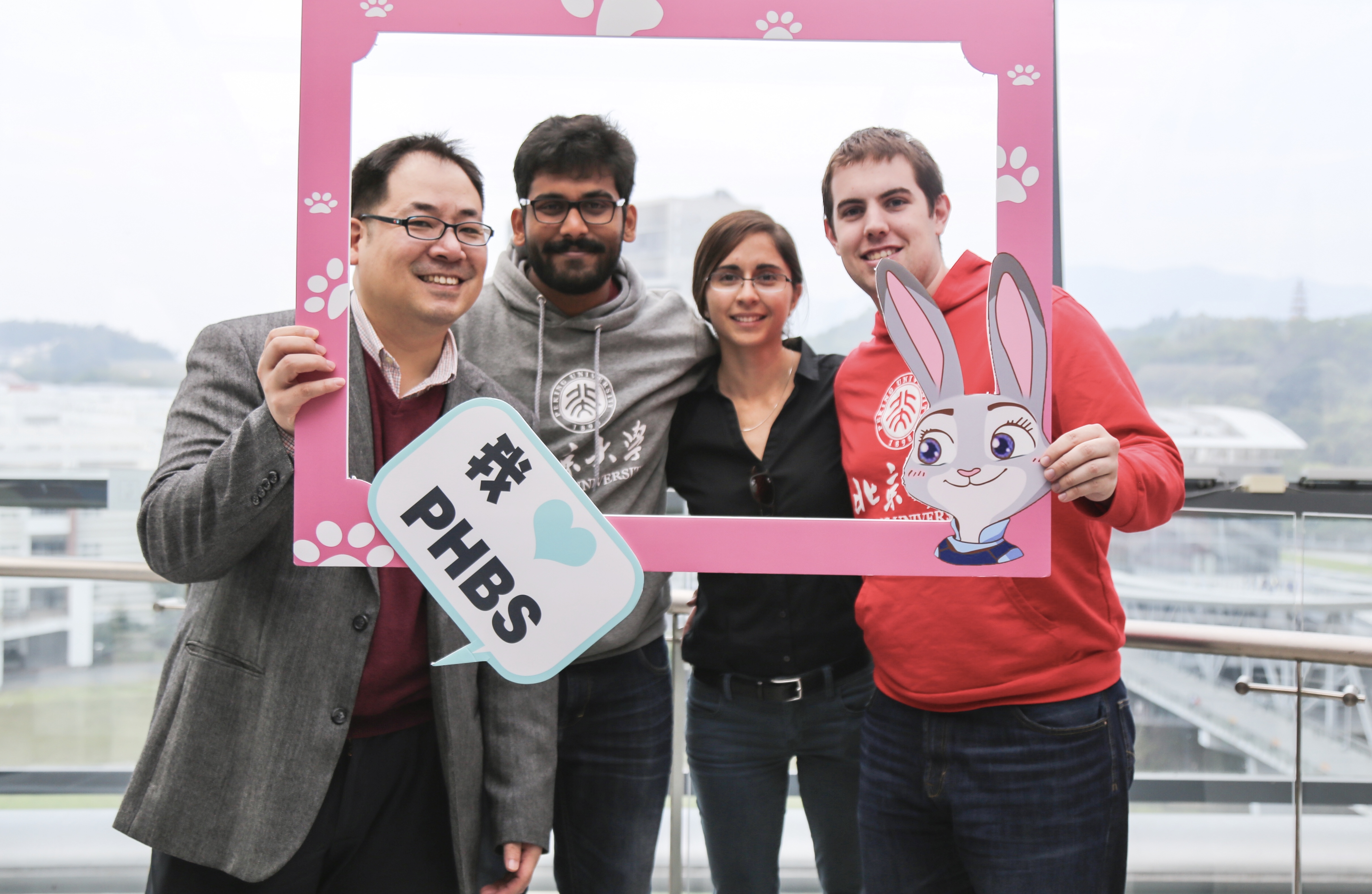 Park with students (from left to right), Mahesh Reddy (India), Lisseth Moreira (Ecuador) and Derek Alexander Hertel (Canada)
Commenting on having received faculty teaching awards twice, Park shared that he was never "a very good student." Yet, he believes this has allowed him to better understand students' struggles. "If a teacher is too smart, students will suffer," he said, revealing his sense of humor. Park said that he seeks student feedback midway through coursework, providing them a brief survey in the middle and then making needed adjustments.
With multiple roles to play, Park feels it challenging to strike a balance between teaching, administrative duties and research.
Academic Road Ahead
Park's desire to devote more time to research prompted him to take a one-year sabbatical. During the first half, he went back to his alma mater, University of California, San Diego, where he met his former advisor, professors and classmates. "I worked with my former advisor to add to some of the research I had followed before."
In the last half of his academic leave, Park visited Kyung Hee University in South Korea, where he worked with the former PHBS faculty member and regular co-author Yeujun Yoon on joint projects in marketing. Park explained they are investigating how people generate online word-of-mouth (passing information from person to person by oral communication) based on large Amazon online purchase data and compare it to the previous evaluation and the evaluation of the actual reviewers.
"We have submitted the paper and hope to get good results," Park said. He extolled the benefits of co-authorship. "Everyone has limitations. With coauthors with different expertise, we can improve the project in different aspects. I'm the one who tries to come up with the theory to explain why these kinds of results can happen."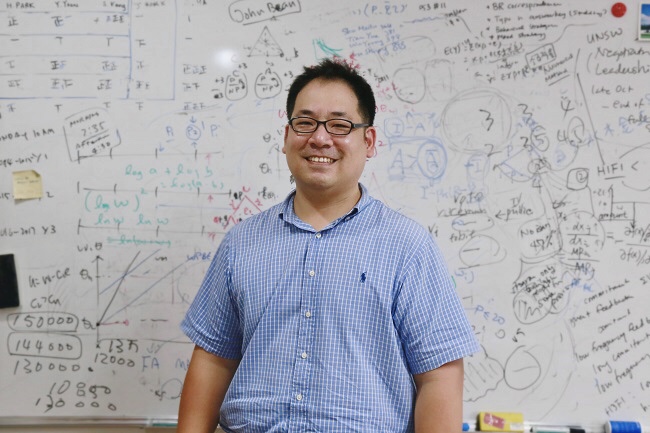 Park stands in front of his office whiteboard with economics formulas and equations scrawled on it.
Park also credits the school's favorable environment for cooperation, explaining that because PHBS differs from other schools by not having a department system, it encourages faculty from different fields to collaborate. He pointed out, for example, that PHBS has been striving to enhance its academic strength by attracting talented faculty worldwide and establishing high-level think tanks.
For example, the Sargent Institute of Quantitative Economics and Finance (SIQEF) led by Nobel Laureate Thomas Sargent, "crunches" extensive sets of data and does theoretical and empirical research to glean insights into the real world. The Research Institute of the Maritime Silk Road (RIMS), focusing on China's One Belt and One Road initiative, is headed by Professor Xiao Geng who has rich experience in policy studies and has held senior positions at think-tanks at home and abroad. Said Park, "Our school is still young, so many faculty members can benefit from guidance from the experienced."
Park said that his research is a priority, just as research is on the school's top agenda. With more academic improvement initiatives, for instance, the increased quantity and quality of seminars and conferences on campus, it is easier for faculty to interact with widely-respected scholars. "In return, they can get to know PHBS and might think about joining us too."