From July 8 to 19, 2019, Peking University HSBC Business School (PHBS) held its second Financial Media Summer School at its UK campus in Boars Hill, Oxfordshire, England. Seventeen students from the Financial Media Master's program attended this two-week course aimed at expanding participants' international perspective and gain insights into world-leading media organizations.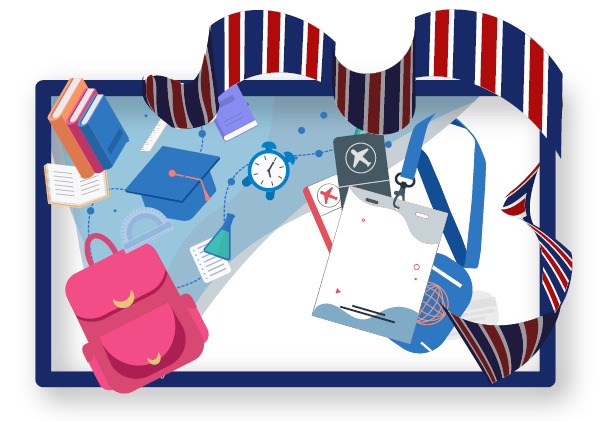 The summer school's theme was new technology and media, where students investigated issues in media and communication, including new media theory, internet research methods, data ethics, block chain, media convergence, and intercultural communication led by faculty from University of Oxford, the London School of Economics, and the University of Edinburgh. Further, BBC TV anchors Paul Hayes and John Cameron visited the UK campus, discussing how popular BBC TV programs, such as those identifying and valuing antiques, as well as antique investment, are produced.
Media visits

Students also traveled to London to visit renowned media organizations BBC, Bloomberg, and Reuters, where they enjoyed in-depth discussions with editors, journalists and scholars. BBC editors Vincent Ni and Bruno Garcez showed students the network's live broadcasting studios and then introduced their short video news and new media channels. Later, students exchanged ideas with them on how to make new programs more attractive to the younger generation.

Mark Trevelyan, a 30-year Reuters veteran reporter and editor met the students at Reuters London headquarters. Trevelyan told students that "not every reporter is willing to do this job for 30 years." He shared that "the most important thing in being a journalist is to be curious, because the nature of journalism is exploration. Secondly, good listening, affinity and a certain writing ability are necessary, and last, good journalists need to be energetic."

During the Bloomberg visit, students were amazed by the design of the building that used glass to create an open and light-filled office area where visitors could see people sitting in the conference room or taking the elevator. Bloomberg says that its architecture symbolizes its value of transparency in providing financial information and services to its customers.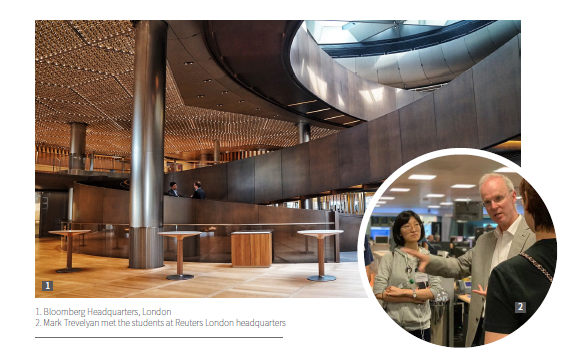 Students also visited The Economist. China Editor James Miles, formerly based in Beijing and with 12 years reporting experience, told students that with its rapid development, China has become an important voice that cannot be ignored on international issues regarding politics and economics. As a result, in 2012 The Economist added a new division to its Asia section, creating focused reporting for China, becoming only the second (after the United States) independent section for one country. Miles also added that The Economist's China section has branches in Beijing and Shanghai, mainly focusing on the political issues of mainland China and also covering Hong Kong and Macau.
A day at several museums started at the University of Oxford Natural History Museum. Its lecture hall hosted the Oxford Evolution Debate in 1860 and is currently used by the university's chemistry, zoology and mathematics departments. While the museum deals with natural history, the Ashmolean of Oxford University chronicles human civilization.
The Ashmolean Museum, based in the heart of Oxford, was the first university museum in the English-speaking world, opening to the public in 1863. The main museum contains collections of archaeological specimens and fine art, including pre-Raphaelite paintings, majolica pottery, and English silver. Following the museum visits, students took a walk through the city of Oxford and took photos of the famous Hertford Bridge, a footbridge designed by Sir Thomas Graham Jackson and completed in 1914.

One of the most popular sports in Oxford is punt racing. A long, slender, flat-bottomed boat, a punt is operated by poles that push off the river bottom. In 1829, Oxford and Cambridge held their first punt race, and since 1856, races have been held annually except during the two world wars. Most of the punting is done on the River Cherwell, which flows through Oxford's protected green belt of fields and woods for the last few miles before it joins the Thames. However, at the Thames near the Magdalen Bridge, the students hired an experienced rower. Many of the "boatmen" are students at University of Oxford who earn extra money taking visitors down the river and showing them the campus.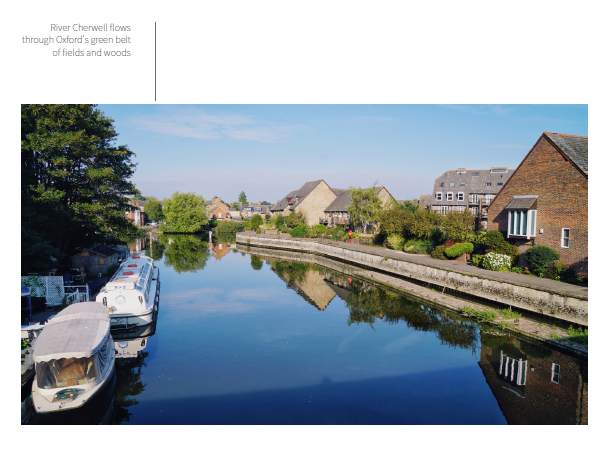 The students said it was a great opportunity to participate in the Financial Media Summer School at the UK campus, discuss current issues with scholars, and to visit world-leading media organizations. And the weather is really nice during summer!