"The internationalization of PHBS really impresses me, as the school has a strong in­ternational faculty team and MA courses are conducted in English," said finance student Bi Zilong, who attended the PHBS summer fo­rum and winter camp. The curriculum design of finance program and diverse student activ­ities also seemed quite appealing to him.

This fall, 55 full-time international stu­dents have been admitted to PHBS programs. PHBS held an orientation webinar for 2020 international students on August 31, to give instructions, tips, and guidelines on the school's academic requirements and campus life. Young Joon Park, Assistant Dean of International Affairs, elaborated on curric­ulum design, course arrangement, GPA re­quirements and scholarships, to get students well informed about the school's academic policies and requirements.
Nigel Wong, PHBS international ambas­sador program member, shared his experi­ence about online courses last semester and some tips. Brandon Stefano, President of In­ternational Student Union, spoke on topics relating to student union, as well as expec­tations and involvement to our international community.
In the Q&A session, the international office answered questions about students' exams, online courses and course registra­tion. Due to COVID-19 pandemic and virus prevention measures, most international students registered online and are attending online courses.
2. PHBS 2020 Opening Ceremony for MA and PhD Program
Following orientation activities, PHBS welcomed students at its evening opening ceremony on September 9. Over 300 full-time master and Ph.D. students attended the event, which was livestreamed for new international students to watch from their respective coun­tries.
Professor Peng Xianhua shared six pieces of advice with students. He encouraged them to stay confident, proactive and open-mind­ed. He also stressed developing independent thinking and self-motivated learning. Peng further remarked that no matter their courses of study here, students should share the same spirit of progress and love for the nation.
Chen Xiyang, representing the class of 2019, spoke about the many experiences and feelings that students have at PHBS; and Feng Zhe, speaking on behalf of the class of 2020, recalled shared memories, laughter and teamwork during the fitness and team-build­ing training.
Student performances
French student Manon Heitzler, on behalf of incoming international students, shared her excitement about coming to study at PHBS. She regarded wisdom, grit, gender eq­uity, and respect as four important pillars for individuals, which she said were also reflect­ed in the school's student cultivation. She en­couraged fellow students to get prepared and make a difference in the future.
The international class of 2020 hails from 33 countries from around the world. Six rep­resentatives from Germany, Russia, North Korean, Brazil, Tanzania and Australia introduced themselves via a video clip, sharing their background and reasons why they are excited to start their studies at PHBS.
3. PHBS Holds 2020 Student Forum
PHBS held its 2020 Student Forum on July 3-6, attracting around 140 excellent students from key universities nationwide, including Peking University, Tsinghua University, and Renmin University of China. A full schedule of the four-day event featured academic ses­sions, paper presentations, team building activities and a dialogue with PHBS faculty. Students participated in seven academic sessions related to their research papers in­cluding such topics as international trade and finance, corporate governance and business management, micro-financial markets and banking, macroeconomy and policy research, socioeconomic research, cyber finance and economics, media and social research. The forum provided them a rare chance to pres­ent their research in English and engage in face-to-face academic discussions with PHBS faculty.
4.PHBS 2020 Graduates Stand Out in This Year's Fiercely-Competitive Job Market
COVID-19 is already having a substantial impact on the labor market. According to the Institute of Student Employers (ISE), many firms have scaled down their recruitment of entry-level staff and more than a quarter of businesses are reducing the number of gradu­ates they hire this year. However, PHBS 2020 graduates stand out in this fiercely-competi­tive job market with a majority of the graduates securing positions in leading finance and consulting companies. Among a total of 280 Chinese students who graduated from PHBS this year, 273 graduates chose to enter the job market, and seven decided to pursue doctoral degrees overseas. As of July 6, the initial em­ployment rate reached 95.4%. Most PHBS grad­uates began their career in the financial sec­tors, including financial companies like China Development Bank, The Export-Import Bank of China, China Central Depository & Clearing Co., Ltd., China International Capital Corpora­tion, CITIC Securities, Guangfa Securities, Mor­gan Stanley, Goldman Sachs, Tainhong Asset Management, E-Fund, as well as renowned firms such as Huawei, Tencent and Alibaba. ­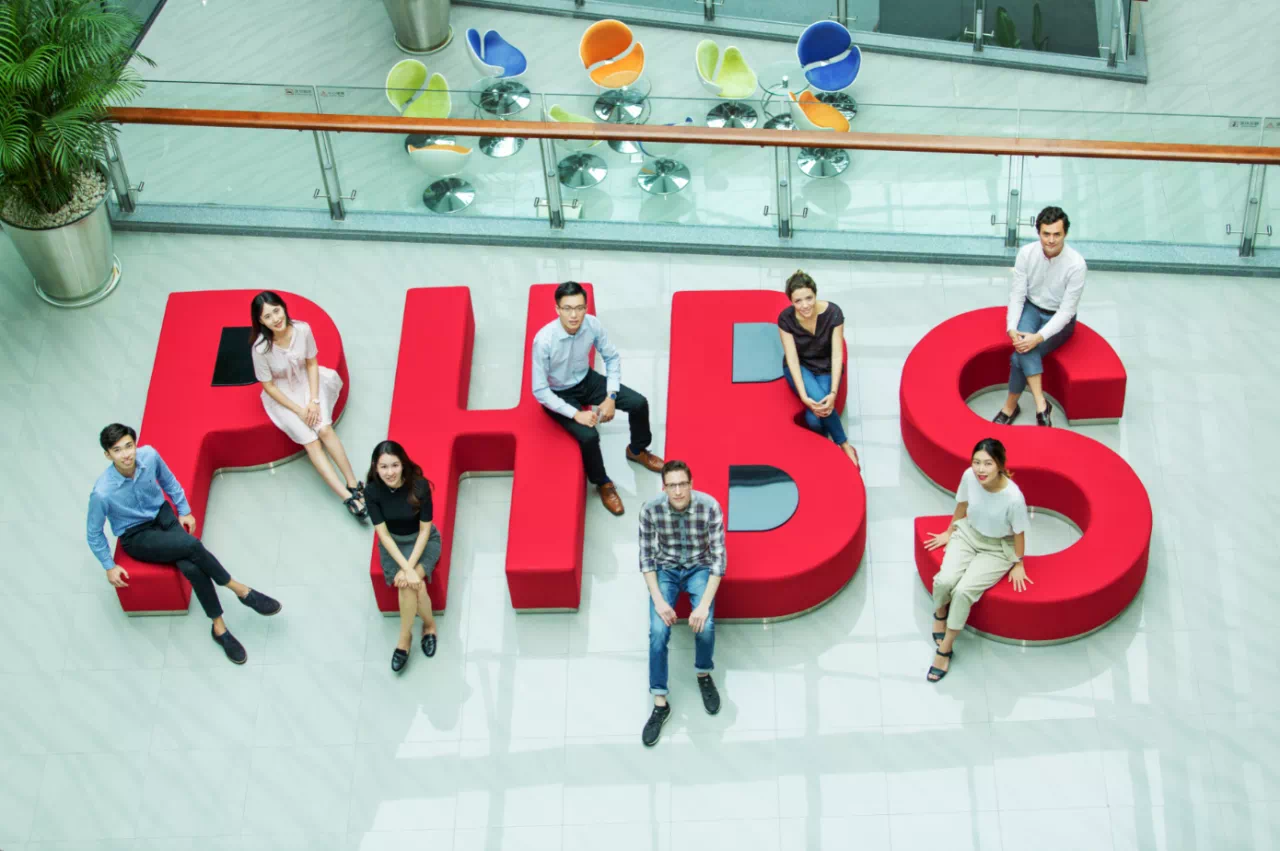 Students at PHBS building
5.Professor Thomas Sargent Shares His Insights at PKU Global Open Talks
Professor Thomas Sargent was invited to share his insights at Peking University Global Open Talks on June 24. Co-organized by the PKU Office of International Relations and PKU Office of Global Communications, the X-LENSE at PKU: Peking University Global Open Talks is an online lecture program, which seeks to pro­vide the public with academic perspectives into these unknowns, or "Xs," as we move forward. This program invites world-renowned scholars to share their insights on the hottest new de­bates and information in their fields. Professor Sargent probed into the history of macroeco­nomics, focusing on business cycles, one of the two major parts of macroeconomics.
6.PHBS Provides Academic Support for 2019 China City Business Environment Report
Report was released in a ceremony in Beijing on June 18. Compiled by the China Central Radio and Television Station (CCTV), the re­port focuses on the third-party assessment of business environment. Two PHBS faculty served on the report's expert committee, Hai Wen, vice chairman of Peking Univer­sity Council and PHBS dean; and Ren Ting, PHBS associate dean. Ren is the report's lead author. The World Bank's business envi­ronment evaluation standards were used as benchmarks. These reference international peers' evaluation indicators while taking into account the characteristics of the Chi­nese business milieu. Authors designed a five-dimension evaluation process including infrastructure, human resources, financial services, governmental affairs environment, and inclusive innovation. They also released a five-dimensional sub-ranking to compre­hensively assess the state of a city's business environment, which covers the key factors af­fecting companies' business development, in­cluding systems, markets, resources, technol­ogy, talent, and funds. The ultimate purpose is to build an evaluation system for Chinese cities' business settings based on indicators closely related to market players.
The report shows that major cities play a leading role in comprehensively optimizing the nationwide business environment extend­ing from the central cities to the surrounding cities, and an improved soft environment facil­itates advances in the business environment.