One of most anticipated events of the past term's calendar took place on the weekend of December 15th, when Peking University Graduate Business School, together with Shenzhen University, and the University of Hong Kong, hosted the 7th China Economics Annual Conference. Four hundred delegates from across China and abroad participated, submitting over two hundred research papers dealing with twenty-three fields of study, including macro-economics, enterprise management, heath economics, and financial securities. In addition to the delegates, students also attended the conference from all three of the host universities.
Opening ceremonies for the event were held at Shenzhen University, where Yitao Tao, Dean of the Shenzhen University School of Economics, welcomed the delegates. Professor Wen Hai delivered the opening address, in his capacity as Secretary of the Annual Chinese Economic Conference. VIP guests in attendance included Jingquan Bi, Vice-Director of the National Development and Reform Commission; Yingli Liu, Administrative Vice-Mayor of Shenzhen; Bigong Zhang, President of Shenzhen University, and Jujing Lin, President of Shenzhen Graduate School of Peking University.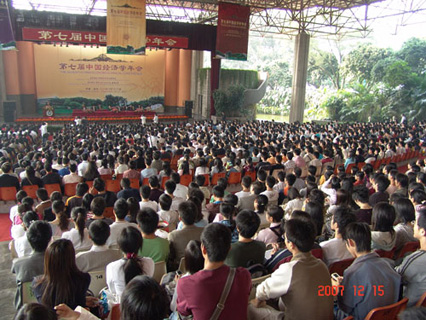 Opening Ceremony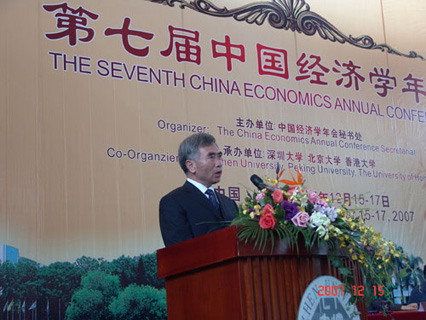 Professor Junjing Lin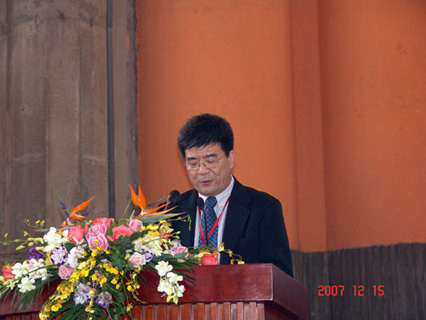 Professor Wen Hai

At the conclusion of the opening ceremonies, the first forum of the conference opened with the theme China's Reform and Development. The forum's host was Guoqiang Tian, Dean of the School of Economics at Shanghai University of Finance and Economics with lectures being delivered by Jingquan Bi, Professor Qiren Zhou of The China Center for Economic Research at Peking University; Professor Dongbin Su of Shenzhen University, School of Economics, as well as other scholars. Subjects covered in this series of lectures included inflation, macro-economic control of China's development and reform, and the economic development of Shenzhen and Hong Kong.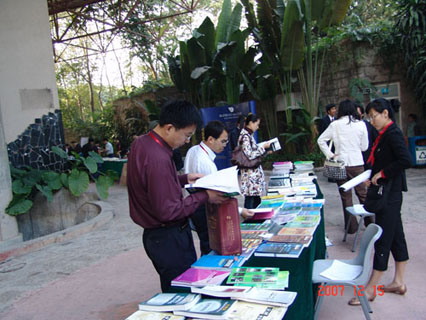 Over the course of the two-day event, 65 discussion groups were conducted on the campus of Peking University Shenzhen Graduate Business School, and further lectures held at Hong Kong University, where papers dealing with Chinese Macro-economics and Capital Market Posture Analysis were presented. Included among the lecturers at HKU were Guoquan Guo, Chief Economist of the Government of Hong Kong Special Administrative Region, Haizhou Huang, Director of the Research Department of China International Capital Corporation Limited, Min Song, Director of the Center for China Financial Research of Hong Kong University, and Changhua Chen, director of the Chinese Research Department of Credit Suisse.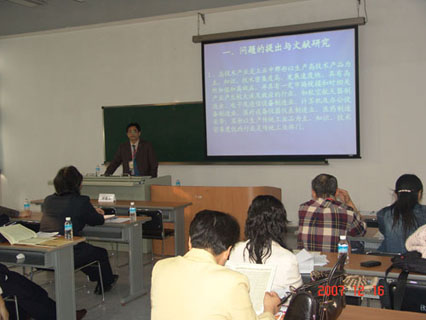 Discussion
Closing ceremonies for the conference were held at Hong Kong University, where the MC for the occasion was Yahhui Lu, Director of Hong Kong University's School of Economics and Finance. Professor Wen Hai, Conference Secretary, made the final address, after which, this year's conference was declared a huge success and officially closed.