(FWD from http://ennews.pku.edu.cn/): On 3rd May, the eve of the 110th anniversary of Peking University, Chinese President Hu Jintao paid a visit to the University and made a speech extending his sincere congratulations and greetings to the faculty, students and alumni.

As the first national comprehensive university in modern China, Peking University has made remarkable progress that helped shape the destiny of the nation, making irreplaceable contributions to the national revival and prosperity for over a century. It was the center of the Chinese New-Culture Movement in the early 20th century and the earliest base for Marxism in China. "Peking University has shared the fate of our country and wrote an outstanding history for itself in the past century. I am glad to see that it has passed on its remarkable traditions," President Hu said.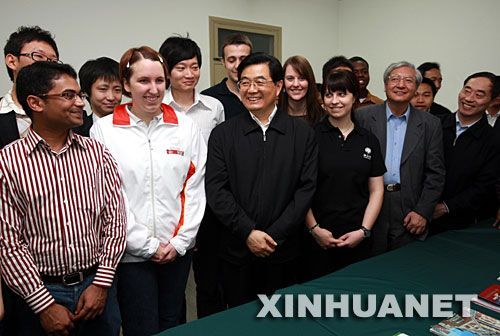 According to the President, the world including China is undergoing profound changes. Development of education is the top priority for a country to survive and improve its comprehensive national strength in the changing and highly competitive world. Elite education institutions like Peking University should bear the responsibility of making key scientific breakthroughs and foster more talents for the country. "The Peking University should build itself a world-class institution of higher learning with wide perspective, open mind and hard work," he said.

He urged college students to turn their patriotic passion into concrete actions of studying hard and contributing to the upcoming Olympic Games, improving themselves to meet the needs of the country and people.
He also expressed his hopes that researchers at PKU should make the best of the abundant academic resources of the University, making more original breakthroughs, and apply the research results to the policy-making of the government and the development of the country.

As a prestigious university in China, Peking University should lead the country not only in teaching and researches but also in the construction of academic atmosphere on campus, he added.

At the end of his remarks, he wished that PKU, with the support from the Communist Party, the government and the society and through the united efforts of students, faculty and alumni, would have a brighter future.
Editor: LiangLe