We United to Survive Disaster
PKUGSB donated 290,000
Prof. Hai donate 10,000 himself and the EDP students donate 269,000 in total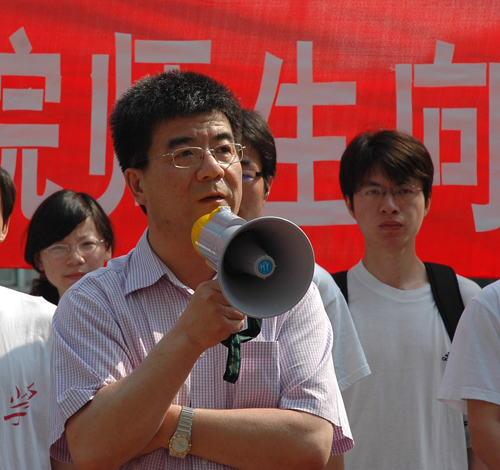 Since the tragedy in May 12th, every teacher and student kept worrying about victims in Wenchuan. Shenzhen Charity Federation came to PKU at 9am, May 15, 2008, and held a donation ceremony named "We United to Survive Disaster". Prof. Wen Hai, vice president of Peking University, Mr. Shouxu Shi, vice dean of Shenzhen Graduate School PKU, Miss Tao Fang, secretary-general of Shenzhen Charity Federation, Miss Shanyun Xu, secretary-general of Sichuan Provincial Government Shenzhen Office, full- time students, EDP students and faculty attended the ceremony.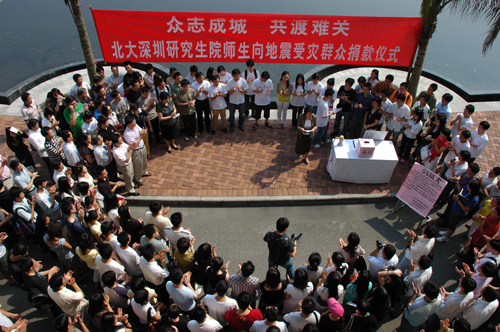 The ceremony was presided by Prof. Hong Zhang, vice dean of Shenzhen Graduate School Peking University.Firstly, Prof. Hai addressed the meeting. He said, "Today, we hold our grief, or to say our eagerness to offer our love to the victims. The earthquake has caused enormous suffering to many of our compatriots. At the crucial moment, we, teachers and students in Peking University should show love to our people without any hesitation. Let us be united to survive the disaster!" Then, he presented, "After the earthquake, many teachers and students made donations voluntarily, although some of them don't have much spare money. In just two days, we arranged over 400,000. This money represents 2000 warm hearts worrying about the disaster area. We hope it can be passed to the victims as soon as possible. We believe through this activity, we could be tighter united and with this united faith, we can and will survive the disaster!"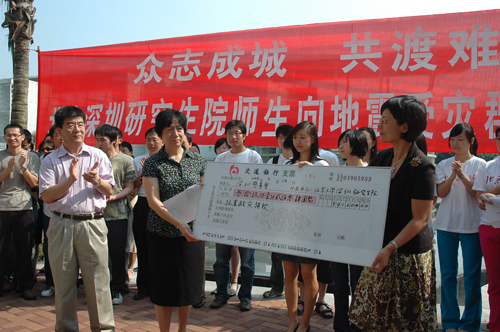 During the donation ceremony, Miss Lihua Xu, from EEP 071, and Mr Xiaohua Yan, from EMP, represented students in the executive program to give speeches. The entrepreneurs in PKUGSB acted promptly and eagerly. Besides the donation in their corporations, they donated 269,000 representing PKUGSB. Mr. Yan thinks this activity revealed the entrepreneurship in Shenzhen. That is never putting aside social responsibility to focus wholly on profit. Miss Xu also said donation is not the only way to offer our help. We should pay attention to the after-disaster reconstruction. It is a long-term mission and we hope everyone could make contribution to the rebuilding of the victims' homes.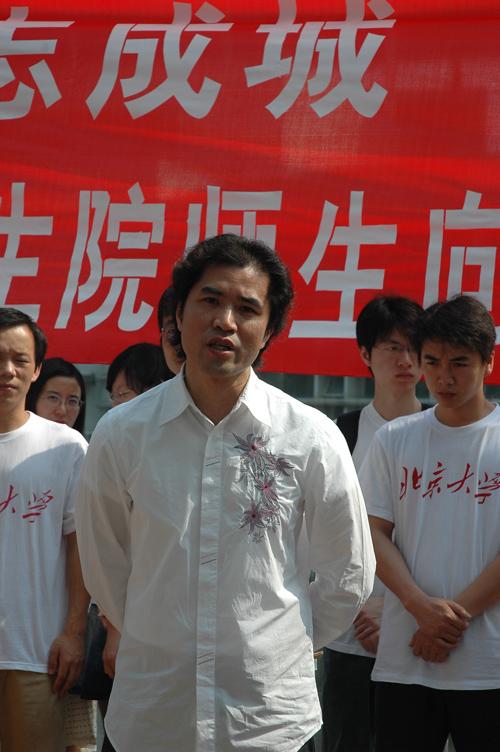 The full-time students also took an active role. Although they don't have earnings yet, they donate 8,855 in total.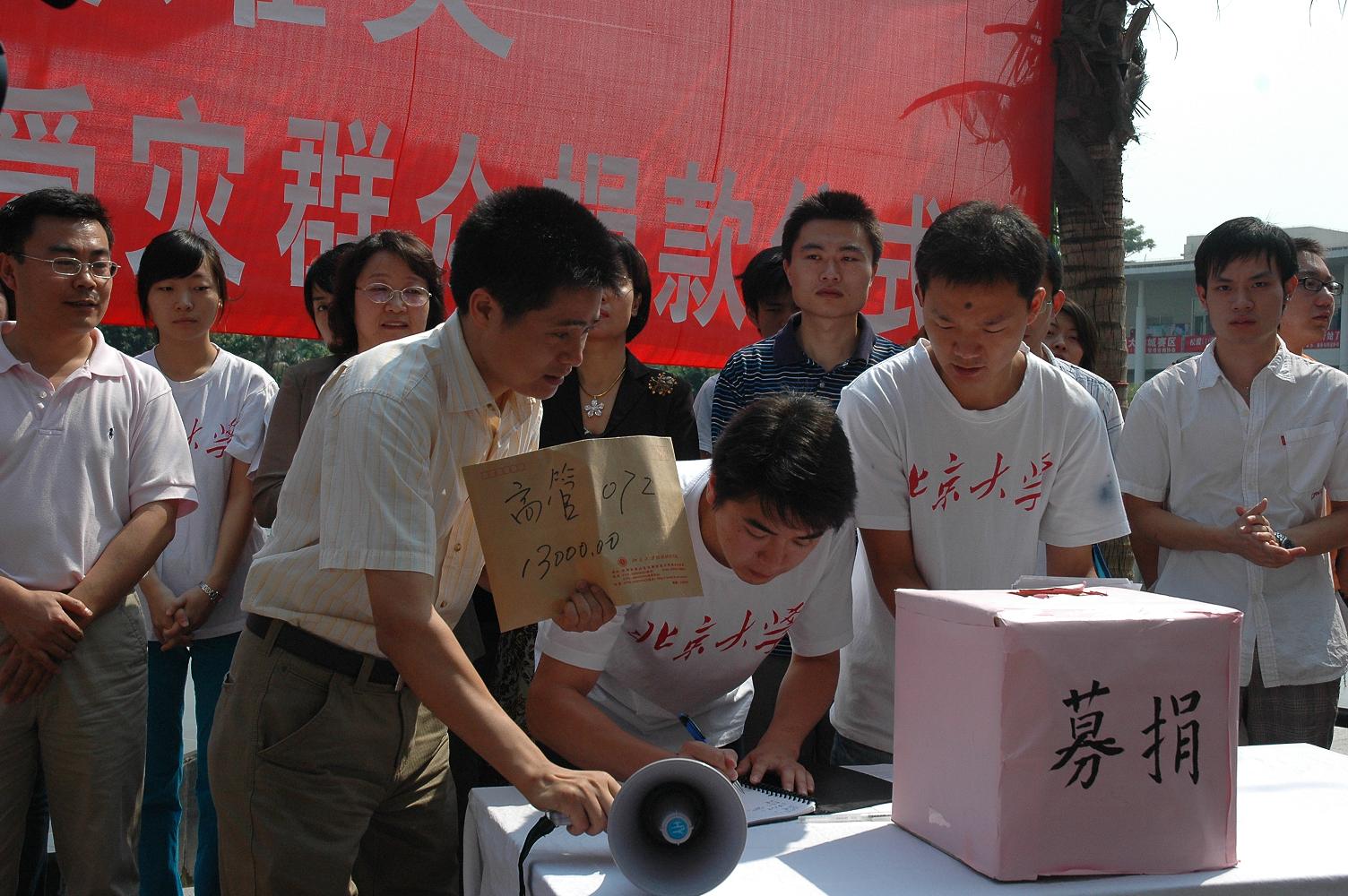 At the end of the ceremony, Miss Fang conferred the stele of sanitarian organization to Shenzhen Graduate School, and Prof. Hai accepted it representing the school.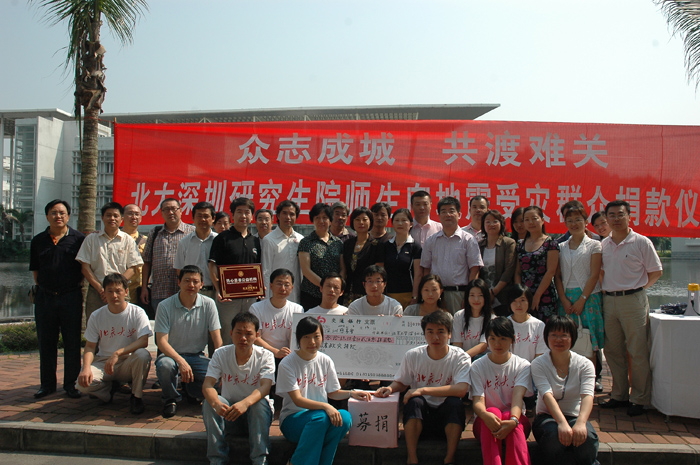 Although the ceremony is over, our concern for the victims are far from finished. We will continue to offer our help in other forms. Strong feeling of social responsibility is our glorious tradition, and we will continue to take our role. We will stand on the side of the earthquake victims and fight the disaster.
Editor: Liang Le