June 25, 2008, 7:00 pm, Peking Univeristy Graduate School of Business held Farewell Party for 2008 graduates at the Moot Court. Wang Xiaobing (Dual-Master 2005), Ni Jun (Dual-Master 2006), Fan Shilei (Dual-Master 2007), and Wang Lei (Enterprise Management 2007) presided over the party. Prof. Hai Wen, vice president of Peking University, Dean of Shenzhen Graduate School of Business, Prof. Vincent Chang, vice dean of PKUGSB, Prof. Wei Wei, vice dean of PKUGSB, together with all students, faculty and staffs attended this party.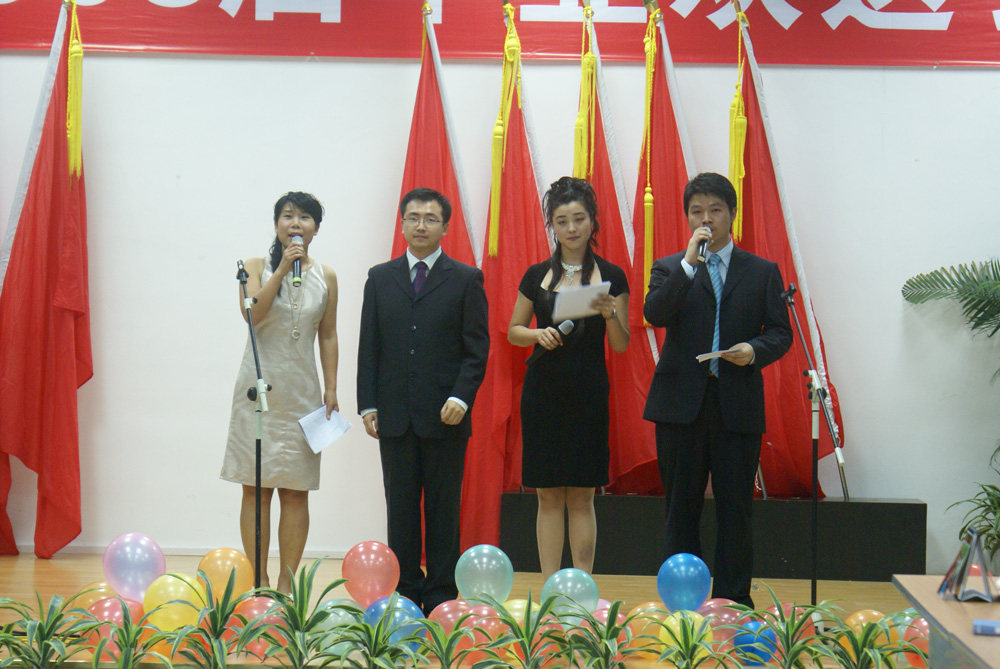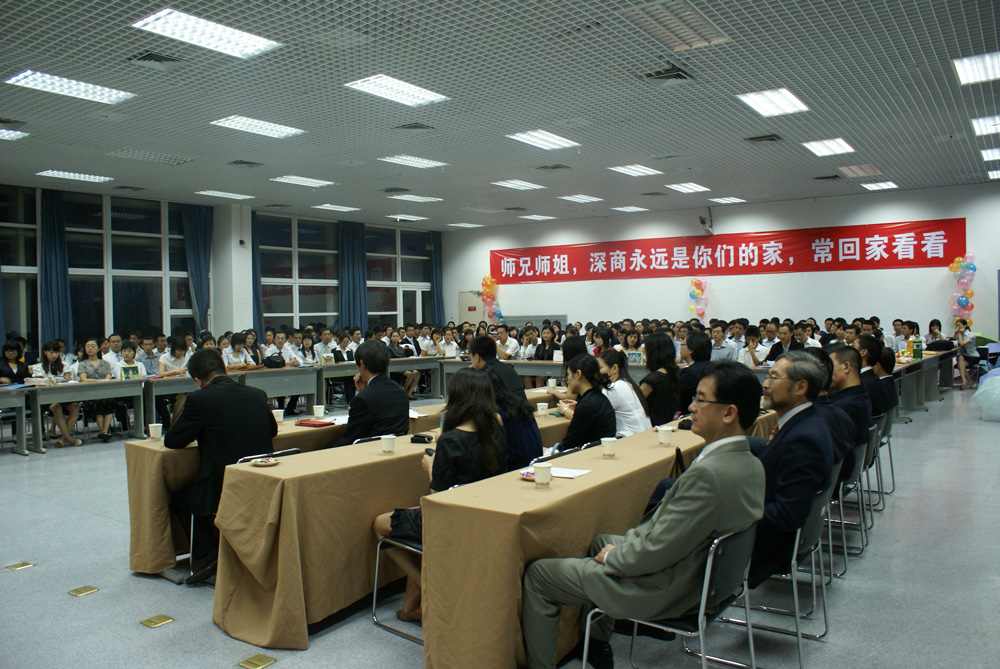 Firstly, Wei Wei, Vice Dean of PKUGSB, made graduation speech on behalf of all the leaders and teachers. He sent words to 2008 Graduates by three qualities, that is, foresight, sense of mission, self-confidence and the modest. He encouraged them to achieve their goals and realize their dreams on their future path by taking these qualities as weapons. Afterward, Prof. Vincent Chang, Vice Dean of PKUGSB, issued the Outstanding Graduation Thesis Prize to Shi Lei and Ji Juan. He gave high praise on their graduation thesis, and encouraged them to make persistent efforts and maintain the diligent and rigorous school tradition.
Then, Chen Jingyu, Grade 05, gave a speech on behalf of all the graduates. She reviewed deep and sincere friendship in these three years, sent her thanks to the teachers of Business School for their industrious cultivations, and forecasted the development prospects of Grade 05 students. Simultaneously, she expressed that Grade 05 students would take graduation as the new beginning and turning point, behave modestly and steadily, construct and defend our school's prestige by our own excellent performance.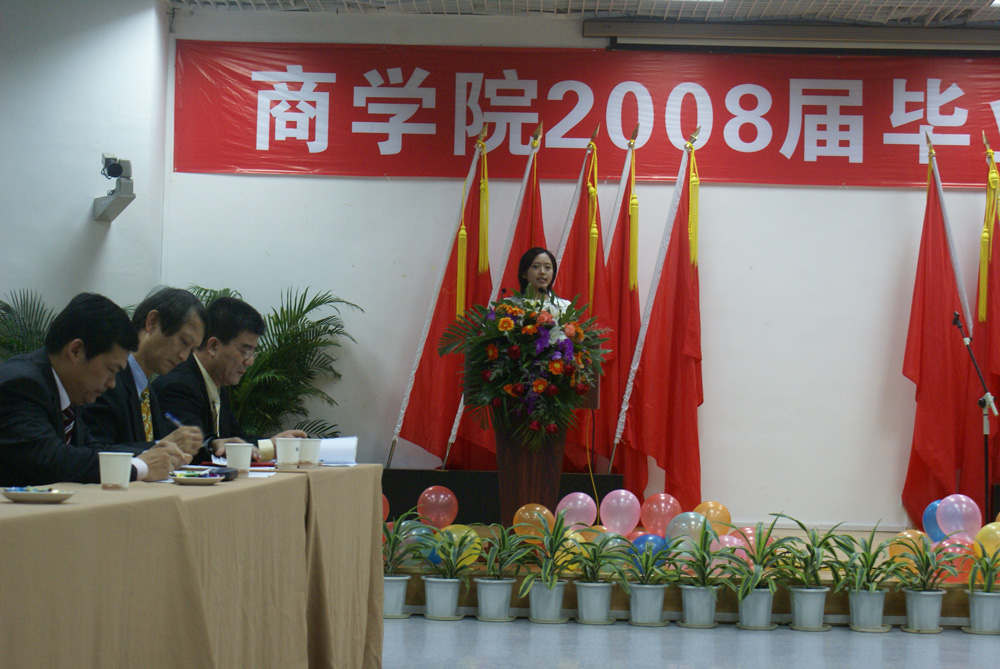 Wei Zhenzhen and Liang Yilei, from Grade 07, prayed for them to have a brilliant future. Then they expressed that: "we would take the Grade 05 as example, consummates own knowledge reserve and the professional accomplishment, and inherits the fine tradition of Business School—thinking boundlessly & doing conscientious".
The performing arts started in warm applause. The party opened with the song "Applause makes a sound" by all the teachers in Business School, then it is following by other programs: <<Youth Embarks>>(the Journalists), <<Look Back Again>>, and so forth. The most excited moment came when Prof. Hai Wen stepped on the stage and brought a poem to everybody--<<Trust In The Future>>. He sent words to all students that: Whatever happens, do not lose confidence and believe that God helps those who help themselves.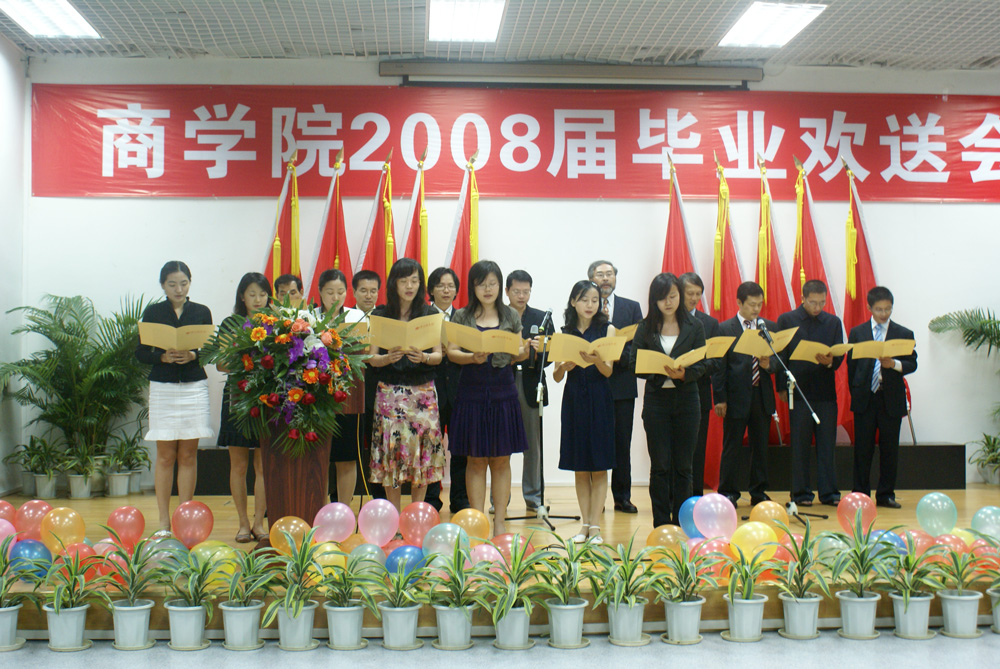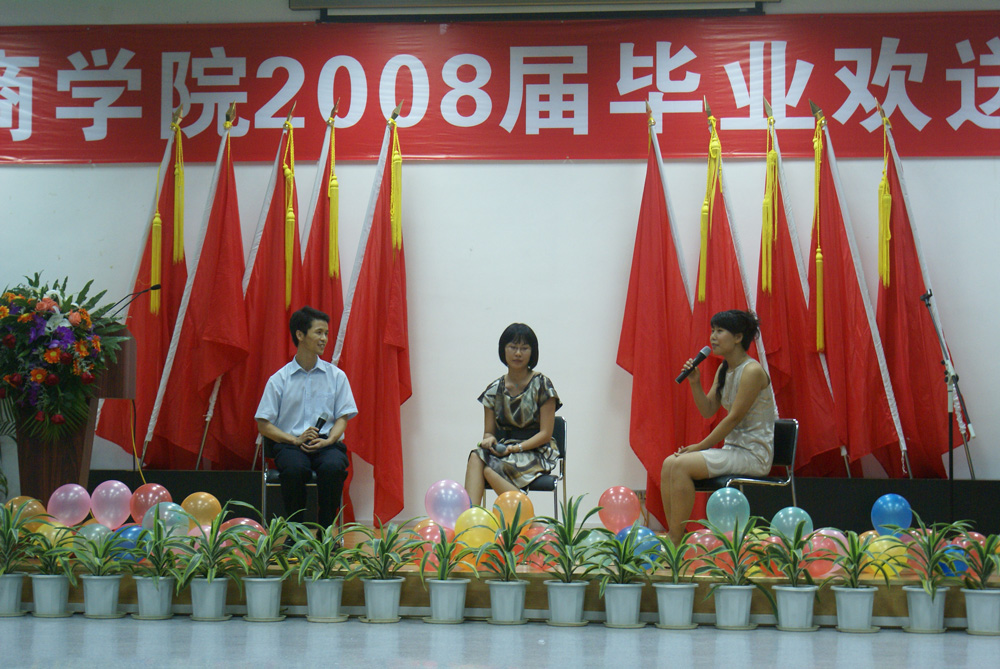 Finally, Grade 05 graduates stepped onto the stage one by one, summarized the experience in PKUGSB and made graduation words. They recalled their confusion when arrived here firstly, expressed their deep gratitude toward Prof. Hai Wen, Prof. Ping Xinqiao, Prof. Wanghao and other teachers for their meticulous concern and help; they also remembered three years' fellowship, the laughter and anger, the sorrow and happiness, all is condensed in the sentiment at this moment. Look forward and take 2008 Graduates as the beginning, we believe students in Business School will be more remarkable and the prospect of our school will be more magnificent!