On Aug. 30, HSBC (Hong Kong and Shanghai Banking Corporation Limited) with 143-yearhistory started its cooperation with Peking University, who has celebrated its 110th anniversary. HSBC Bank Foundation made a donation of 150 million RMB to Peking University to support the building of the word-class School of Business at Shenzhen and PKU Shezhen Graduate School of Business was officially renamed "PKU HSBC School of Business".
The signing ceremony was held in Peking University Hall with all solemnity. On behalf of Peking University and Hong Kong and Shanghai Banking Corporation Limited (HSBC), Mr. Xu Zhihong, Chancellor of PUK and a member of Academia Sinica, and Mr. Zheng Haiquan, Chairman of HSBC co-signed an agreement of donation. Mr. Haiwen, Vice-Chancellor of PUK and Chancellor of Shenzhen Graduate School, Mr. Liu Wei, Assistant to Chancellor, Mrs Deng Ya, Chief Secretary of PUK Education Foundation, Mr. Ding Guoliang, President of Beijing Branch of HSBC China and Mr. Fu Bihua, Vice-President of Beijing Branch officiated at the signing ceremony which was hosted by Mr. Lin Jianhua, Administrative Vice-Chancellor of PKU.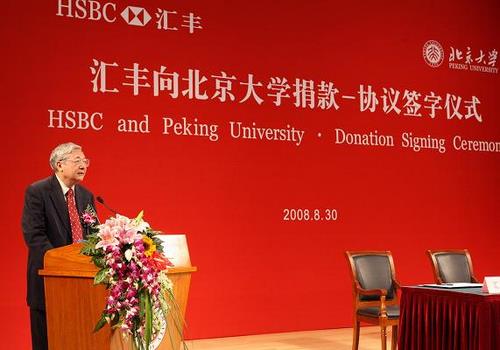 Chancellor Xu Zhihong and Chairman Zheng Haiquan Co-signed the Aggrement

120 million of this donation will be used to develop the infrastructure, faculty, talents education and other relating items of PUK HSBC School of Business and another 30 million will be put into the infrastructure construction of PKU HSBC Financial Research Center and the set-up of "PKU HSBC Financial Research Foundation".
Founded in 2004, PKU Shenzhen Graduate School of Business enjoys the high reputation national-wide with the mission to produce the senior financial talents to satisfy the needs of economic globalization. In 2008, 90% of its first graduates were admitted by the prestigious financial organizations at home and abroad. Over a few years, it has displayed great insights as well as constant efforts and it has been one the best institution to provide high quality of education at postgraduate and above level in finance.

According to Chancellor Xu Zhihong of PKU, School of Business at Shenzhen has been making contributions to the welfare of rejoins and communities by taking its geographical advantages and rich educational resources. Now, the involvement of HSBC is definitely the powerful momentum to the development of School of Business. He said that PKU HSBC School of Business would become the world-first-class school of business with regards to faculty, talents education and academic research through the joint-work of both parties.
According to Chairman Zheng Haiquan of HSBC, this agreement is the beginning of the cooperation between PKU and HSBC. The abundant source of talents of PKU and plenty experience of financial industry of HSBC provide great opportunities for further deeper and more closed cooperation.
Chancellor Hai Wen of Graduate School of Business said that PKU HSBC School of Business would take full advantage of the Peking University and Shenzhen, develop more closed likes with institutions in Hong Kong and abroad to make HSBC GSB become an important place to make theoretical innovations in finance and provide excellent talents.
The HSBC showed their support to the internationalization of business education of Peking University, one of the leading institutions of China because HSBC are confident of Chinese economy and Chinese financial development in particular. HSBC GSB will enjoy a more rapid growth by this successful cooperation to realize its commitments to develop the economy of Southern territories and China as well.
Background Information:
The Hong Kong and Shanghai Banking Corporation Limited is the largest bank incorporated in the Hong Kong Special Administrative Region and one of the SAR's three note-issuing banks. It has around 600 branches and offices in 20 countries and territories in Asia-pacific region and 23 offices in 8 countries outside Asia-pacific region. There is a population of 36350 in HSBC and its affiliated finance companies. As a Hong-Kong based commercial bank, HSBC has had a continuous presence in mainland China ever since its foundation in 1865, being one of the largest investors amongst foreign banks in mainland China. In the recent years, along with the full opening of Chinese financial markets, HSBC offers extensive banking and financial services in Mainland China through its expanding networks. Being a member of society, HSBC always assumes the corporate social responsibility as an important commitment by supporting education, environment protection and charities in China. In 4 consecutive years, HSBC has been named "The Best Foreign Bank in China" by "Euromoney", an international authoritative financial magazine.
PKU Graduate School of Business at Shenzhen was founded in 2004. The school fully utilizes the geographical advantages of Shenzhen, the proximity of Hong Kong, a major international financial center and the academic strength of Peking University. It is committed to producing senior economic and financial management professionals. At present, it offers the dual-master degree program with Hong Kong University and PhD programs in Economics, Management and Finance. In addition, it has several academic research institutions and training programs about executive management and capital markets.
Editor: Margaret Ye