On Sept. 25, the promotion conference for Citibank Management Trainer Program 2009 was held in the terrace classroom in Building D, attracting many students from other universities in Shenzhen.

Prof. Wen Hai, Vice Chancellor of Peking University and Dean of Peking University HSBC School of Business, made the opening address at the promotion conference. Mr. Xiaoguang Huang, President of Citibank China also attended and made a speech.

The promotion conference started with the opening address made by Dean Wen Hai, in which he addressed that Peking University HSBC School of Business aimed to produce business elite with international perspectives. Peking University HSBC School of Business was expecting more opportunities to corporate with Citibank, a leading financial organization in the world.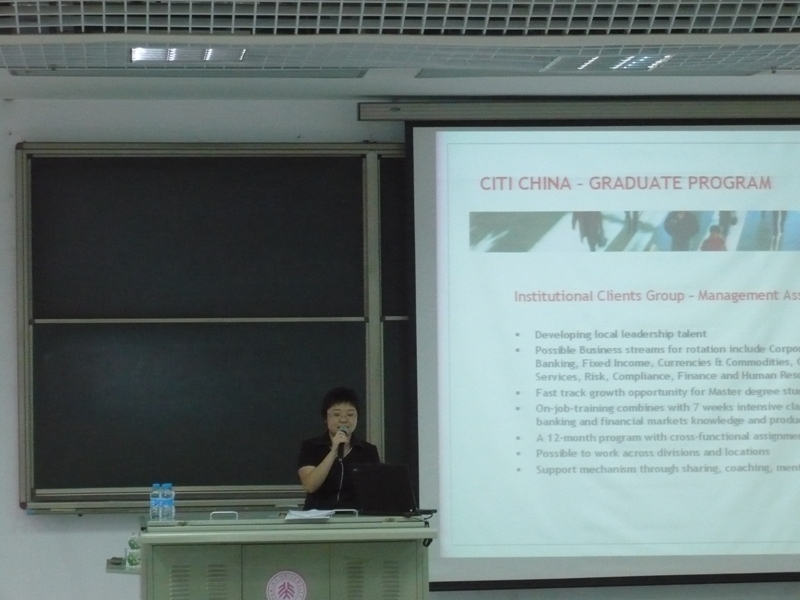 Then, Mr. Xiaoguang Huang introduced the history, organizational structure and seize of Citibank. He also illustrated advantages to start career in Citibank, including innovation incentives, global influence and personal career development path. In addition, Ms Yang, vice president of private bank in South China made a detailed introduction of management trainer program which was consisted of commercial banking and personal banking. To apply for this program, students were supposed to go through online application, written exams and interviews. The successful applicants would attend the one or two year training programs to experience the systematic training and the post shifting system in Citibank. At last, the conference ended with the satisfactory answers to the questions proposed by the students.