Following orientation activities, Peking University HSBC Business School (PHBS) welcomed students at its evening opening ceremony on September 9. Over 300 full-time master and Ph.D. students attended the event, which was livestreamed for new international students to watch from their respective countries.
2020 Opening Ceremony
Next, a video featured photo montages and clips of the recent new-student fitness and team-building training.
Professor Chu Chia-Shang introduces PHBS faculty
Professor Chu Chia-Shang introduced the school's academic strength and its faculty. PHBS has 75 full-time faculty members with PhDs from leading universities worldwide. They bring experience to guide student-centered learning and engage in high-impact research.
Professor Peng Xianhua offers remarks on behalf of PHBS faculty
Professor Peng Xianhua shared six pieces of advice with students. He encouraged them to stay confident, proactive and open-minded. He also stressed developing independent thinking and self-motivated learning. Peng further remarked that no matter their courses of study here, students should share the same spirit of progress and love for the nation.
Chen Xiyang, class of 2019 student representative
Chen Xiyang, representing the class of 2019, spoke about the many experiences and feelings that students have at PHBS, running the gamut from aspiration to excitement to pressure. She advised fellow students on two topics: coping with pressure by staying calm instead of allowing your anxieties to take over, and following your heart instead of following others' footsteps.
Feng Zhe, class of 2020 student representative
Feng Zhe, speaking on behalf of the class of 2020, recalled shared memories, laugher and teamwork during the fitness and team-building training, adding that it helped to strengthen both students' bodies and minds. He concluded that he was looking forward to the new journey at PHBS.
International students attend the livestream ceremony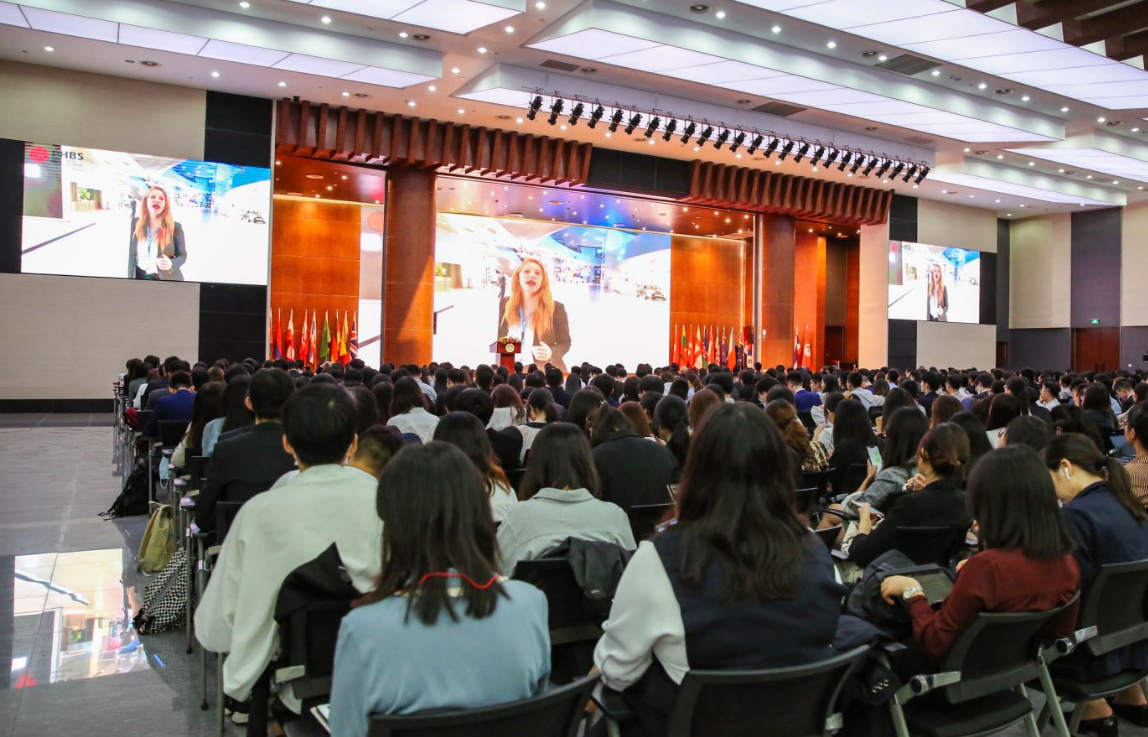 Manon Heitzler speaks on behalf of incoming international students
French student Manon Heitzler shared her excitement about coming to study at PHBS. She regarded wisdom, grit, gender equity, and respect as four important pillars for individuals, which she said were also reflected in the school's student cultivation. She encouraged fellow students to get prepared and make a difference in the future.
The international class of 2020 hails from 33 countries from around the world. Six representatives from Germany, Russia, North Korean, Brazil, Tanzania and Australia introduced themselves via a video clip, sharing their background and reasons why they are excited to start their studies at PHBS.
Student performances
Later, students from PHBS's different fields of research were divided into 24 groups. They had practiced for days to showcase their talent and skills through their creative productions, including choreographed performances and choruses.

By Annie Jin
Edited by Priscilla Young