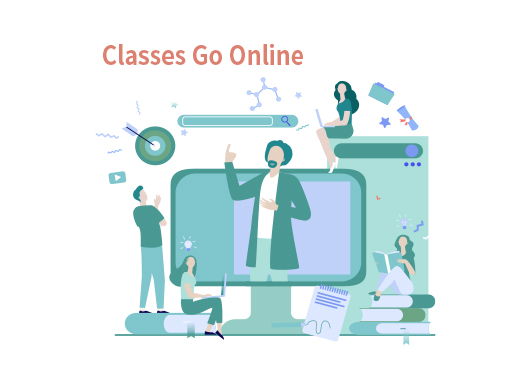 Following the prolonged Spring Festival holidays, PHBS moved its classes online. Faculty offered both live-streamed and pre-recorded lectures with presentation slides and other teaching materials, as well as group dis­cussions and online Q&A sessions. Both students and fac­ulty had to overcome challenges such as online platform crashes, time zone differences, and network instability.
Master's student Yuan Lisha reported, "Although there are some limitations in group discussions, the remote teaching led to more student participation since some may be less shy typing online than speaking in the classroom."
As the COVID-19 epidemic waned in China, PHBS wel­comed back around 300 masters's graduating students in the middle of May. To avoid any possible risk of the virus spreading, preventive and social distancing measures were strictly enforced.
Faculty and staff took nucleic acid tests before resum­ing work, lowering the risk of infection. All tested neg­ative, with no symptoms such as fever and cough. PHBS also distributed health kits consisting of face masks, dis­infection supplies and epidemic prevention manuals to those students on campus.
With strict implementation of the provisions laid down by Peking University and the Shenzhen Government re­garding epidemic prevention and control, PHBS requested that all thesis and dissertation defenses be held with so­cial distancing measures employed on site or remotely. In May, nearly 200 MBA and EMBA graduate students, and 300 MA students of economics, management, finance, and financial media participated in onsite defenses.
Unable to return to campus, around 30 international graduate students from 18 countries and regions, includ­ing the United States, Germany, Korea, Australia, Brazil, Pakistan and Singapore, defended their theses remotely, at the end of June.
For the onsite defense, PHBS strictly implemented an emergency plan and arranged for students to attend their defenses in different batches. Students and defense com­mittee members were required to wear masks and keep a safe distance during the process.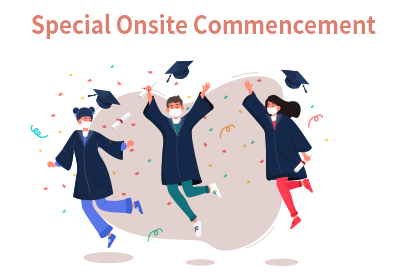 Spring was particularly stressful this year for graduat­ing students due to challenges and pressure caused by the COVID-19 pandemic, and many universities worldwide can­celled their commencements. Yet, to provide as much of a sense of normalcy as possible during these trying times, PHBS held its 2020 commencement on campus at the be­ginning of June. Over 500 students graduated this year, in­cluding 319 MA, 139 MBA and 102 EMBA students, although some were unable to return for the ceremony.
Via video link, Bai Yansong, the famous CCTV host, elaborated on the importance of core strength, lifelong learning, optimism, and curiosity. He held that in the time of uncertainty, graduates should adapt to changes and try to be indispensable and needed by the society. He further remarked that graduates should learn to face seemingly dull days, cope with triviality and make progress gradually, which would add up to a big difference in life.
PHBS Dean Hai Wen wrapped up by highlighting the importance of "looking toward the sun," especially in these turbulent times of global epidemic and economic distur­bance. He described the sun as the symbol of brightness, warmth, energy and hope, and remarked, "Facing difficul­ties and setbacks, we need enough energy to enhance our confidence, move forward with perseverance and carve a better future."
At each year's commencement, Dean Hai gives grad­uates a copy of his original artworks. This year, his oil painting depicted a wide and tranquil ocean with the rising sun, bearing the message "having a sun in your heart." He hoped all the graduates would have a "sun in their hearts," using wisdom and courage to "disperse the mist and bring sunshine to the world."