1.
As the business landscape has undergone significant changes, countries worldwide are striving to give full play to technological innovations. PHBS held the 2019 Asia Tri-lateral Seminar was held with the theme of "Technological Change and Development of Business Model in Japan, Korea, and China." Since its inaugural meeting, this annual seminar has been jointly organized by three leading business schools, Peking University HSBC Business School (PHBS); School of Business Administration, Hitotsubashi University Business School (HUB-SBA, Japan); and Korea University; Business School (KUBS). Scholars and researchers converged to discuss technology's impact on the business model and analyze critical issues in current business trends. This year's seminar featured keynote addresses, open discussions and a Q&A session, with wide ranging topics such as big data science, AI application, and business ecosystems.
2.
Sir Mark Welland, deputy vice-chancellor of the University of Cambridge, visited PHBS on September 4, 2019 accompanied by Professor Christoph Loch, director of Cambridge Judge Business School (CJBS). Sir Mark and PHBS Dean Professor Hai Wen discussed future cooperation between the schools. The delegation also visited the Qianhai Shenzhen-Hong Kong Modern Service Industry Cooperation Zone, which focuses on finance, modern logistics, information and technology services. Sir Mark was interested in Qianhai's role as a transportation hub and service center, as well as its demand for international education and professional training.
3. The 2019 White Paper on the Ecology of Chinese Insurance Intermediary Market was publicly released at PHBS, providing guidance for future development of the insurance intermediary market in terms of team building and personal branding. Professor Ju Lan, director of the Risk Management and Insurance Research Center at PHBS, remarked that in the future, the White Paper series will continue to "tell Chinese insurance stories and build up an excellent Chinese insurance culture."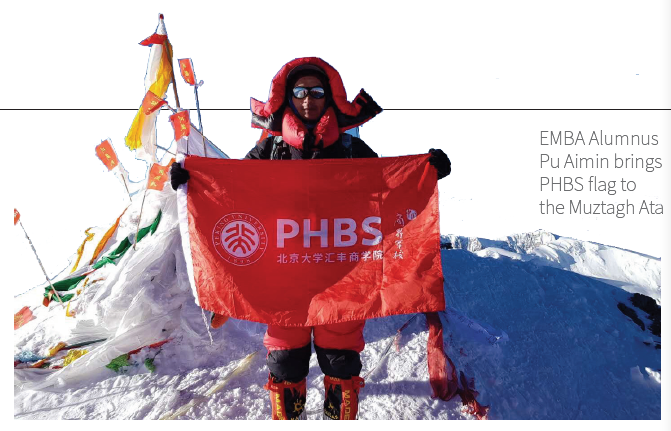 4.
EMBA alumnus Pu Aimin successfully climbed to the summit of Muztagh Ata, 7,546 meters above the sea level and the "Father of Ice Mountain." On July 5, 2019 he also completed the World Marathon Challenge, popularly known as the "777," ranking 8th overall (28 hours, 24 mins, 26 secs), and the leading Asian participant in last year's February event. Pu Aimin is a well-known long-distance runner in Shenzhen, with a personal best in the marathon of 2 hours and 54 minutes.
5.
Themed "Youth without Borders', the campus party offered an amazing chance for students to enjoy the wonderful diversity of cultures from around the world on campus. For example, PHBS managed a UK booth welcoming guests with wax seals and postcards, as well as chips; the School of Electronic and Computer Engineering provided Thai food such as durian pizzas and dried mangoes. In addition, international students from such diverse regions as Latin-America, the Czech Republic, India, Italy, and Germany, took the opportunity to introduce their own culture through the culture and special food, drink, and games.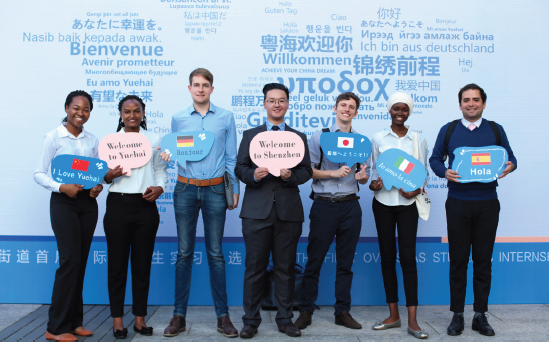 6. Over 50 international students from Peking University Shenzhen Graduate School attended the First Overseas Students Internship Fair on November 16, 2019. The event is an initiative launched by the Nanshan Yuehai Sub-District Government Office, along with the Shenzhen Nanshan Southwind Social Work Service Center, serving to encourage greater collaboration between Shenzhen's international student community and firms based in Shenzhen. International students from PHBS and the School of Transnational Law (STL) were given the opportunity to meet with representatives from firms such as Baidu, Oppo, Tesla, and Intercontinental Hotels, as well as 50 other firms either founded in Shenzhen or with a large presence in the area.