The International Business Fair (IBF) was held via Zoom on March 24, 2021. The event was the first job fair for International Students of PHBS organized by PHBS International Office and the International Student Union (ISU). The event was hosted by the President of the ISUBrandon Stefano. IBF started with a speech from professor Young Joon Park, assistant dean of international affairs. Professor Park was happy to see international students having the opportunity to find jobs in China or other countries in the world. He hopes this type of events can keep on developing in the future and congratulated the ISU for organizing the event.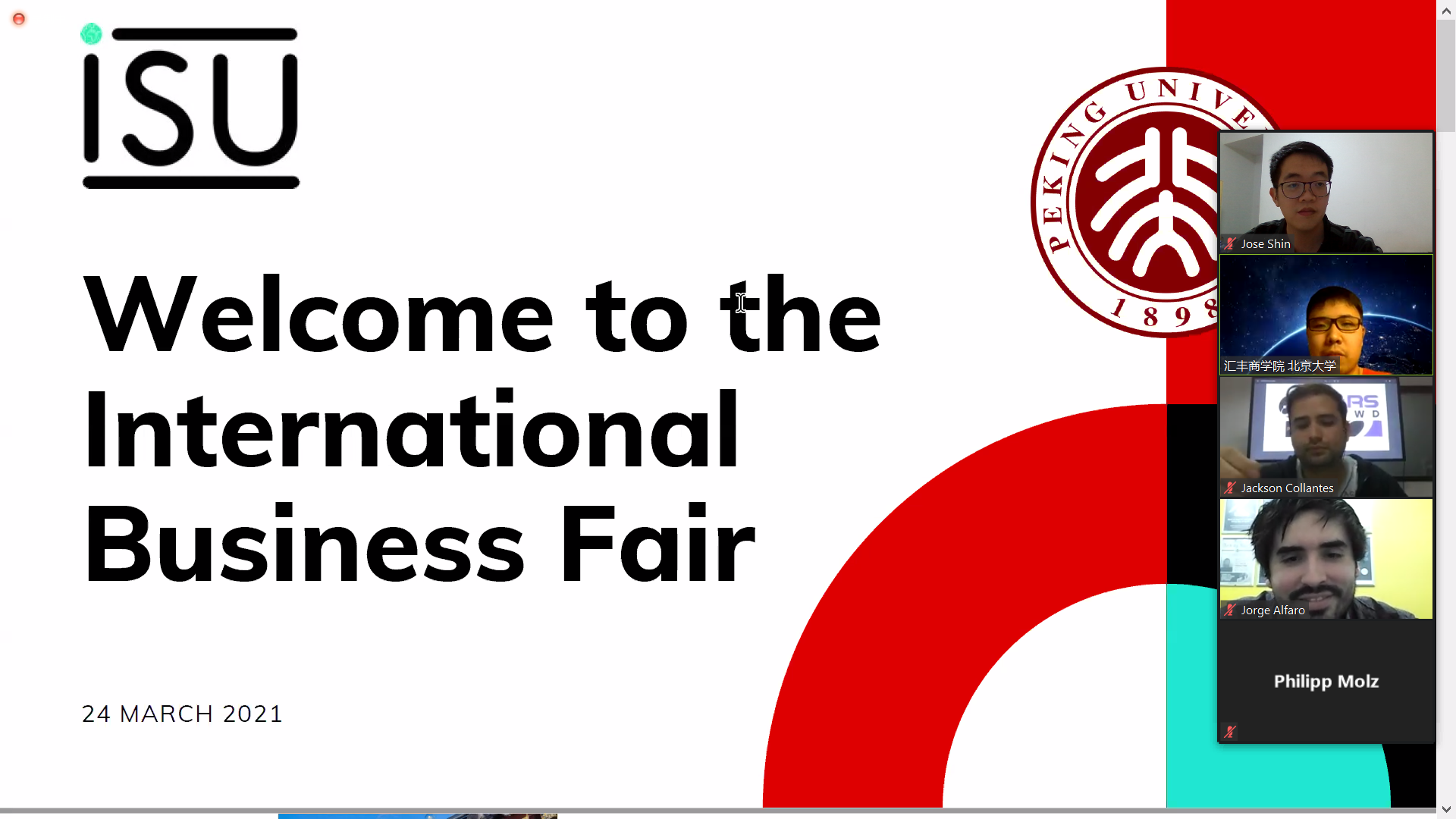 Picture 1 Kickstart of the IBF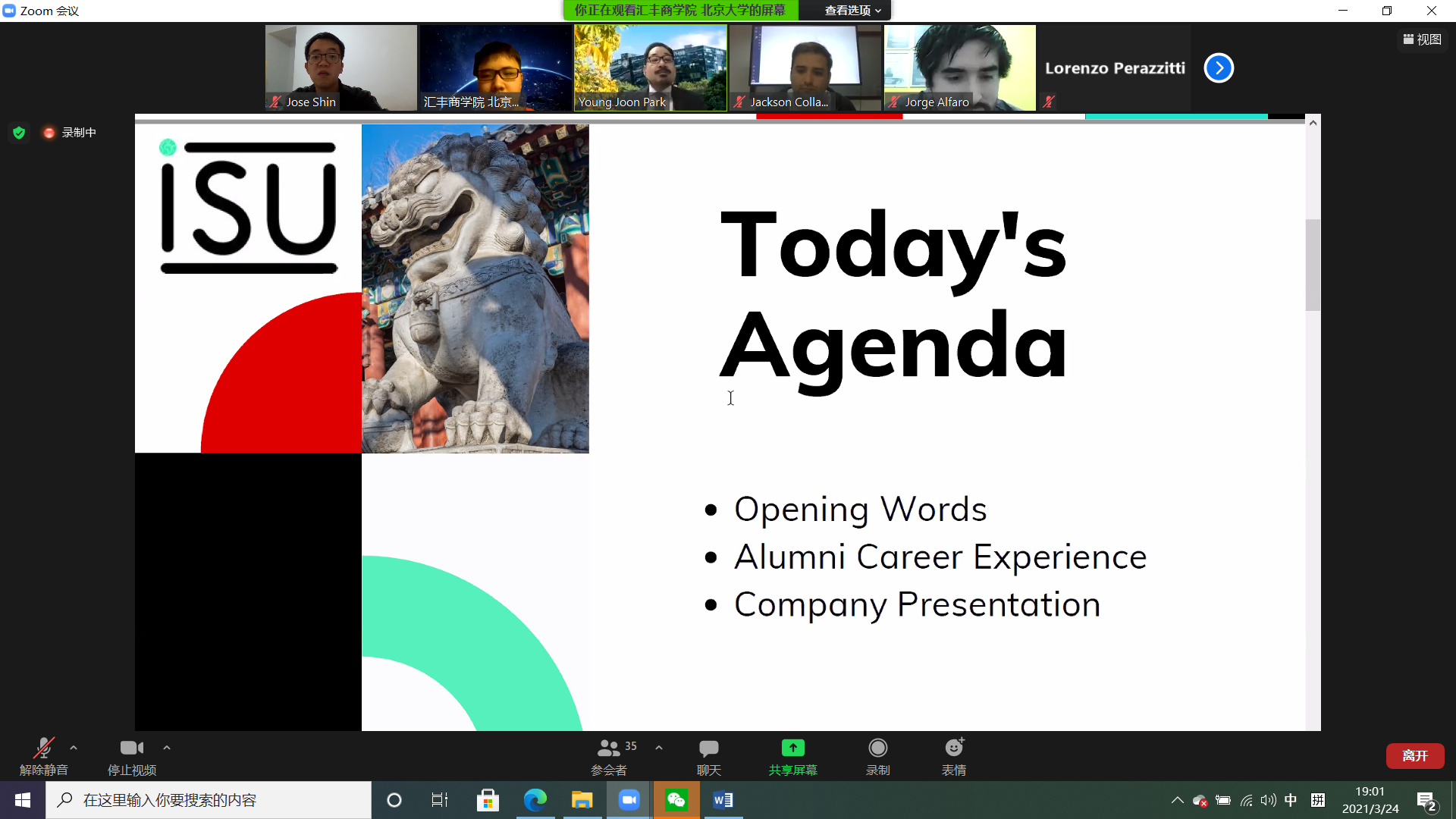 Picture 2 Professor Park's speech
Next speaker was Jackson Collantes, former president of the ISU from 2019-2020. He shared his experience on how he found his current job in Shenzhen and how he got his working visa. Jackson is working as an Analytics Specialist in MarsCrowd, a quality multilingual data provider for machine learning projects.

He is in charge of analyzing website traffic indicators and improving customer experience on their website. The job hunt for him was challenging because of the COVID propagation. Jackson has learned about the Chinese working culture and is part of a team in where 70% of his coworkers are foreigners, which has helped him to adapt better to the Chinese working environment. Jackson finished his speech mentioning that his current company helped him to apply for the working visa.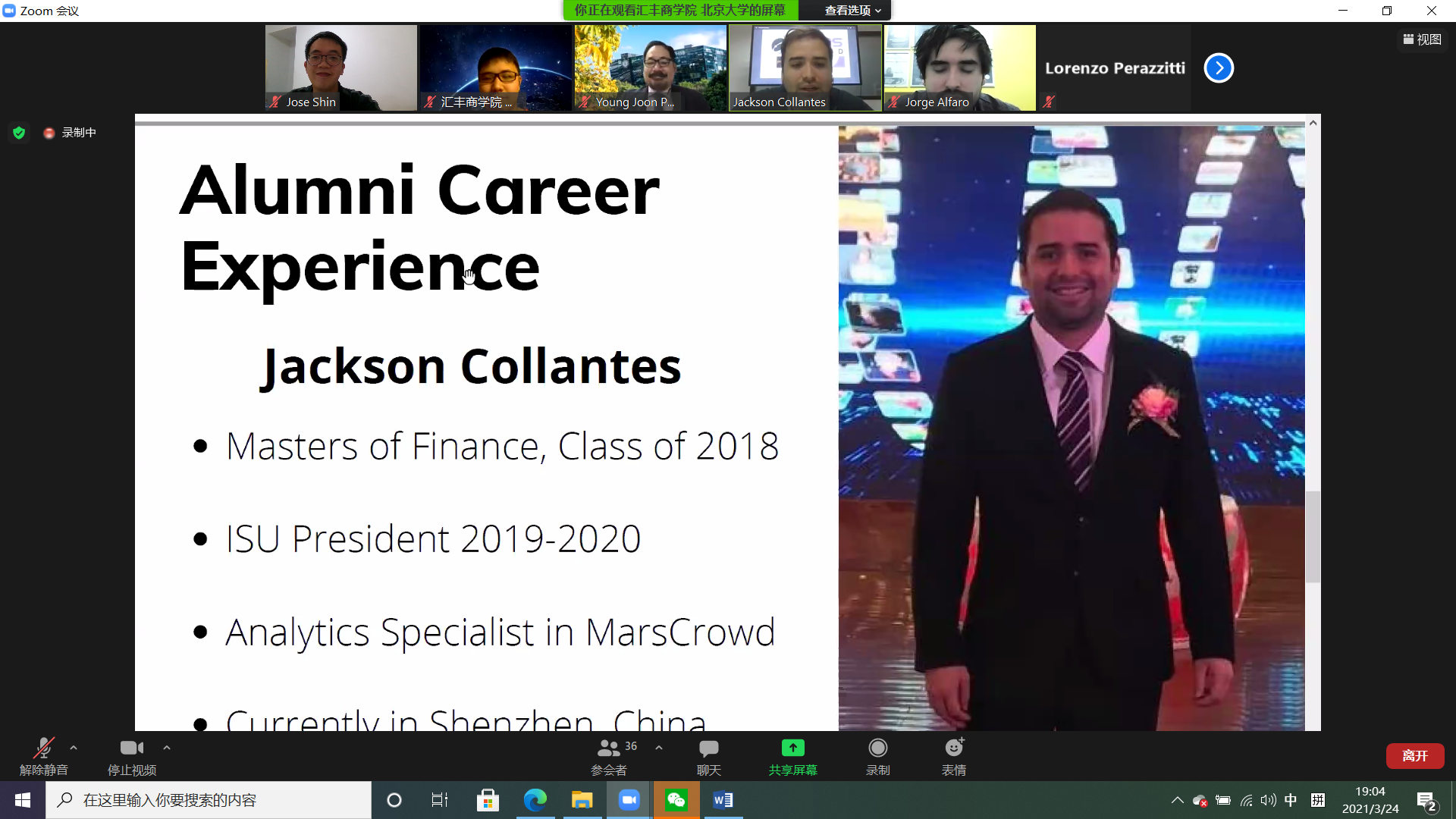 Picture 3 Jackson Collantes' speech
The next part of the IBF consisted of 8 companies introducing their business, job offerings and solving the students doubts. The first company was Bank of China. The representative of the Luxembourg branch, Zhao Yang, spoke about the history of Bank of China in Europe and all the different job entry levels available.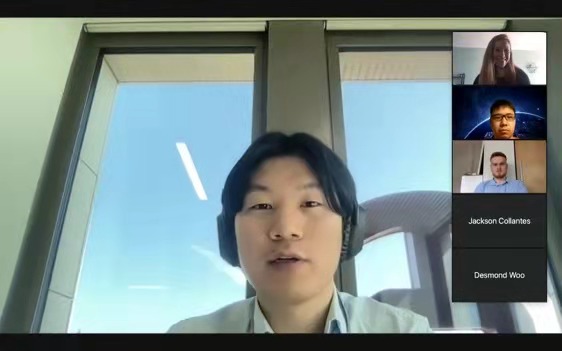 Picture 4 BOC Presentation
Second company was Santa Rita Estates, their representative was Shelley Xu. It is a wine company headquartered in Chile. They export wines to more than 90 countries. The job they offer, requires the applicant to go to Shanghai.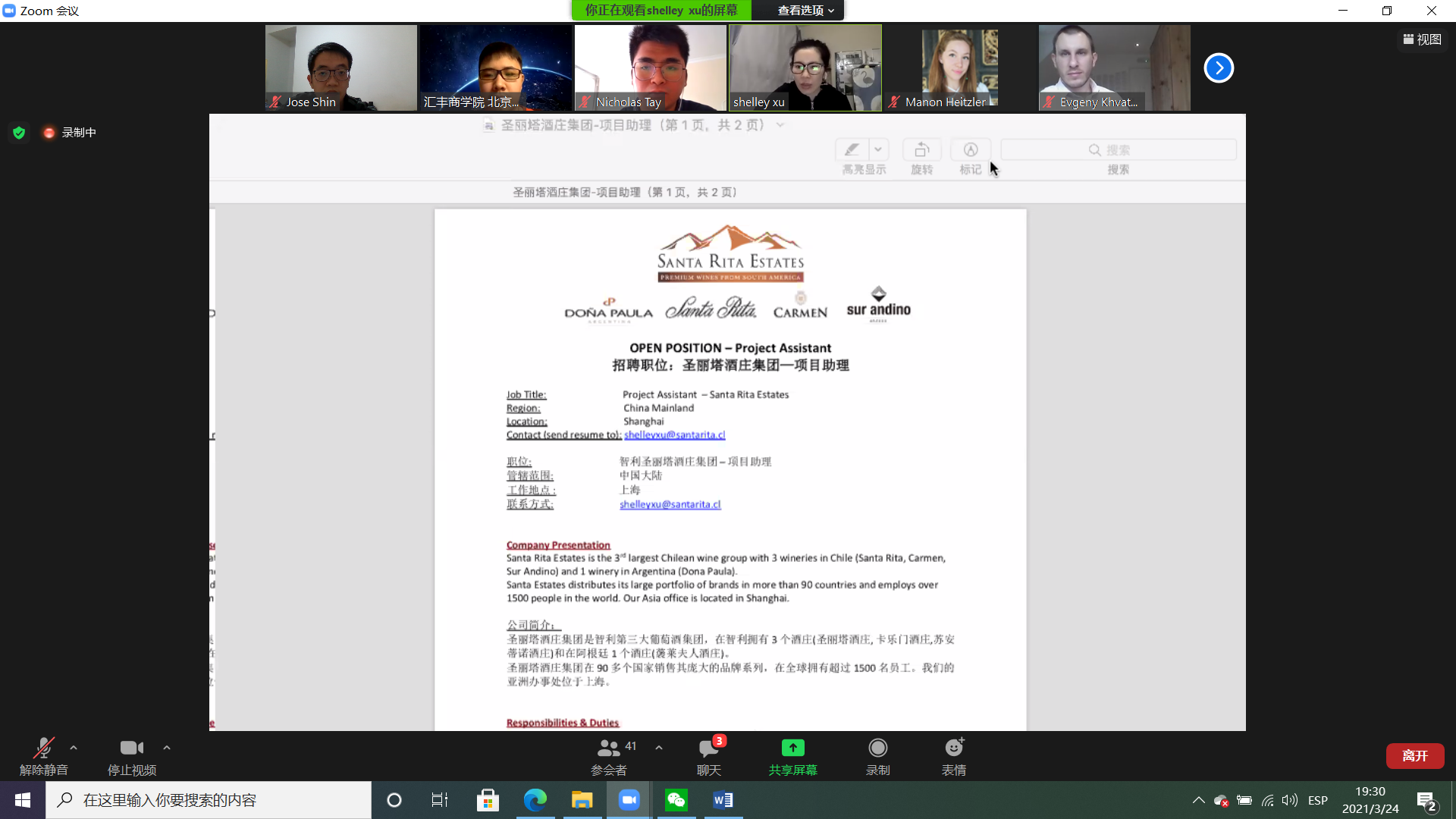 Picture 5 Santa Rita Estates presentation
The third company Outform, was presented by Ryan Schock. They design, manufacture, install and troubleshoot retail companies displays. Big companies like Amazon, Google and Nike work with them to create interactive displays of their products. They have offices in Shenzhen and Shanghai looking for Project Managers.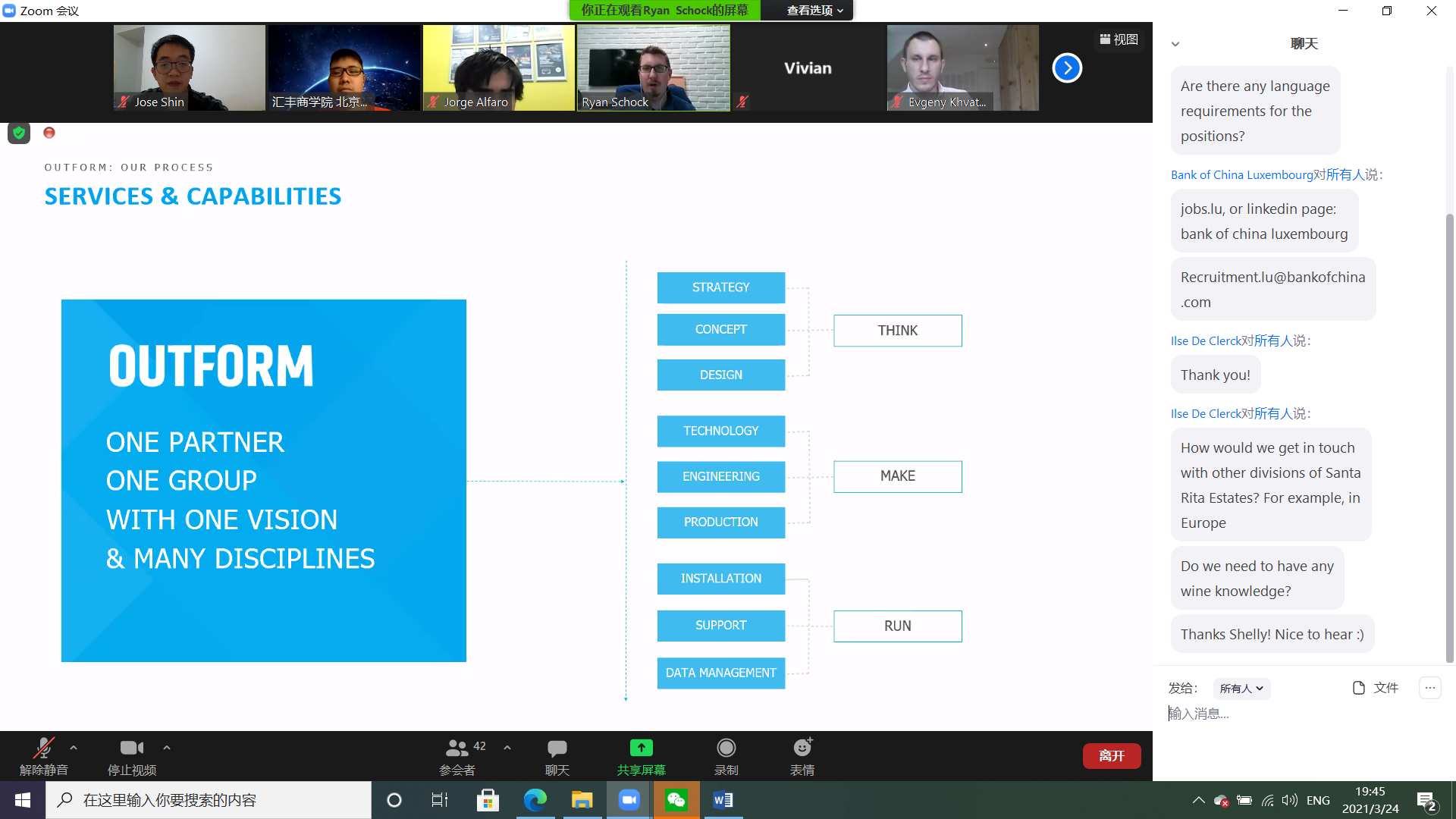 Picture 6 Outform presentation
Next company was Dorabot, presented by Crystal Chen. It is a company that works with AI technology to solve logistic sector problems. They are located in Shenzhen and looking for a strategic assistant who can do research on AI industry and robotics latest trends.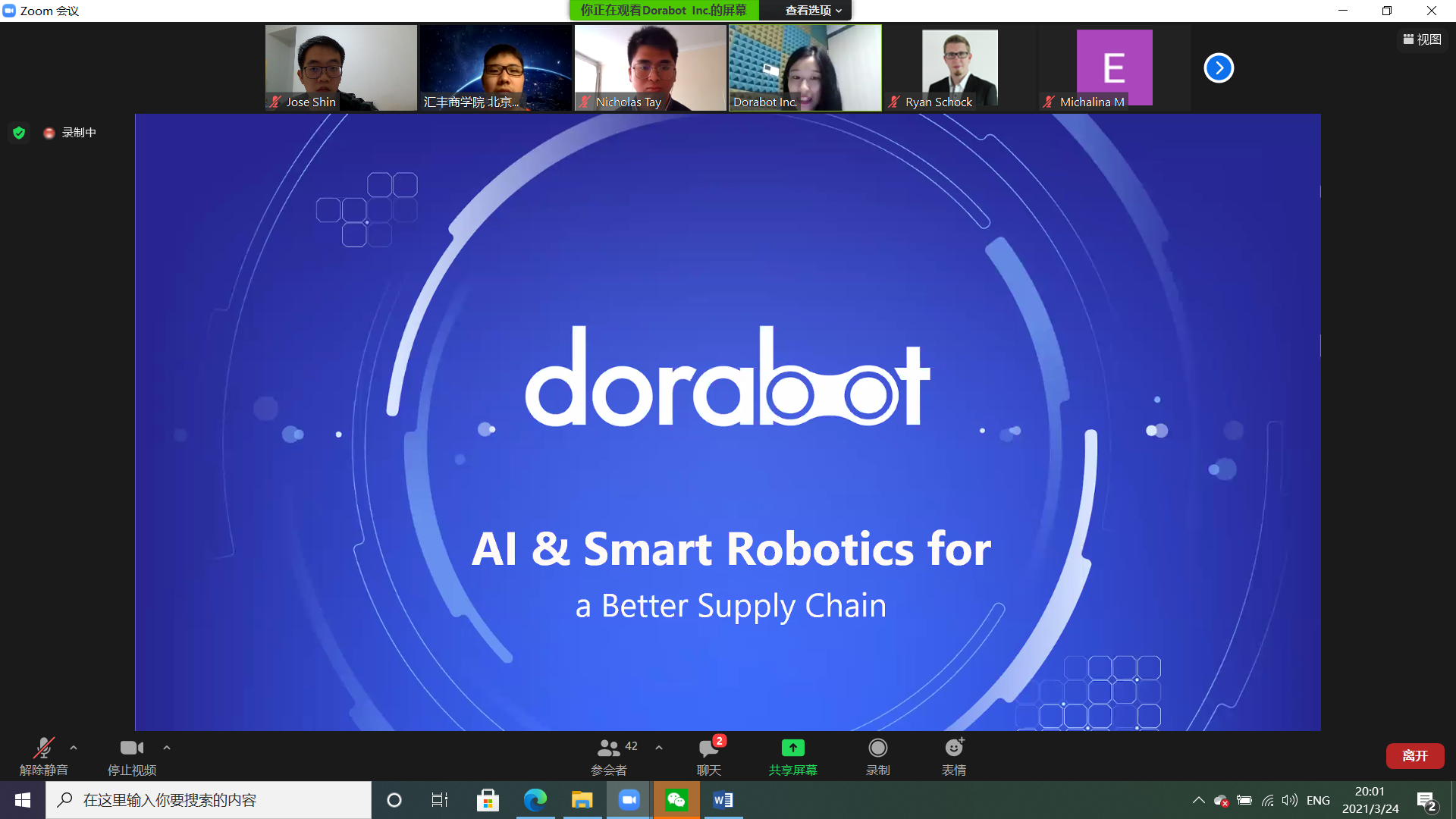 Picture 7 Dorabot presentation
Beeznests is a company headquartered in Vancouver, Canada, founded by Jin Liu. They offer students the opportunity to work on short projects to develop their skills. Beeznests launched the Mentor program which connects Canada's industry leaders with international students to work together on interesting projects.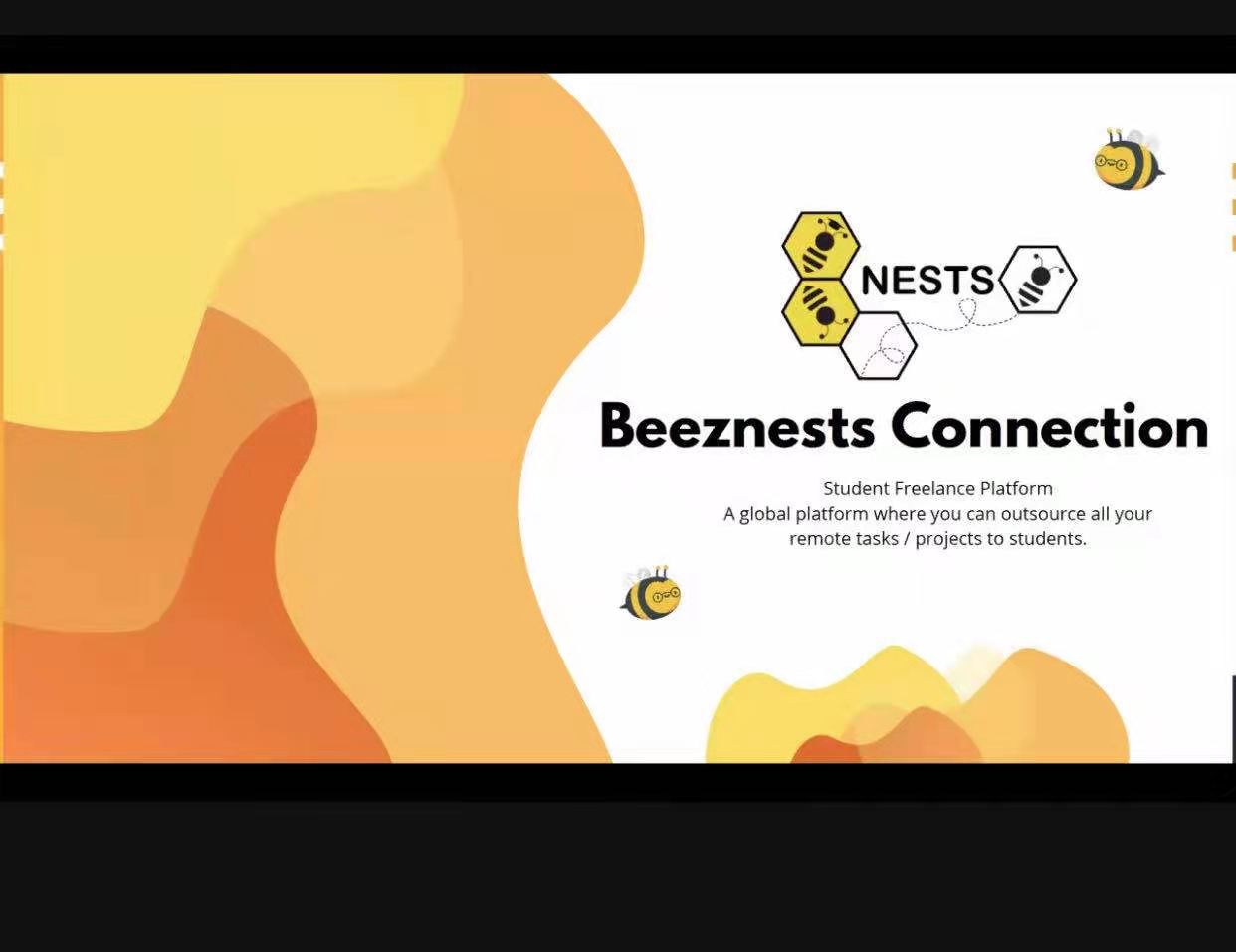 Picture 8 Beeznests presentation
Vivian Mao, Marscrowd's representative, talked about opportunities the company offers. Their parent company is CCJK, which was founded 21 years ago on Shenzhen. They are a translation and localization data supplier. They have employees with 11 different nationalities, they promote teamwork and creativeness. Their job offers are data analytics, international sales and one internship related to the production of a podcast.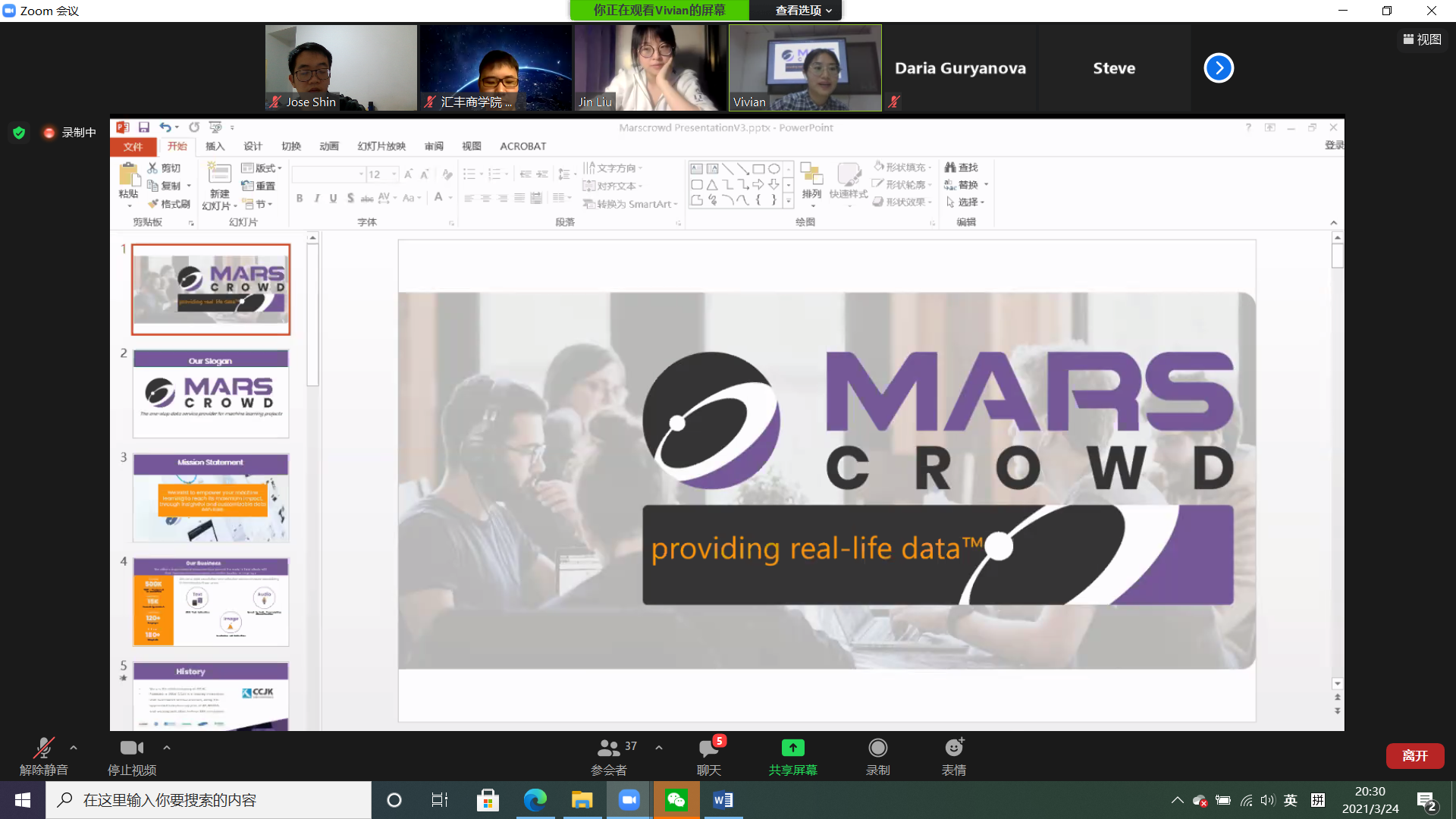 Picture 9 Marscrowd presentation
Next company was East Meets West Fine Winery (EMW), introduced by Laura Chen. This winery was founded in 2003, in Shanghai. Now it has offices on Beijing, Shenzhen, Chengdu and Macao. They offer more than 100 brands to restaurants, hotels, high-end retailers and in online platforms. They are looking for a sales manager in Shenzhen and a brand manager in Shanghai.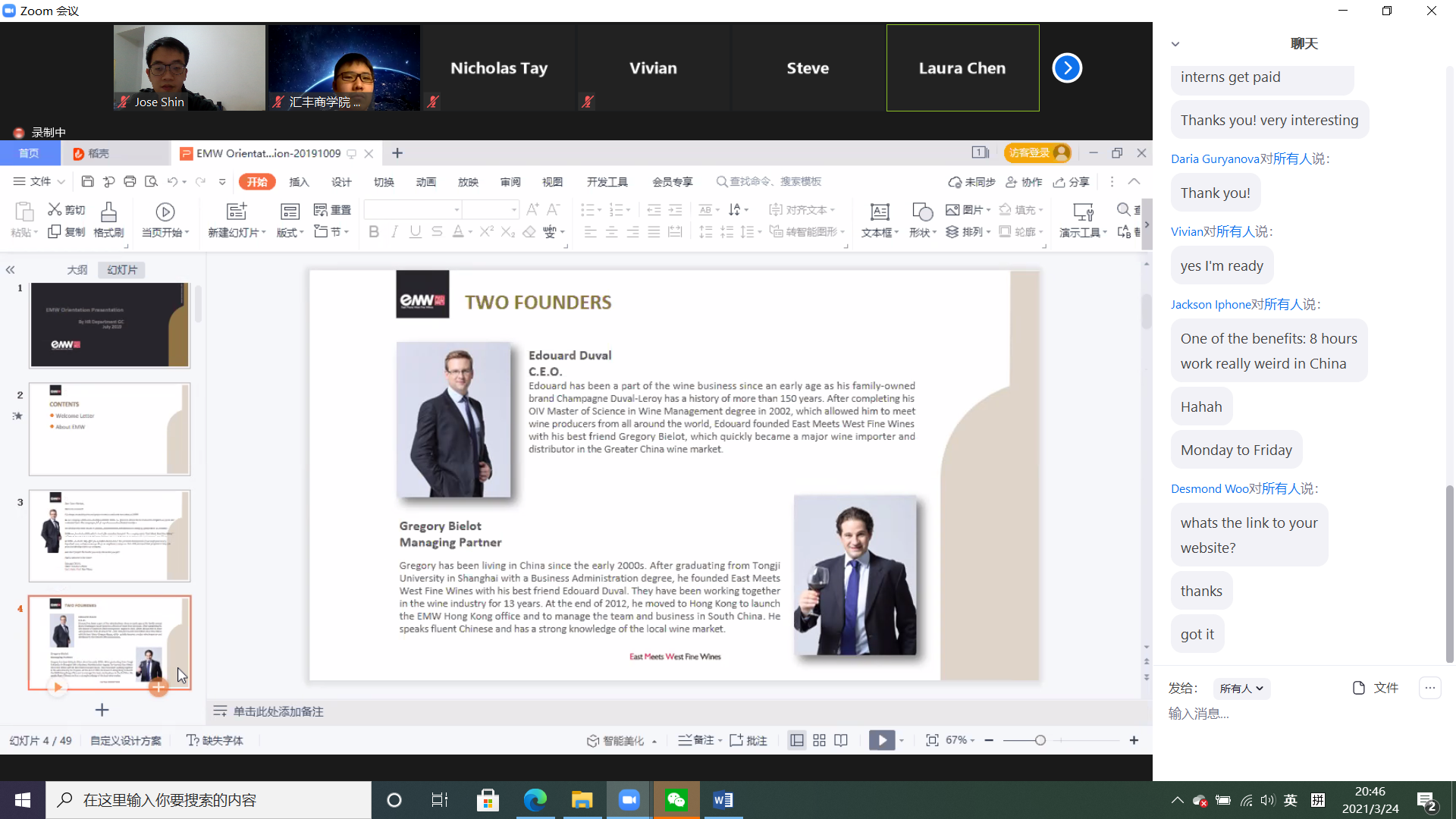 Picture10 EMW presentation
To end the IBF, Ramona Theis introduced OPPO. She spoke about the growth of the Chinese company in Western Europe and all the positions available. The headquarters of OPPO are located in Dusseldorf.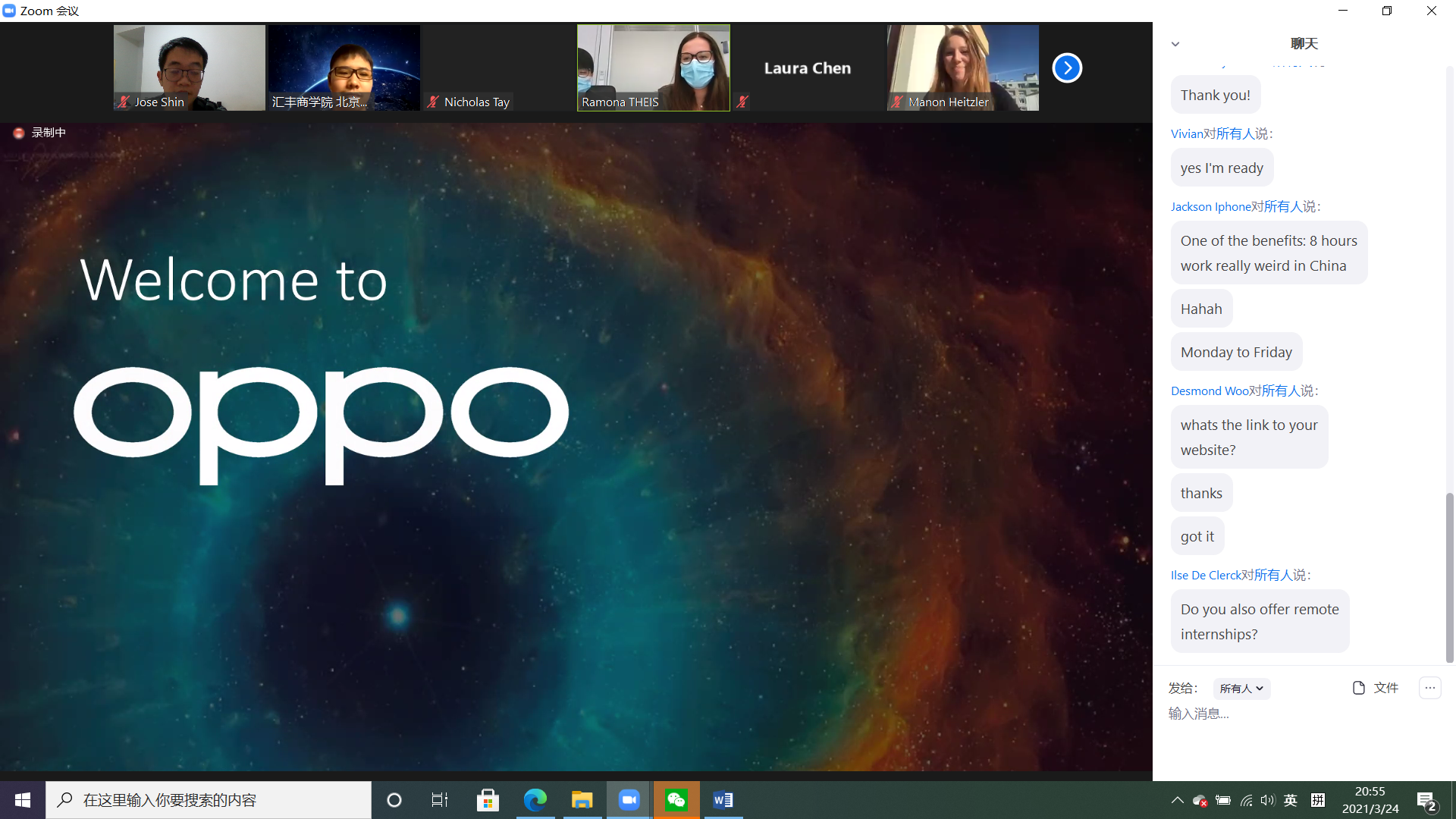 Picture 11 OPPO presentation
One the same day, PHBS International Office invited the Corporate Brand Manager from ZTE, Radhika Devi, to introduce the company and share her job experience in China through a Zoom call.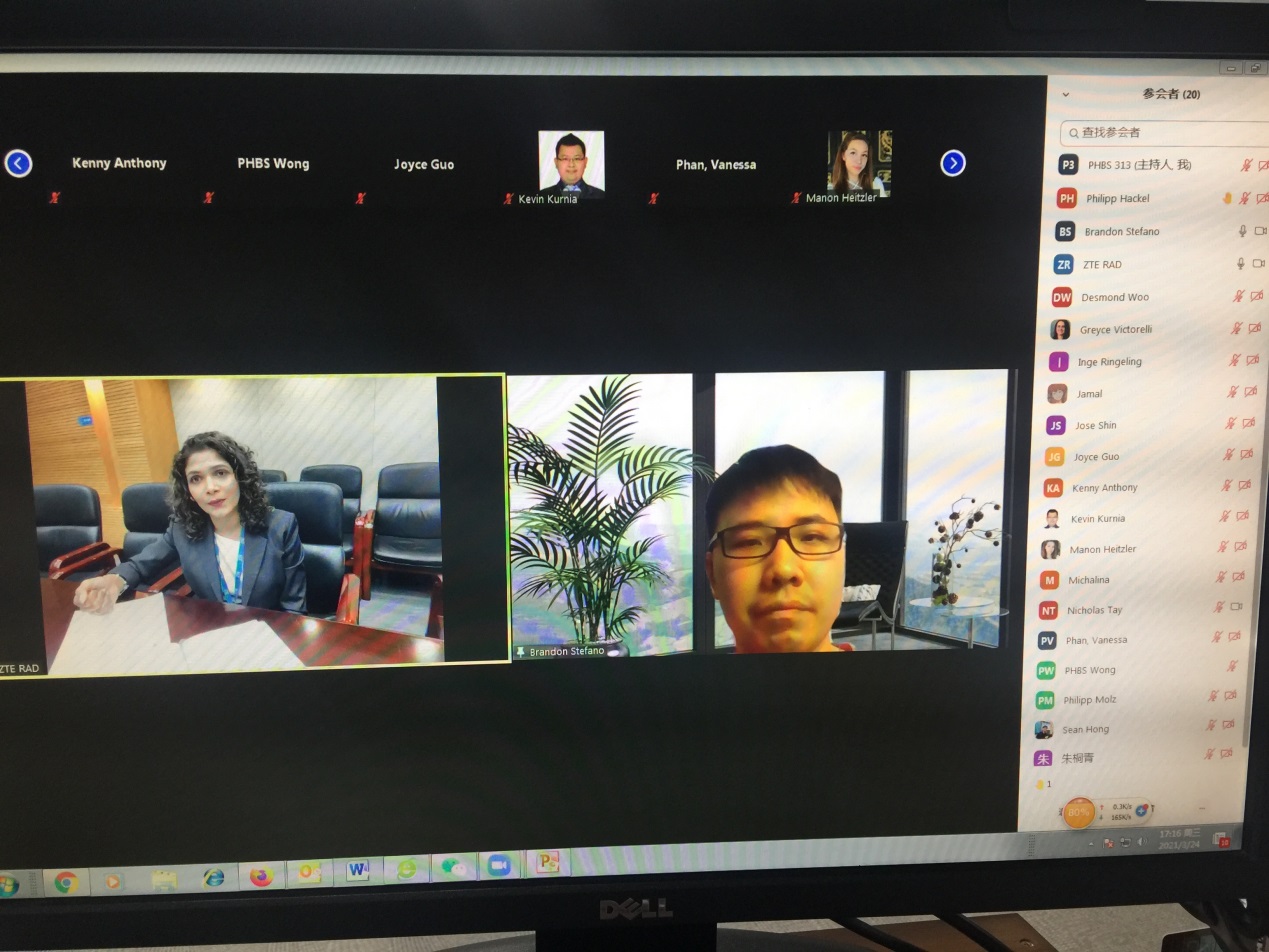 Picture 12 Radhika Devi shares her experience at ZTE
ZTE is a global leader in telecommunications and information technology with its headquarter located in Shenzhen, China. The company has been able to expand globally by investing half of their revenue on Research and Development. This has allowed ZTE to develop the 5G technology, chips and high end mobile devices.
Radhika started her journey in this company in 2015, with little time to prepare. Even though she experienced culture shock, she found people in China were willing to help her. ZTE working environment is very friendly and promotes that all the coworkers respect each other. She also recommends newcomers to do some research, learn basic mandarin words, download WeChat and have an open mind to adapt to Chinese culture.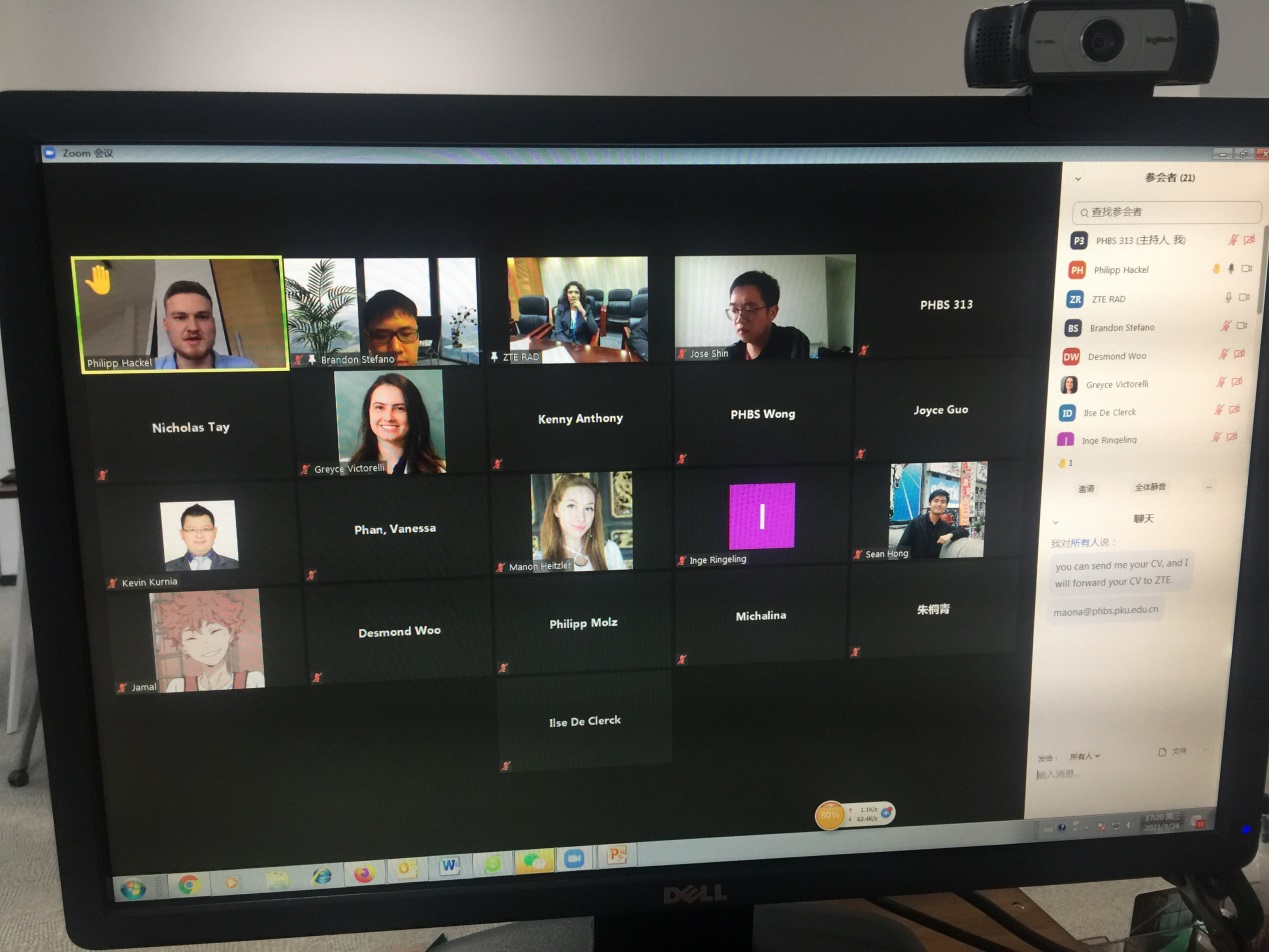 Picture 13 Q&A session
The company is offering internships opportunities for a period of 6 months. During this time the interns will get to know how the company operates and will have the chance to build useful skills to be successful on their job.

By Internatioanl Student Union