On September 14, a delegation of more than 10 people from Peking University HSBC Business School (PHBS) visited the Huawei Industrial Base in Bantian, Shenzhen. The delegation included Hai Wen, Vice Chairman of Peking University Council and (Founding) Dean of PHBS, Wang Pengfei, Vice Chancellor of Peking University Shenzhen Graduate School and Dean of PHBS, and a number of other PHBS professors. The delegation held discussions on university-enterprise cooperation with Song Kai, Vice President of Huawei Public Affairs and Communications Dept (PACD), Zhang Yuan, Director of Huawei PACD Editorial Dept, and Fan Jia, Director of Huawei Group Finance Talent Mgmt Dept.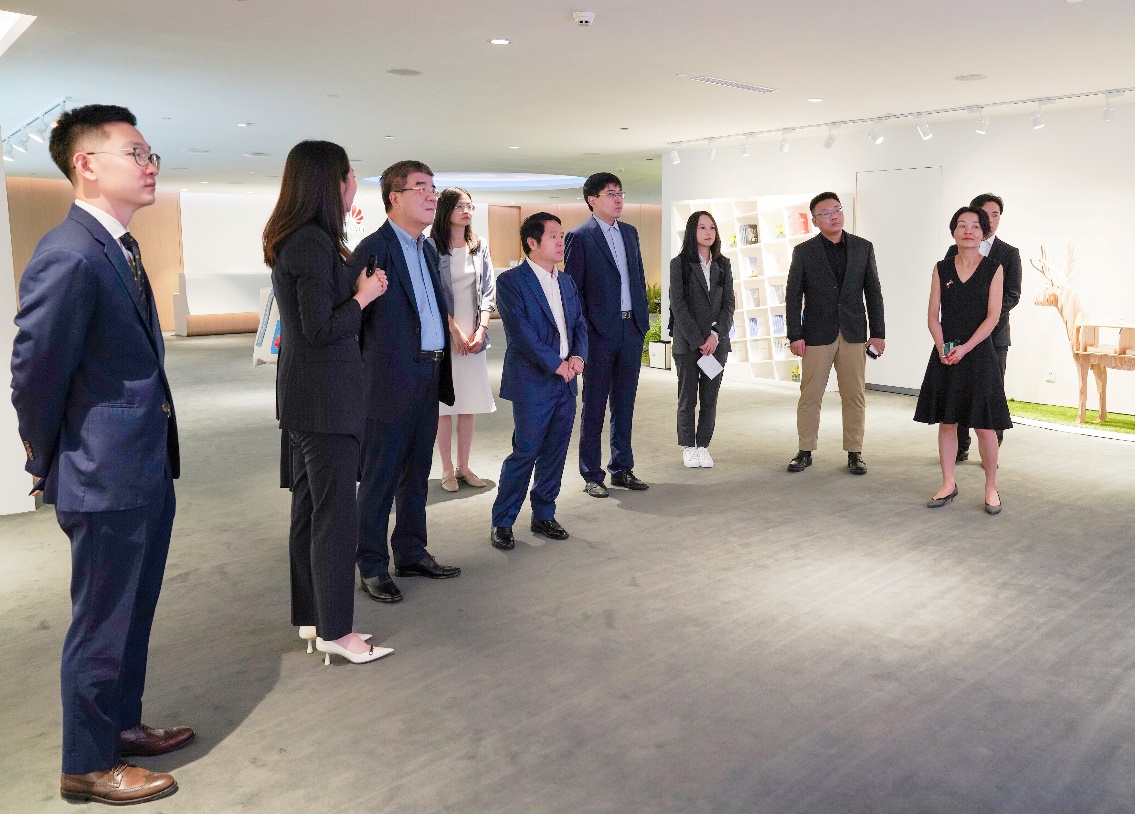 The delegation visiting Huawei's exhibition hall
The delegation visited Huawei's digitalization exhibition hall, which showcases Huawei's digital products and solutions for various industries, including smart city operations centers, smart education, smart transportation, smart finance, and smart energy. By experiencing Huawei's latest digital products onsite, the PHBS executives were able to gain a better understanding of how Huawei's latest technologies are applied across various scenarios. Huawei representatives were on hand to present and explain Huawei's development concepts, main businesses, and technological innovations and applications.
Following the exhibition hall tour, the delegation engaged in discussions with key Huawei representatives. Song Kai gave an overview of Huawei's business development and performance over recent years. Zhang Yuan then briefed the delegation on Huawei's engagements with academia and the Chaspark website that facilitates open communication on science and technology. In addition, Fan Jia introduced Huawei's concepts regarding the cultivation of finance talent and related developments. Hai Wen then explained the latest measures taken by PHBS to promote its international development and the employment status of PHBS graduates. Finally, Wang Pengfei introduced PHBS's development process, faculty and research, and talent cultivation. Attendees discussed how the two sides could enhance cooperation in academic research, student employment, and key events. They also exchanged in detail on topics such as internal organizational transformation, digitalization in finance, and intelligence.

Group photo
In recent years, PHBS has organized numerous activities, including visits to enterprises, cooperation with enterprises for internships, and forums with partner enterprises, promoting interactions, exchanges, and cooperation between academia and enterprises. PHBS has already collaborated with a number of well-known enterprises, such as Ping An Technology, Tencent, GuoTai JunAn Securities, and GF Securities, on student training, internships, employment, academic research and so on.
By Zi Jing
Edited by Mu Nan